Here's another tutorial on how to fill online forms using PDF.co and Zapier. The forms in today's online world are very commonly used for many marketplaces and companies to send/receive orders etc.
You are in a situation where some company or your employer sends you a form and ask you to fill it and send it back, Now the form is in PDF format and you cannot edit it. Don't worry this is where we come to rescue you.
How to Fill in IRS Form 4506-T via PDF.co and Zapier?
1. Extract Field Names using Get PDF Info
First of all, you will have to extract the field names of the US Form 4506-T. We will use these field names to fill in the checkboxes and textboxes of this IRS Form.
PDF.co's Get PDF Info is a great tool that can be handy for getting this data.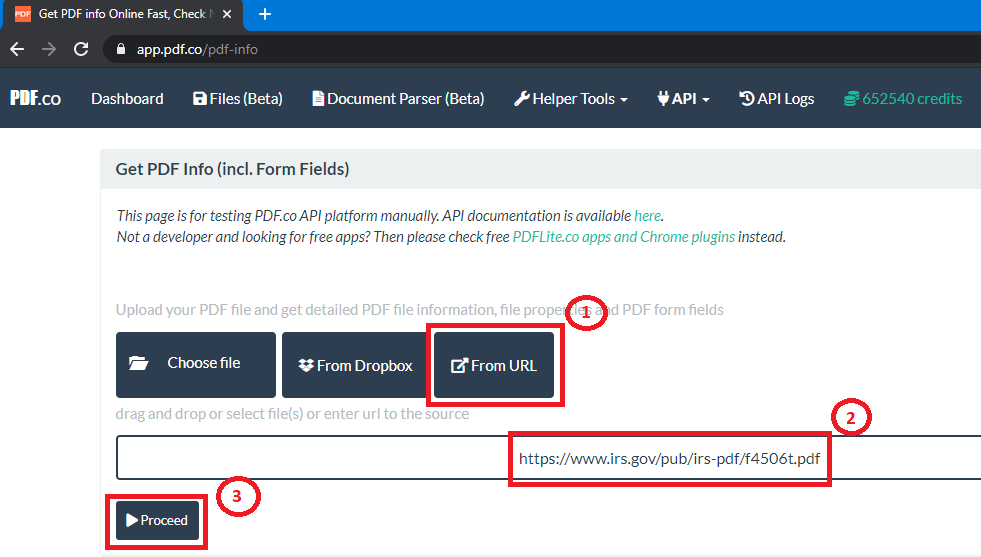 You can pick any of the three options of how to upload the IRS Form 4506-T into the tool. In this tutorial, we are going to use the Form's link and get the data from the link.
After you click the Proceed button, you will get all the field names, page indexes, field types, and other data from this Form. In order to fill in the form later, we will have to use page indexes and field names in Zapier.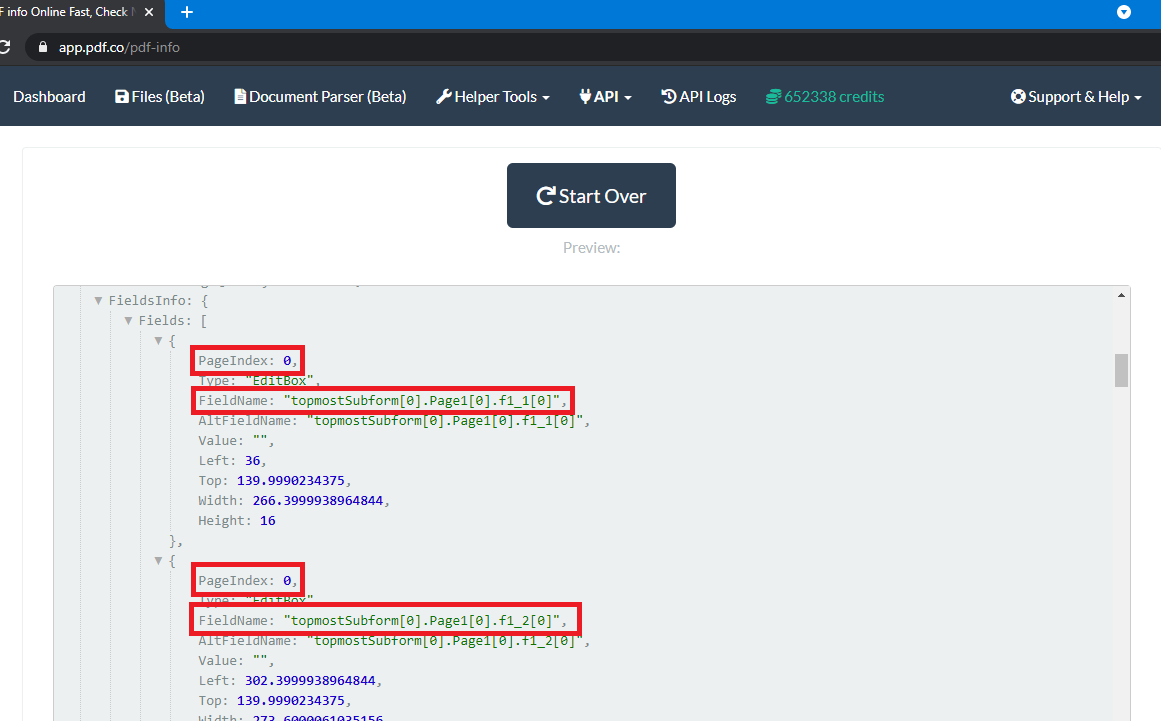 2. Configure Zapier and PDF.co
It's time to go to Zapier and set up the PDF.co Action Step. If you don't have Zapier and PDF.co account, you can SIGN UP HERE. Here's more info about Zapier if you are new to it.
Please choose PDF.co as the App and PDF Filler as the Action Event.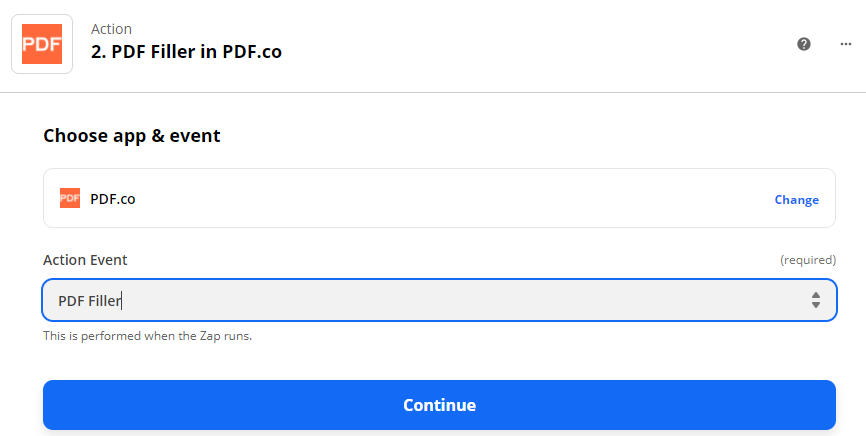 3. Use Zapier to Fill in the Form
That is how you can set up PDF Filler to complete IRS Form 4506-T with sample data.
Select or type in the US Form 4506-T URL using the Source PDF field.
Enter the field name and the value as well as the page index, for example, 0;topmostSubform[0].Page1[0].f1_1[0];John A. Doe in the Fillable Fields field.
Press Continue button once done.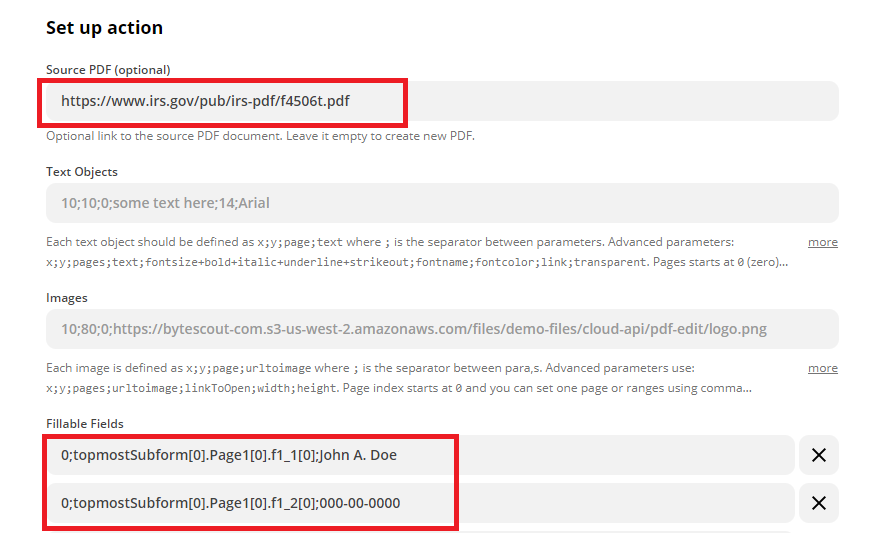 It is time to send the PDF Filler over to PDF.co for Test & Review.
If we configured the PDF Filler correctly, PDF.co generates a temporary URL that we can copy and paste to any browser in order to view and download the completed IRS Form 4506-T.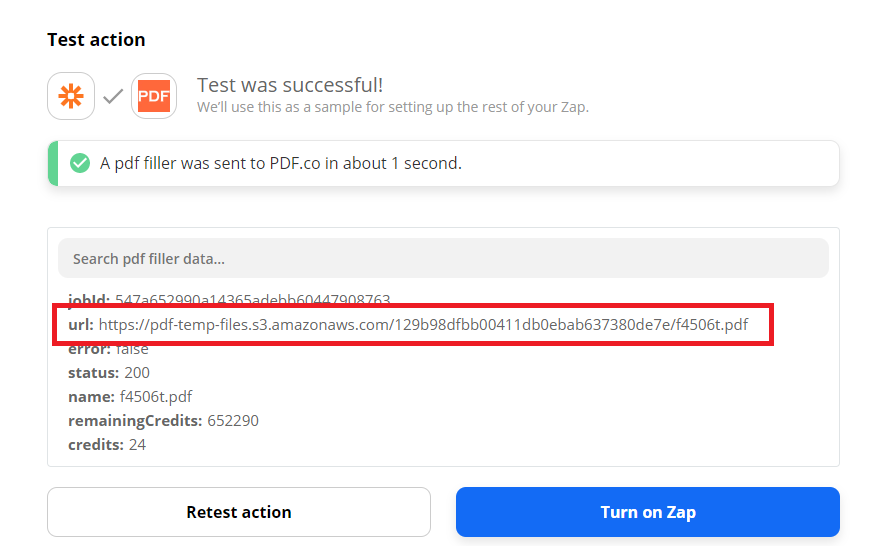 4. View the PDF Form with completed fields
Take a look at the outcome of IRS Form 4506-T with completed fields. You can see it in your browser by copy-pasting the link from the previous step. The form was filled out with our sample data using PDF.co and Zapier.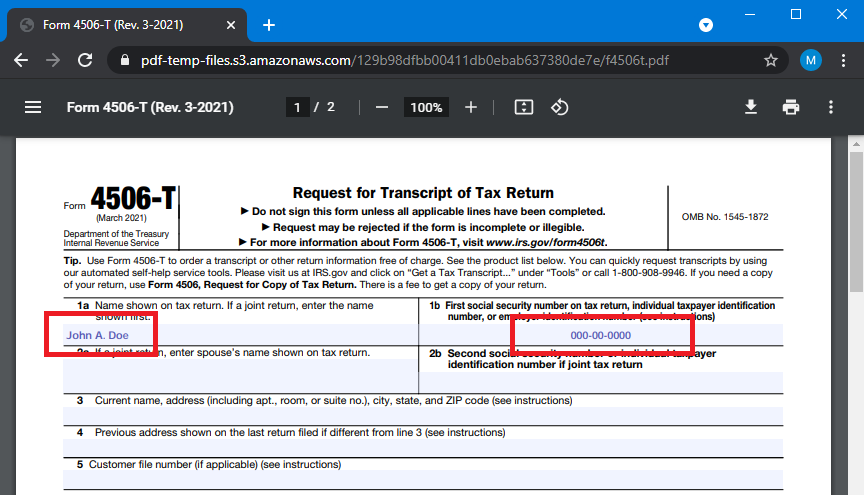 Screenshot of Filled US Form 4506-T
Fill PDF Forms Online – Frequently Asked Questions
How Do I Fill Out a Form Electronically?
You can use PDF.co and Zapier to fill your form online. They allow you to fill in text, cross-marks, checkmarks and even add a signature. Once you finish filling your PDF form, you can save the changes and download them.
How Do I Fill in a PDF Form?
You can fill a PDF form manually or electronically using PDF filler in Zapier. To fill a PDF manually, you will have to print it, fill it, scan and scan the hardcopy to PDF, to save the changes.
You may also convert it to a Word document using our PDF to Word Converter, and fill it. Once you are done, you then convert it back to PDF, using Word to PDF tool, to have your filled PDF.
How Do I Fill Out a PDF Application Form?
You can also use our PDF.co PDF filler in Zapier to fill your PDF application form. This functionality has all the features needed to fill PDF application forms. It includes options such as colored text, cross marks, and checkmarks. You can also sign your application form later using PDF.co and Zapier.
How to Fill Out a PDF Form and Email It
You can use our PDF Filler to fill out your PDF form, and then download it, so that you can email it. You also have an option to just save the filled PDF to your Google Drive, and then email its link.
Emailing the link instead of the PDF file gives you more control because you can disable editing access. This is helpful if you just want someone to view your PDF only, instead of editing it.
I hope you found this tutorial about online form filling, very helpful.
Fill Forms Online via PDF.co and Zapier – Video