Save webpage as PDF so that you can easily share it, or archive it, using our webpage to PDF tool. It is easy to use, and it gives you several upload and download options.
You also do not need to pay for a license, because you pay for what you use only. Furthermore, our save page as a PDF tool is browser-based, which allows you to conveniently use it from any device.
GET YOUR API KEY Zapier plugin  Explore API Docs
Why Use Convert Webpage to PDF Tool
Save Important Pages
You can save websites as PDF if you find important information that you would want to refer to later. That is because it costs money to maintain a website, making it hard to guarantee a site will be online, always.
However, if you save a website as PDF, even if the hosting expires, you can always have a copy of the website.
Keep Webpage Layout
When you save a web page to PDF, you get to maintain the layout and format of the content as it was when you saw it. With our website to PDF tool, you can save any website page you want with just two steps.
How to Convert a Web Page to PDF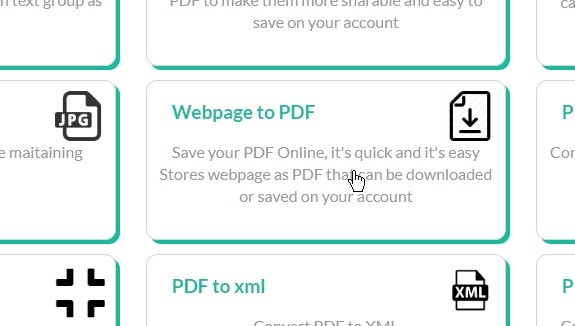 You need to open a PDF.co account and load it with some credits. To open the webpage to PDF tool, go to the main menu and click on "To PDF." On the down-menu, you can click on Webpage to PDF tool, to launch it.
Converting one webpage takes about 5 credits, but you can buy more depending on your webpage to PDF conversion requirements.
You also need to log into your Dropbox account, if you plan to save your files in Dropbox. Alternatively, you may also choose to download and save the PDF converted webpages in your local drive.
Once you have identified the webpages you export to a PDF, follow the two steps below to convert them.
Step 1: Add the Webpage URL

On the webpage to PDF tool interface, paste the URL of the page you want to convert to a PDF, in the space provided. Confirm that it is the right URL, and then click on "Save to PDF."
However, the page that you want to save should be publicly accessible. Otherwise, the tool may not be able to access and convert a web page to PDF.
Step 2: Download the PDF Webpage

The tool will go to the URL you provided and export the webpage to a PDF, and then present it for download. You will also have an option to save it to Dropbox.
Moreover, the export webpage to PDF tool gives you an option to preview the converted page, so that view it, before you download it.
GET YOUR API KEY Zapier plugin  Explore API Docs
Frequently Asked Questions – Convert HTML to PDF
How Can I Save an Entire Web Page as a PDF?
You can save an entire Web page as a PDF by using our Webpage to PDF Online tool. The tool is designed to save large web pages fast, saving you valuable time. You will also be happy to know that the quality of the images on the pages will not be degraded, and the PDFs will be of minimal sizes. That makes our tool ideal for creating PDFs that you can share online.
Our Webpage to PDF tool uses lossless compression. That guarantees you that the Web pages you save will not take much of your space, and you can share them easily. However, if you need to compress your files further, you have an option to use our PDF compression tool, which enables you to get maximum compression, saving you valuable disk space.
How Do I Save HTML to PDF?
To save HTML to PDF, all you need is to copy the URL of that HTML into the application. The app will then extract the HTML code, convert it into a readable format, and then save it as a PDF file. All that happens in split seconds, which saves you time, and makes it easy to save HTML content offline.
How Do I Convert HTML to PDF
Our tool can help you to convert any published HTML content to PDFs. You will only pay a few cents for that, and the process happens entirely online. All you need to do is input a URL of the HTML content, and the tool will do the HTML to PDF conversion for you.
We recommend this tool for those looking for ways to convert HTML tutorials to PDFs so that they can access them offline. The converted PDFs are also of small sizes, and therefore easily shareable. As an added functionality, you can choose to store the converted files in your Google Drive, or your Dropbox accounts, instead of downloading them.
Budget HTML to PDF Conversion
The cost of converting HTML to PDF using our tool is almost negligible, especially when you do bulk conversations. Moreover, even when you do one or two pages of conversations, the cost will be 2 to 4 credits only. With each credit costing between $0.002 and $0.05, depending on how many credits you buy.
In that regard, there is no need of trying to create any HTML content as a PDF file, when you can use our tool to get it done in seconds, for a few cents!
Conclusion – Export Webpage to PDF
Converting a webpage to a PDF is a good way of creating your own copies of web pages. They are easy to read, and you can store them online or offline. With our webpage to PDF tool, you can save as many sites as you want, without having to download or pay for a license.