ABBYY FlexiCapture is an enterprise-grade document capture and data extraction solution. It supports processing various document types and offers advanced OCR (Optical Character Recognition) technology for accurate data extraction.
Below are the TOP-10 best ABBYY Flexicapture alternatives in 2023.
1. PDF.co
PDF.co is an online platform that provides a wide range of tools and APIs for working with PDF documents and data extraction. It's designed to assist developers, businesses, and individuals in automating document-related tasks, extracting information from PDFs, and performing various PDF-related operations. PDF.co offers both a user-friendly interface for manual tasks and APIs for integrating its functionality into custom applications and workflows.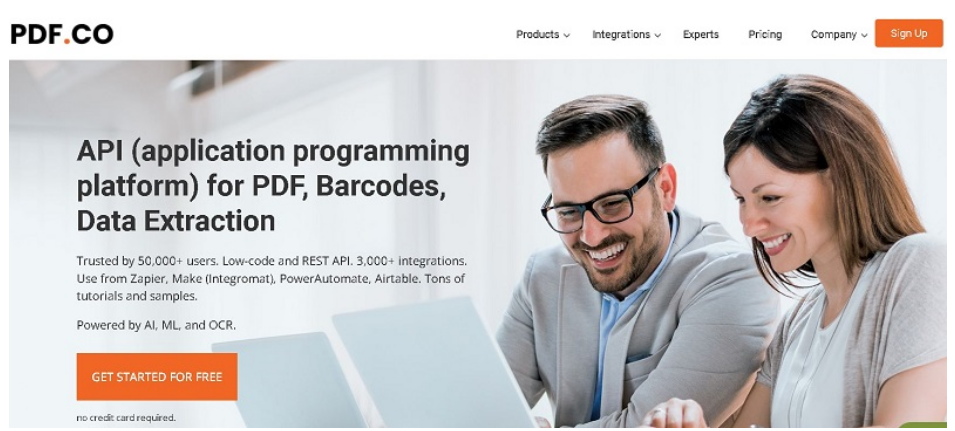 Key Features
Merging and Splitting
PDF Generation
PDF Conversion
PDF Editing
PDF Extraction
Barcode Generator
HTML to PDF
Document Parser
File Storage
PDF.co Integrations
Salesforce, Dynamics 365, Zoho, and other CRM systems;
SharePoint, Office 365, Box, Egnyte, Dropbox, SignNow plus ready-to-use 3000+ integrations;
RPA UiPath, BluePrism, Automation Anywhere;
RapidAPI.
2. Kofax Capture
Kofax Capture delivers best-in-class, pre-built intelligent document processing capabilities, making AI accessible to your organization to fully automate content-centric workflows. It ingests, classifies, and extracts data and turns it into actionable insights for further processing.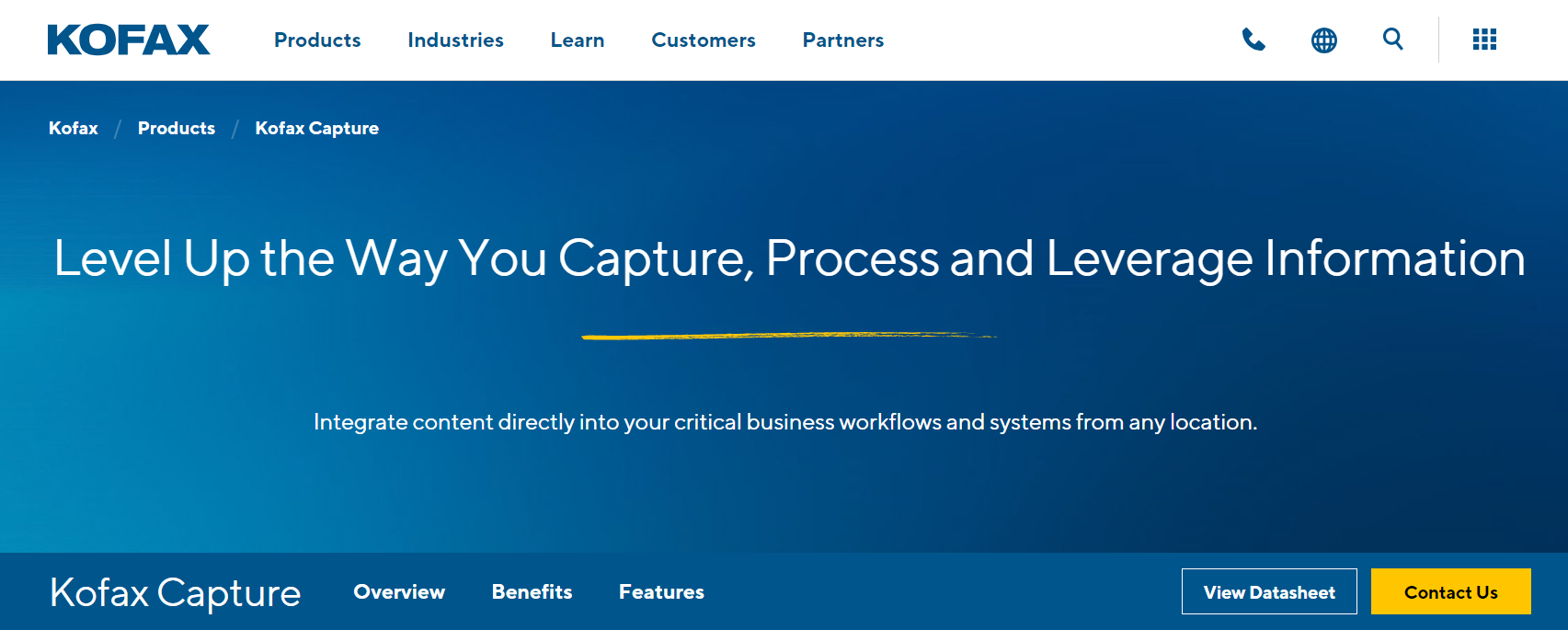 Key Features
Integrates With Any System
Customizable Without Scripting
Flexible API
Process Ready
Automatic Learning
Enterprise Edition
Device Integration
Kofax Capture Integrations
ERP
ECM
BPM
Workflow Solutions
3. Document360
Document360 is a knowledge base software designed for creating and managing online documentation. It is commonly used by businesses and organizations to store and share internal and external documentation, such as product guides, FAQs, tutorials, and API documentation. Document360 provides a user-friendly interface for creating and organizing articles, as well as features for collaboration, version control, and analytics.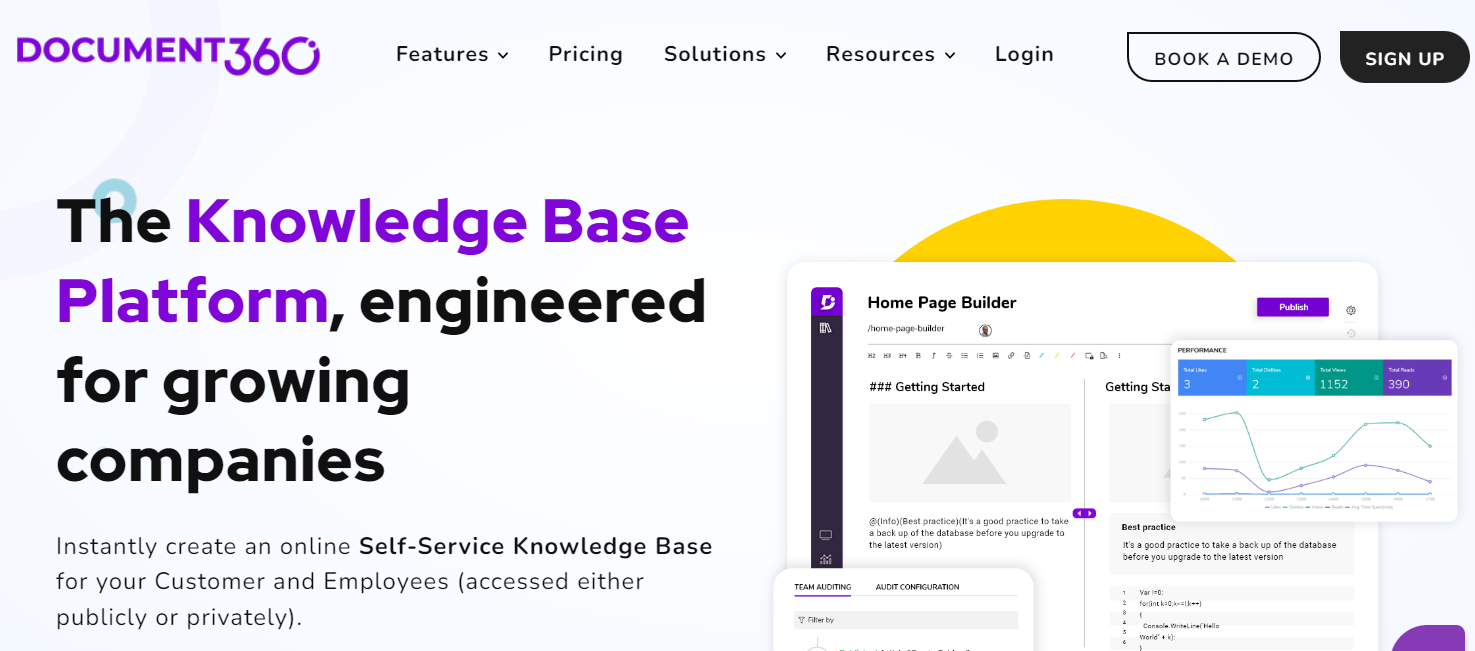 Key Features
Documentation
Category Manager
Editor
Branding
Security
Analytics
Document360 Integrations
Freshdesk
Zendesk
Intercom
Drift
Slack
Microsoft Teams
Crowdin
Chrome
Zapier
Make
Integrately
Salesforce
4. IRISXtract
IRISXtract automatically classifies documents and extracts essential data. It transfers the relevant information to your business process applications, faster and more efficiently than any manual processing. Our software ensures paperless processing of the best quality, in every language, for every document and every process.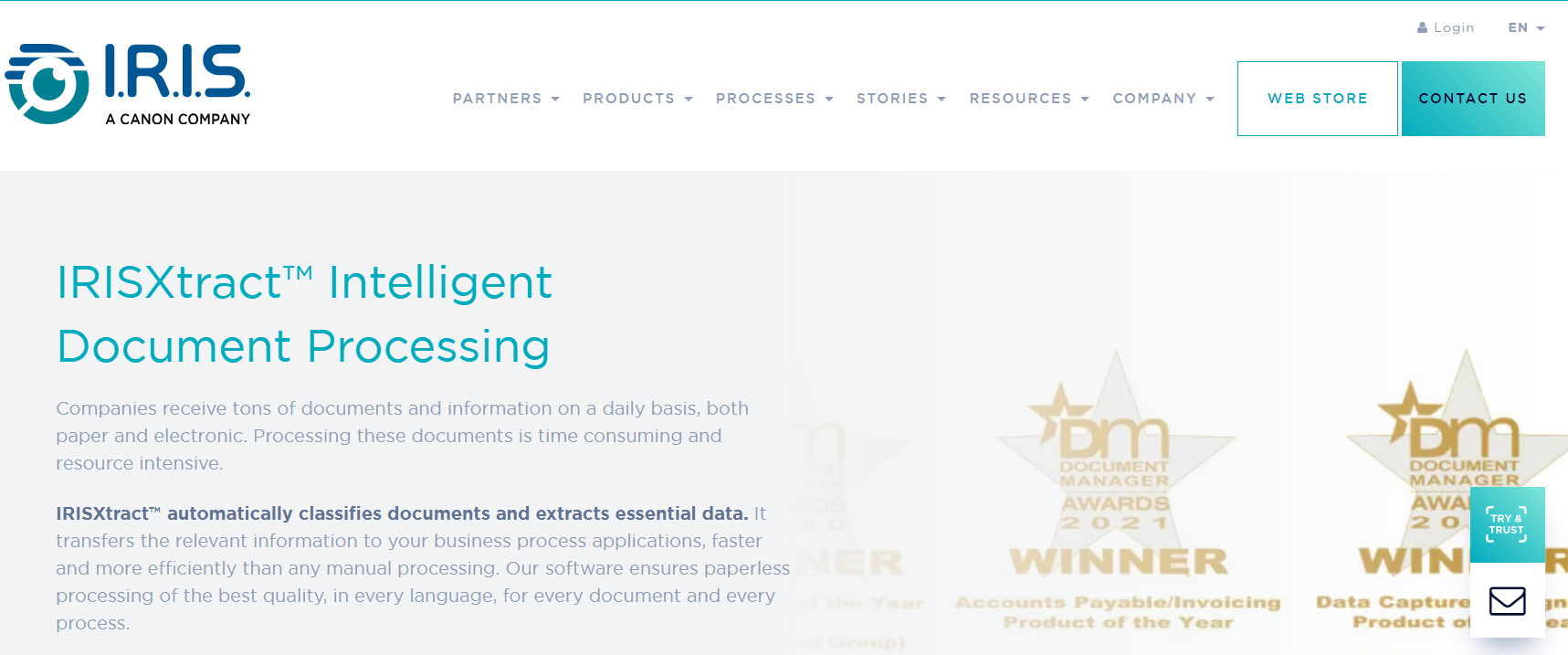 Key Features
Intelligent Document Classification
Intelligent Document Analysis
Multi-Application
Multi-Tenancy
Multi-Channel
Efficient implementation and reliable project cost calculation
Easy Integration
Business Intelligence
Fuzzy Reference Data Reconciliation
Conversion
Multilingual
IRISXtract Integrations
M-files
Evernote
Docunecta
Avantech
NTware
Adobe
Canon
5. DocuWare
DocuWare provides cloud document management solutions and workflow automation software that enables you to digitize, secure and work with business documents, then optimize the processes that power the core of your business.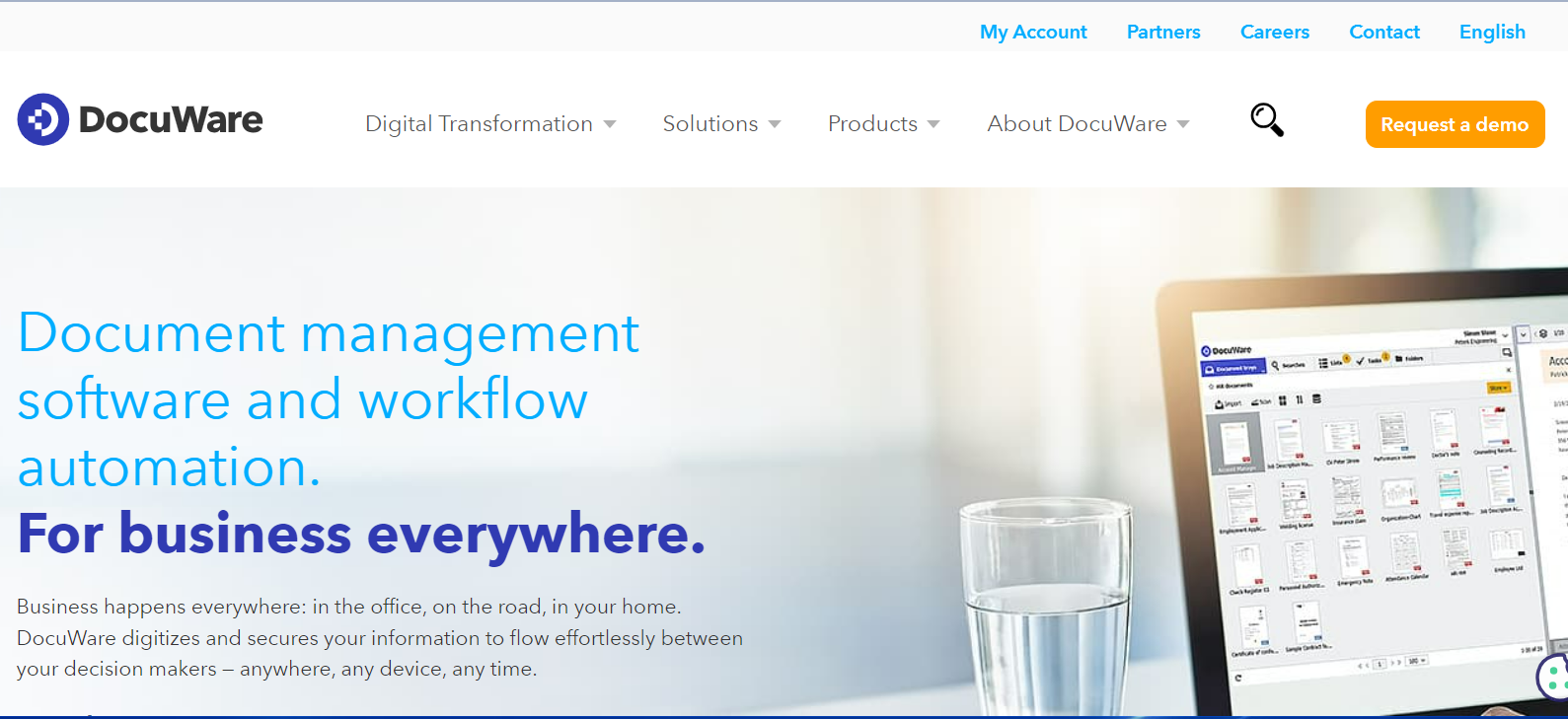 Key Features
Capture and organize information
Process documents and manage workflows
Access and view content for decision-making
DocuWare Integrations
Microsoft Outlook
Sage
SAP
Quickbooks
SharePoint
Infor
Oracle
Microsoft Dynamics
Microsoft Teams
Cloud Systems
Gmail
Hotmail
Yahoo Mail
Webhooks
6. ROSSUM
Rossum is a cutting-edge platform for document extraction empowered by artificial intelligence, particularly excelling in the extraction of invoice data. It employs sophisticated machine learning algorithms to effectively retrieve structured data from various documents, with a primary focus on invoices and related types of content.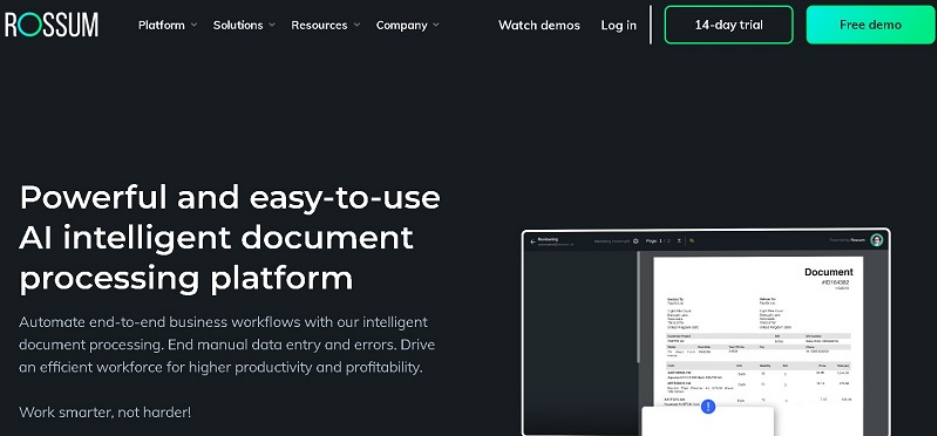 Key Features
AI Image Processing
AP Automation Software
OCR (Optical Character Recognition) Technology
Image Extraction
PDF Data Extractor
Invoice Processing Automation
Intelligent Processing Automation
ROSSUM Integrations
API for integration with external system
Box and Dropbox
Zapier and Microsoft Power Automate.
7. Ephesoft Transact
Ephesoft Transact serves as a smart solution for document capture and data extraction. By harnessing the capabilities of machine learning and AI algorithms, it automates crucial document processing activities, including but not limited to classification, extraction, and validation.
Key Features
Universal Document Automation supports unknown document types out of the box.
Document Design Accelerator for even faster, easier setup.
OCR, ICR, OMR, and HWR all in one easy-to-use platform.
Advanced handwriting (cursive and handprint) extraction with up to 88% character recognition.
AI Table Rule Builder for quick line item extraction.
AI-powered classification with operator calibration control.
Multi-language support including English, French, German, Spanish, Dutch, Swedish, Italian, Polish, Chinese, and Thai.
Cloud, hybrid, and on-premises deployment options.
Integration with workflow, RPA, iPaaS, ERP, BPM, LOS, EHR, CRM, and ECM systems.
Web Services, APIs, and connector documentation for easy customization.
Linux and Windows server support: flexible, scalable, and fast deployment.
Patented machine learning classification and extraction technology.
Rapid ID capture capabilities with over 1,000 pre-trained forms of ID and passports.
Advanced reporting to optimize system performance.
Ephesoft Transact Integrations
Workflow
RPA
iPaaS
ERP
BPM
LOS
EHR
CRM
ECM
8. Parascript
Parascript stands out as automated software for extracting and recognizing data, with a specialization in interpreting handwritten and cursive text. Its offerings encompass a range of tasks within document processing, encompassing both recognition tasks and the verification of signatures.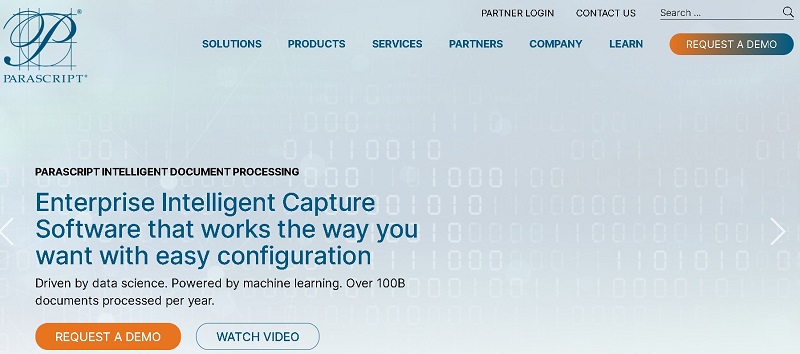 Key Features
Intelligent Document Recognition (IDM)
Data Extraction
Hand Writing Recognition
Document Classification
Data Validation and Verification
Flexibility and Customization
Advanced Analytics and Reporting
Parascript Integrations
API and SDKs
RPA
ECM
ERP
Power Automate
Google Drive, Dropbox, and Box
9. CaptureBites
CaptureBites is a company that specializes in providing document capture and data extraction solutions. Their software offerings are designed to simplify document processing and automate data extraction from various types of documents, including invoices, forms, and other business-related paperwork. CaptureBites offers a range of tools and applications aimed at improving efficiency, accuracy, and productivity in document-driven processes.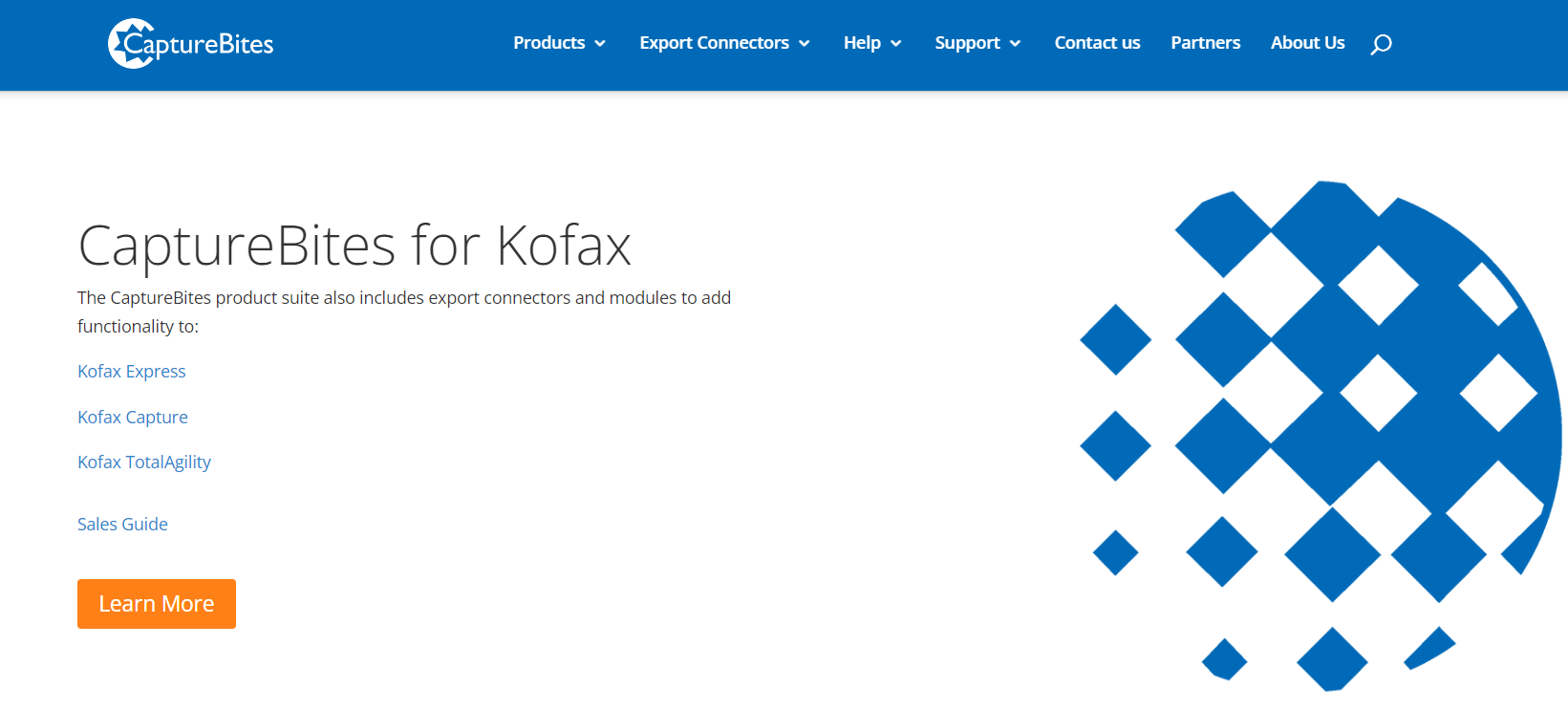 Key Features
Data Extraction
Conversion
Barcode Generator
Barcode Reader
BPO Solutions
Registered Mail Solutions
MetaServer
Create Installer Tool
CaptureBites Integrations
Alfresco
Box
Database
DocuWare
Email
Enadoc
SAP
HANA
SharePoint
10. PSIGEN
PSIGEN is a software company that specializes in document capture and data extraction solutions. Their offerings are designed to streamline and automate document processing tasks, such as scanning, capturing data from documents, and routing information to various systems. PSIGEN's solutions are used by businesses to enhance efficiency, reduce manual data entry, and improve document-related workflows.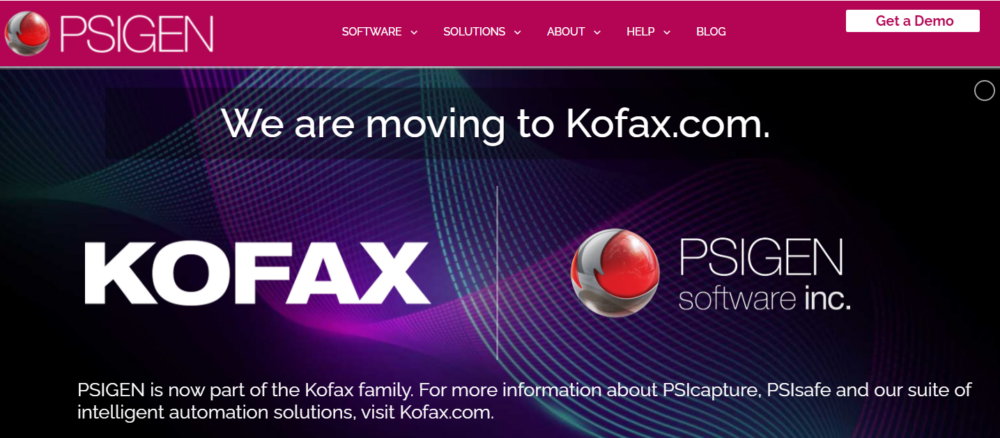 Key Features
On-ramp your information
Quote-to-Cash Automation
AP & AR Invoice Automation
Human Resources Document Automation
Advanced Document Capture and Index
Workflow Automation & Bidirectional Migrations
Simple, Secure On-the-Go Document Management
PSIGEN Integrations
Mi-Files
ORACLE
Salesforce
DocuWare
FileBound
Collabspace
Laserfiche
Alchemy
Square9
SharePoint
Azure
DOCUPHASE
Conclusion
In conclusion, ABBYY FlexiCapture stands out as a robust solution for enterprise-level document capture and data extraction needs, leveraging advanced OCR technology to ensure accurate and efficient data retrieval. As the business landscape evolves, exploring alternative options becomes essential for organizations seeking solutions that align with their specific requirements. The selection of suitable alternatives to ABBYY FlexiCapture in 2023 presents a diverse array of choices, each offering unique features and capabilities in document processing, data extraction, and workflow automation. The alternatives listed above can be evaluated based on factors such as integration capabilities, specialized functionalities, ease of use, and scalability, to determine the best fit for optimizing document-centric processes within your organization.