First, let's talk about Why we create PDFs in the first place and why it is necessary to make them searchable.
In today's technological world where everything is going online to be available for use to anyone, we need to digitize our documents too. The best way to digitize the documents is by converting them into TIFF, PDF, and JPEG. These are the common document formats that are used among them PDF is the most common and is recognized by most of the online software and databases.
So, when the documents are scanned you use them for any purpose, and then you need to find particular information. To do this you can make a PDF searchable.
What is a Searchable PDF?
Making PDF searchable means that PDFs are normally the images of a web document. You can't edit it; you can't add anything to it if it's not processed.

Benefits of a Searchable PDF
One of the benefits of a searchable PDF is you can look for the information very easily regardless of the length of the document.
For example, a document Is 100 pages long and you want to find a specific keyword. You can't go reading all the 100 pages from the start, if so then what's the use of digitizing the documents.
Instead what you can do is simply search the keyword by going into the menu or simple press command "Ctrl + F" (For Windows users) or "Command + F" (For Mac) and type in the keyword and it will move you to that keyword in the document.

How to Convert PDF to Searchable PDF
In this tutorial, you will see how to make a new PDF in a folder searchable. The source file will be a random unsearchable PDF. This task is much easier than you expect, so let's proceed with our tutorial!
In order to perform this activity, you will require a free account with PDF.co and Zapier (if you don't have one). Once you are done with the account setting up, let's make a Zap (top-right corner button in Zapier dashboard).
Step 1
First of all, upload your sample of the unsearchable PDF in your Google Drive folder. Please choose a specific folder.
Select the Google Drive as the App and the New File in Folder as the Trigger Event. Refer to the screenshot below: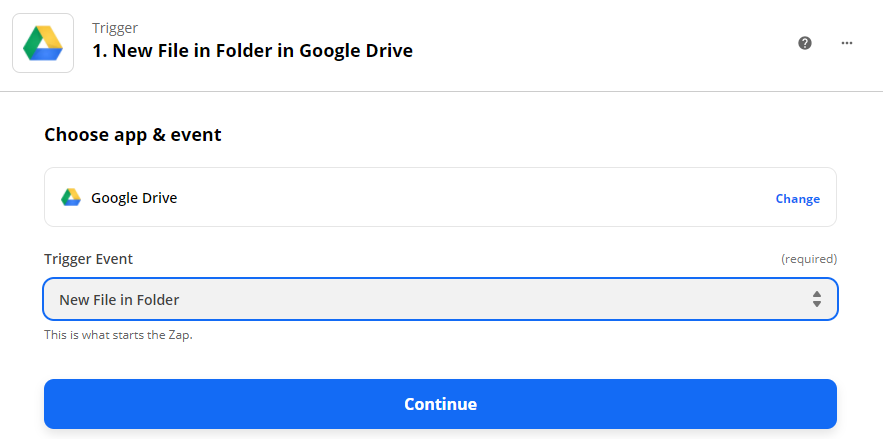 This Zap allows the engine to convert a new PDF into a searchable one any time you upload a new document to your Google Drive folder.
It is possible to use other cloud storage services such as Dropbox, OneDrive, etc. Just select the appropriate Trigger Event.
Step 2
Follow the screenshot below to see how to customize your Trigger Event: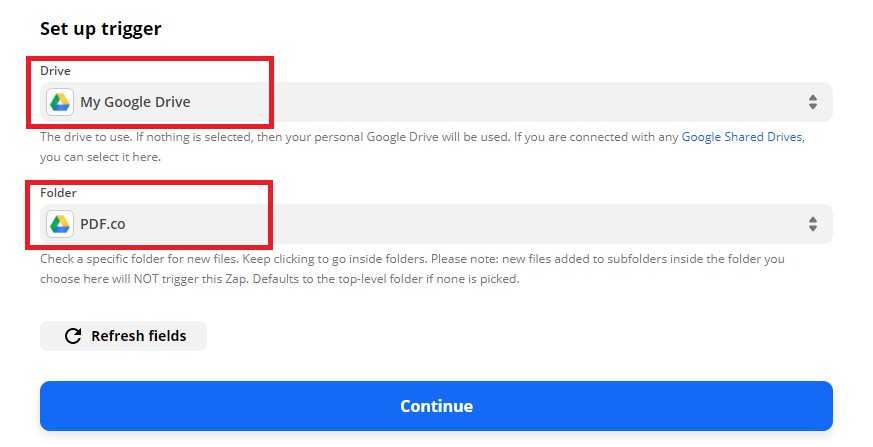 The Drive field should include My Google Drive.
The Folder field requires an appropriate folder name where your sample PDF was uploaded. This is your specific folder including all the PDF files that you are planning to make searchable automatically.
Now, let's Test & Review the Zap and proceed to another Zap creation. Please make sure you connected the correct Google Drive account to the app.
Step 3
Here, you will have to set up a new Zap to make the new PDF searchable using PDF.co. For this, PDF.co should be chosen as the App and Make PDF Searchable as the Action Event.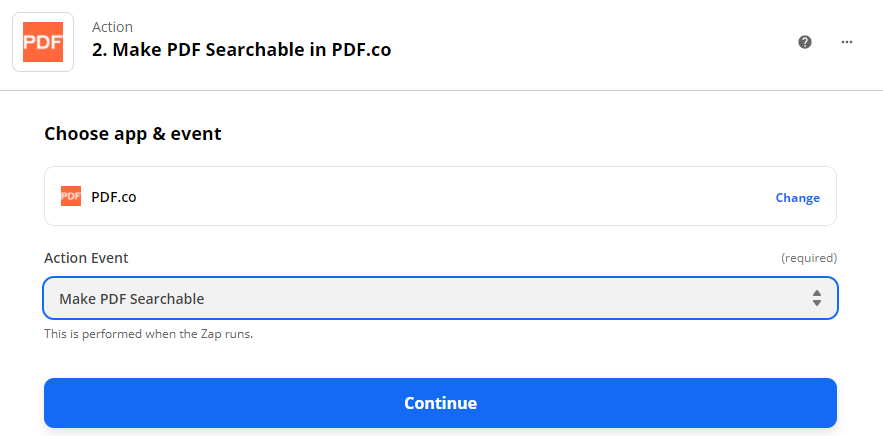 Step 4
The Make PDF Searchable action should be properly configured before proceeding.
The PDF URL field specifies the sample PDF in Google Drive. The OCR Language is set to English by default. But you can choose any language required.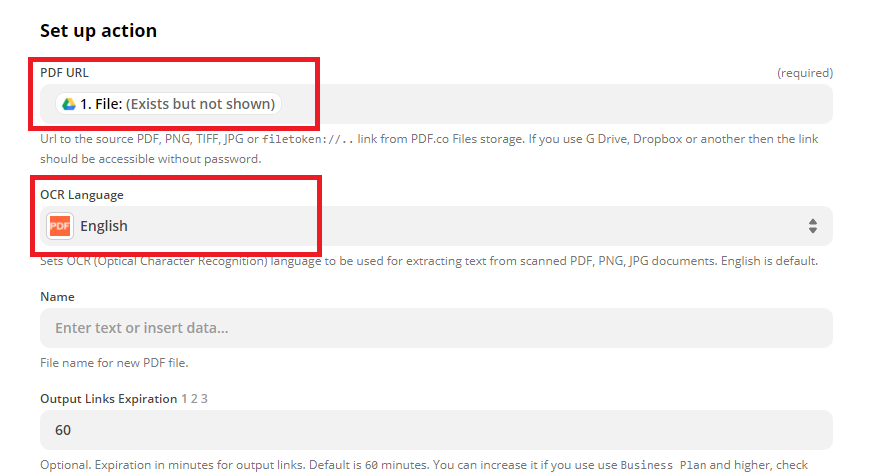 Now, it's time to Test & Review the new action by clicking the button.
Once the test runs successfully, you will get a temporary URL with the output file. Just copy and paste the URL to visualize the file in your browser.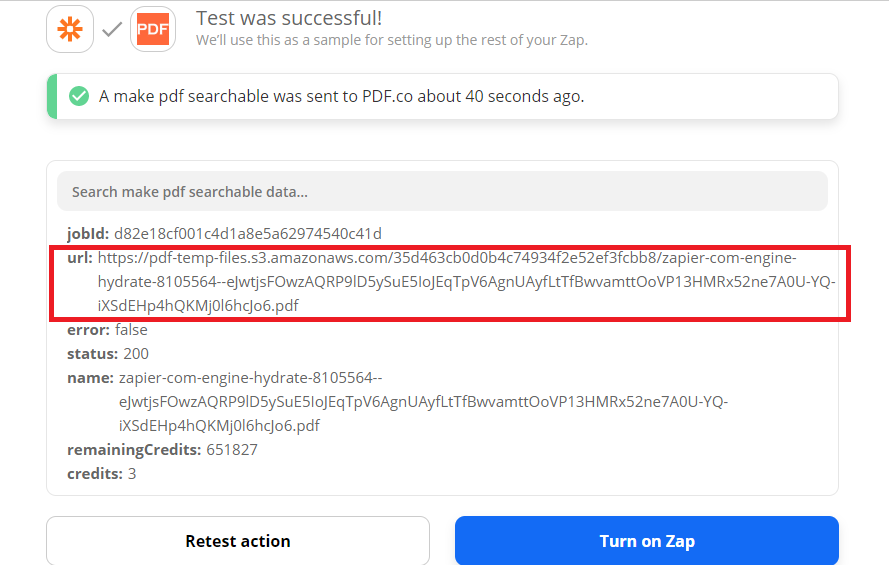 If you don't need to automatically store your new searchable PDFs in your Google Drive, you may just proceed with Steps 3 and 4. Otherwise, please continue to Step 5.
Step 5
We will now set up the Trigger to let the engine automatically store the new searchable PDF files back to Google Drive. Please follow the steps shown on the screenshot: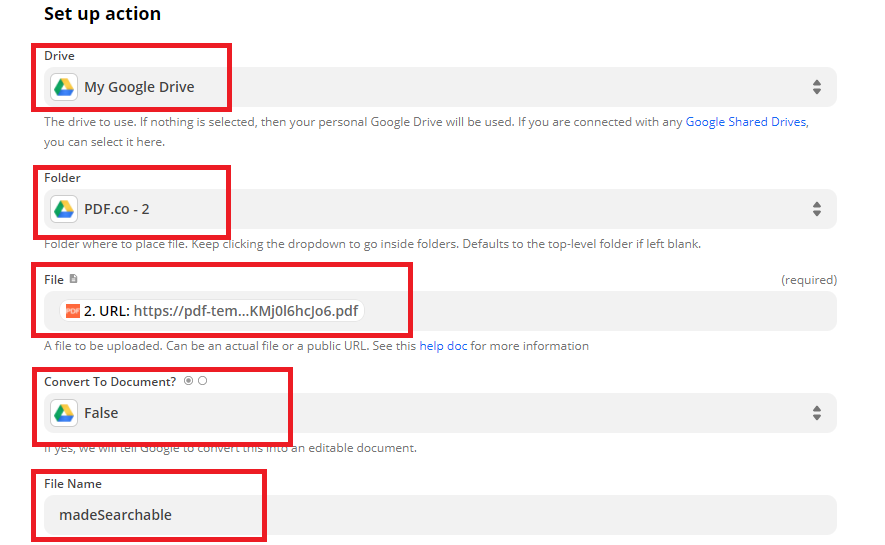 Test & Review the action after the configuration is done.
Go to your Google Drive to see the uploaded new searchable file.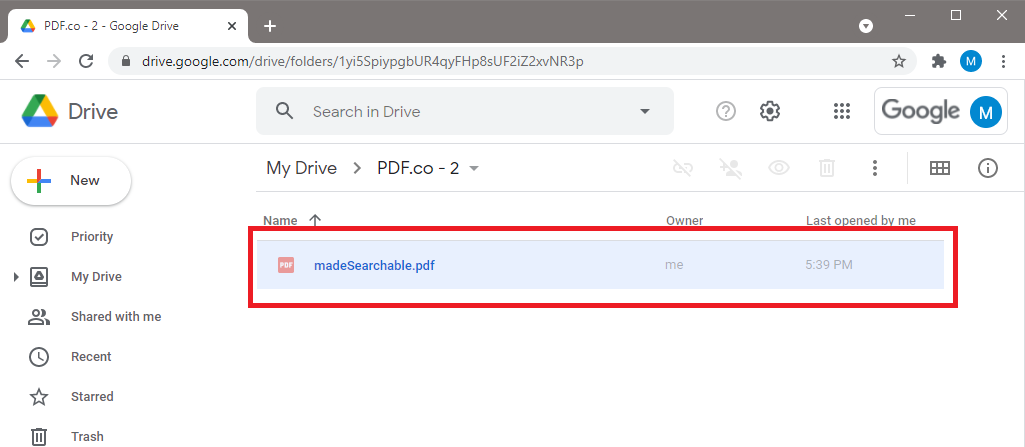 If you still need to get some more details, go to this detailed tutorial. And don't forget to sign up 😉
Convert Image PDF to Search PDF Online – FAQ
Why is My PDF Not Searchable
Your PDF may not be searchable if the source document that was converted to a PDF was an image. That is because while you see the text as distinct, the PDF reader sees it as part of the whole image, which you saved as a PDF.
If that is the case, you can make it searchable using our searchable PDF tool, by converting it to a text PDF. You can then search its text, as you would any other text PDF. Our tool works faster if the source image's quality is 72dpi or more.
How Do I Enable OCR in PDF?
You can use our searchable PDF tool to enable OCR in PDF. The tool converts the image text, to actual text, using its inbuilt OCR technology. You don't need to change anything in the PDF itself, the tool will do the OCR processing on its own.
Can You Make a Scanned PDF Searchable?
You can make a scanned PDF searchable, using our PDF Search API. The tool uses Optical Character Recognition to identify the text in the PDF and then recreates a text PDF from that image PDF.
The rest of the image is maintained, in order not to distort the PDF's formatting. In regard, your scanned PDF is converted into a search PDF.
How to Search Text in an Image PDF
You can search text in an image PDF, after you convert the image text, to plain text, using our search PDF tool's inbuilt OCR. The tool will also save the converted image PDF for you so that you can search it offline after you save it.
You don't need to pay for this particular service if you are using it for commercial reasons. We recommend that you only upload PDF files that are less than 5MB, to get faster results. You can use our PDF compression tool to do that.
How the Searchable PDF tool Works
The searchable PDF tool works in three steps. First, it extracts the text from a PDF image. Next, it reconstructs the PDF, by including the extracted text. Finally, it saves the PDF as a searchable PDF, which you can search online or offline.
Scanned PDF Image to Searchable PDF
Overall, you can convert scanned PDF to searchable PDF online free using our tool, if the PDF is for personal use. However, if you need to convert image PDF to searchable PDF in bulk, then you need to buy credits, and use our PDF image to searchable PDF tool, which is designed for commercial use.