What is Zapier?
IMPORTANT: need to convert your Google Docs, Google Sheets, Google Slides or Google Drive files to PDF? NO NEED TO PAY because you can do it for free WITHOUT any additional services like PDF.co! Please check this tutorial for the detailed explanation 
Zapier is an online automation tool that connects your favorite apps, such as Gmail, Slack, Mailchimp, and over 1,500 more. You can connect two or more apps to automate repetitive tasks without coding or relying on developers to build the integration. It's easy enough that anyone can build their own app workflows with just a few clicks.
Step by step guide:
1. In this tutorial we will show you how you can automatically convert your documents inside Google Drive into PDF using PDF.co and Zapier. With this integration, you can convert anything to PDF. For example, you may convert a Google Doc to PDF in your Google Drive, and more.
Our sample document is a DOCX stored in the Google Drive inside the folder PDF.co. Other supported formats are CSV, XLS, HTML, DOC, XPS, RTF, Images, and Email.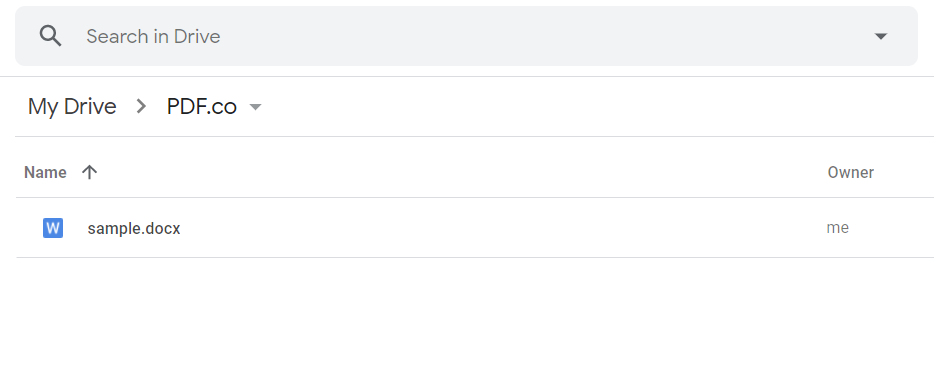 Screenshot of the Source Word Doc in the Google Drive

IMPORTANT: if you need to convert Google Docs/Sheets/Slides documents (not files) to PDF, then you don't need anything! Just need to modify your link, Click here for the turorial.

2. First, let's set up the Google Drive trigger step. Kindly choose Google Drive as the App and New File in Folder as the Trigger Event.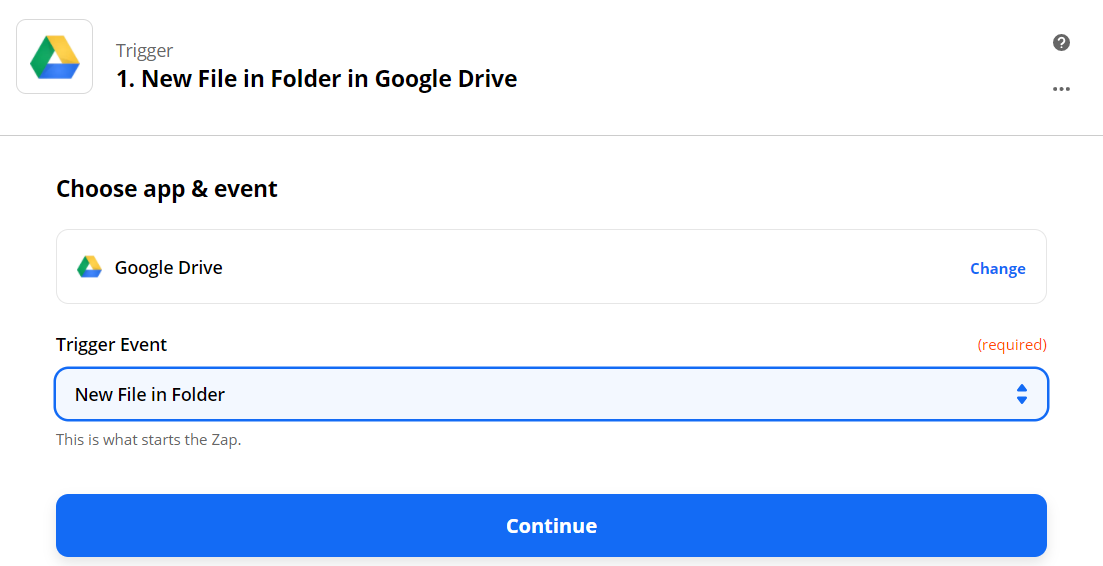 3. Next, let's choose the Google Drive Folder PDF.co where all our documents to be converted are stored.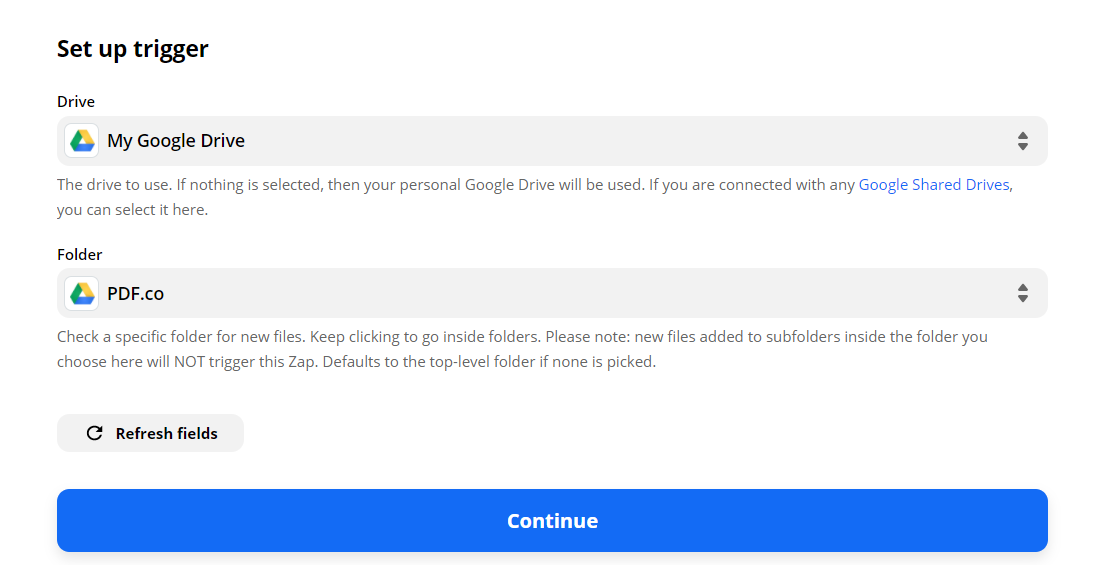 4. Let's test the trigger to make sure that it is set up correctly.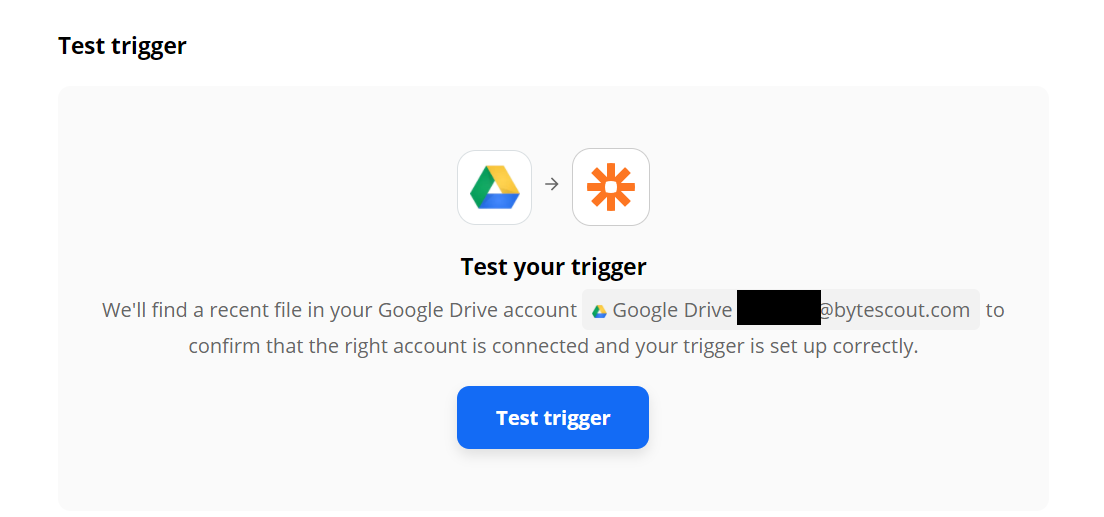 5. Great! Google Drive found a New File in the PDF.co folder.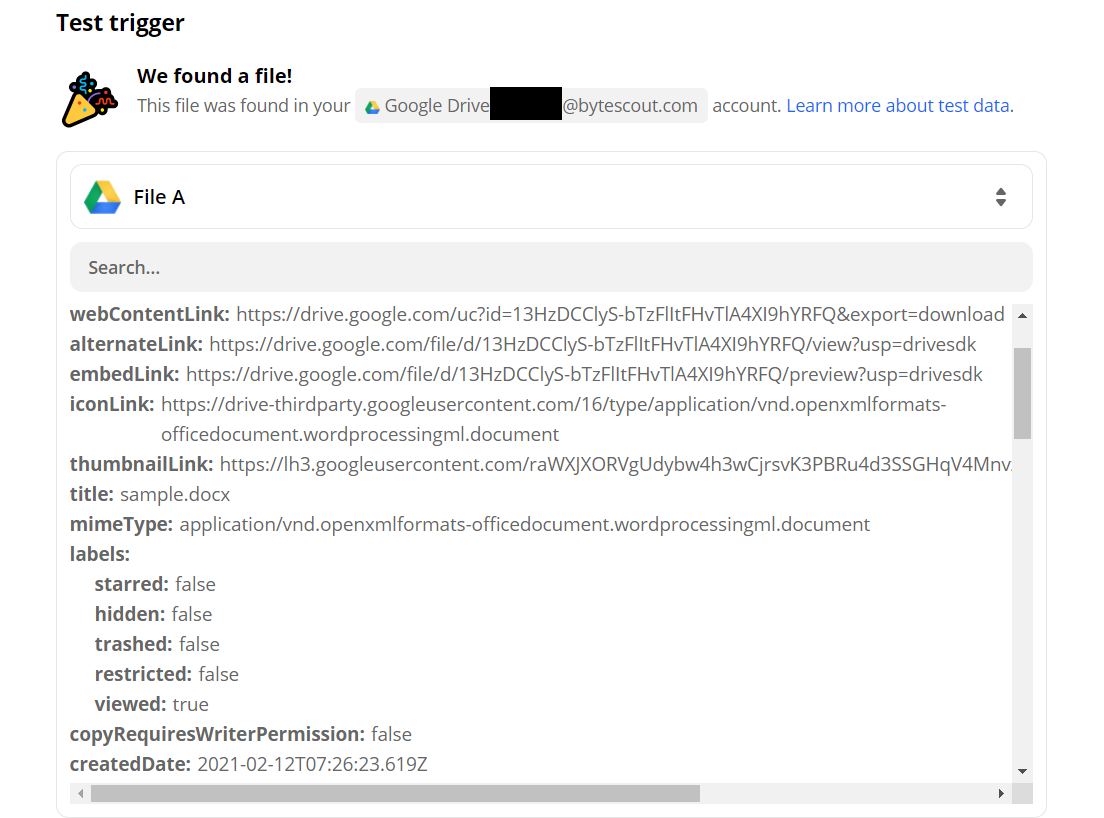 6. Now, let's set up the PDF.co action step. Let's choose PDF.co as the App and Anything to PDF Converter as the Action Event.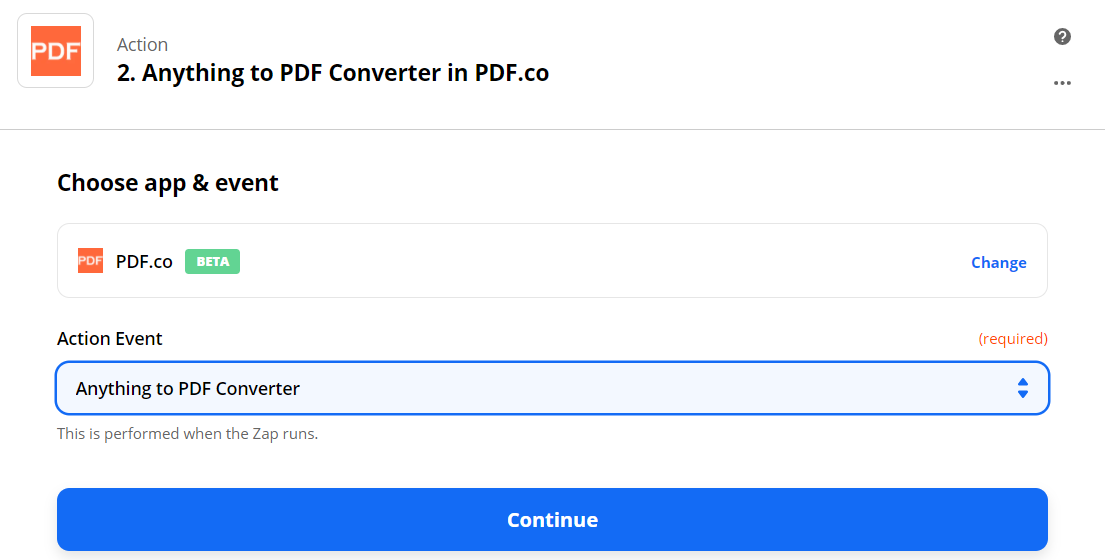 7. It's time to configure the Anything to PDF Converter.
In the Input Type field, choose Link to rtf, doc, docx document.
In the Input field, select the Google Drive link called File.
In the Name field, enter your desired PDF file name.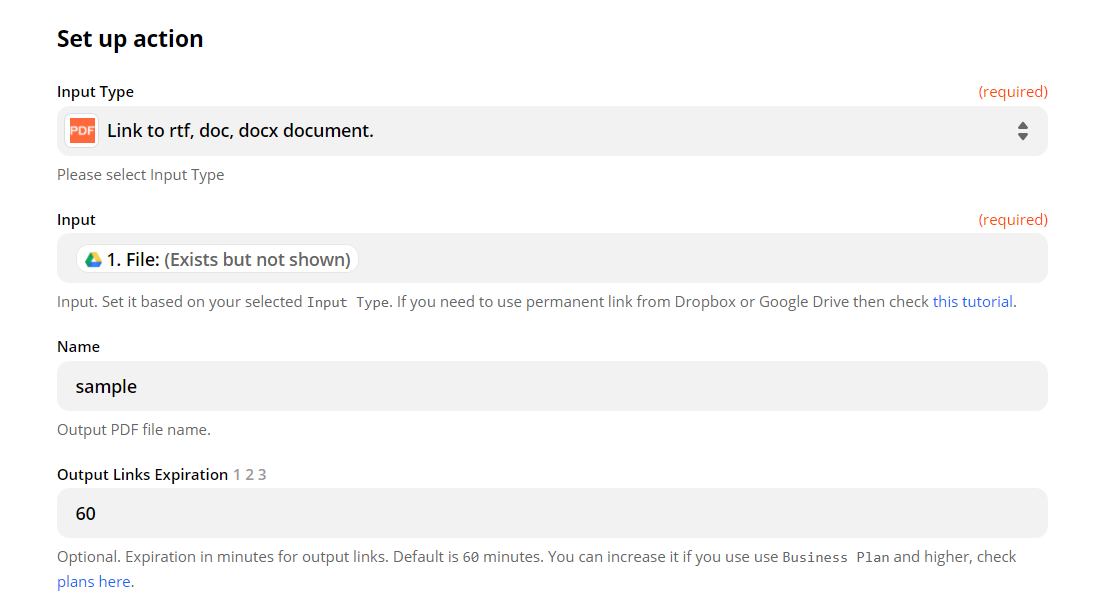 8. We can now send the Anything to PDF Converter data to PDF.co to Test & Review.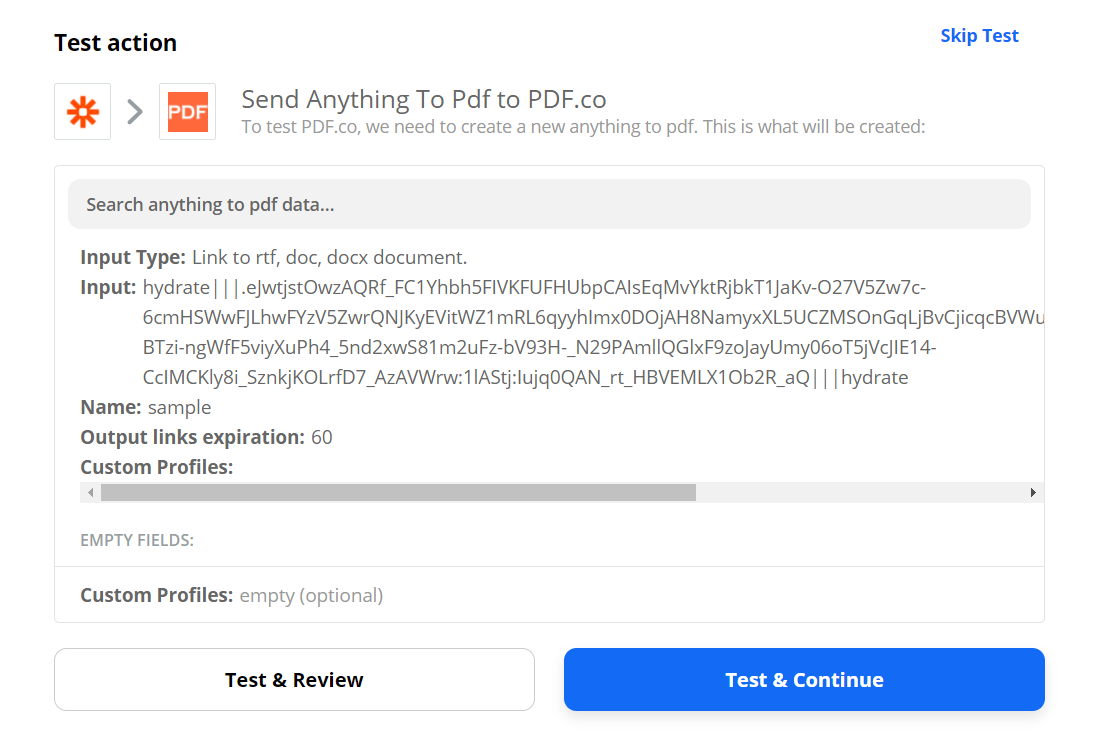 9. PDF.co returned a temporary URL to access the PDF file. Kindly copy and paste the URL to your browser to view the result.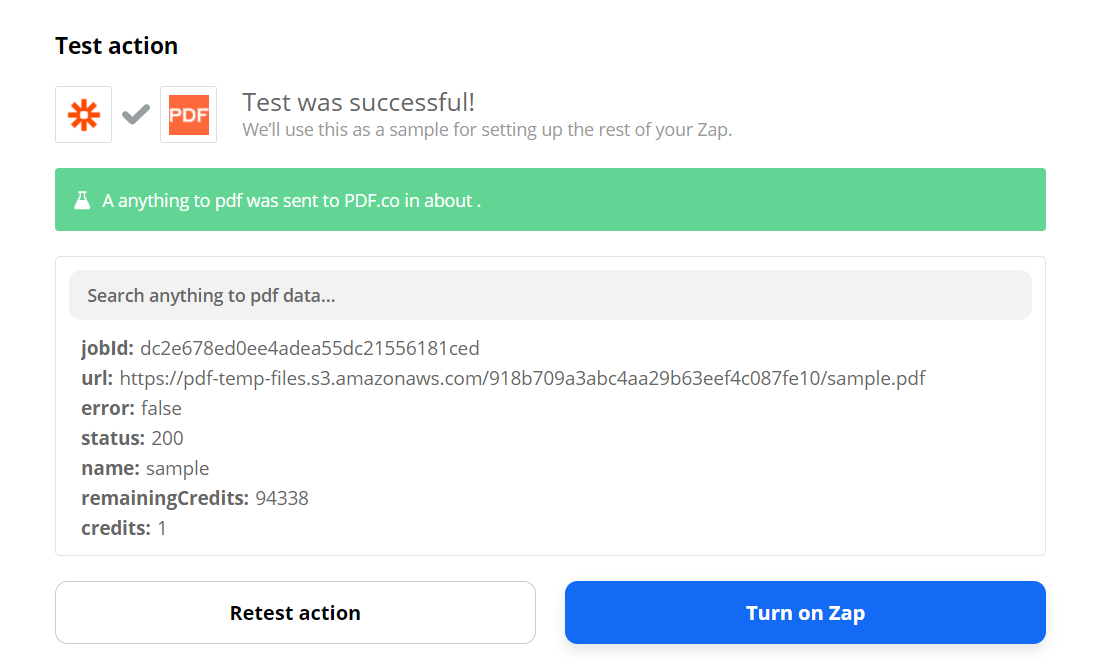 10. Excellent! We have successfully converted the DOCX to PDF.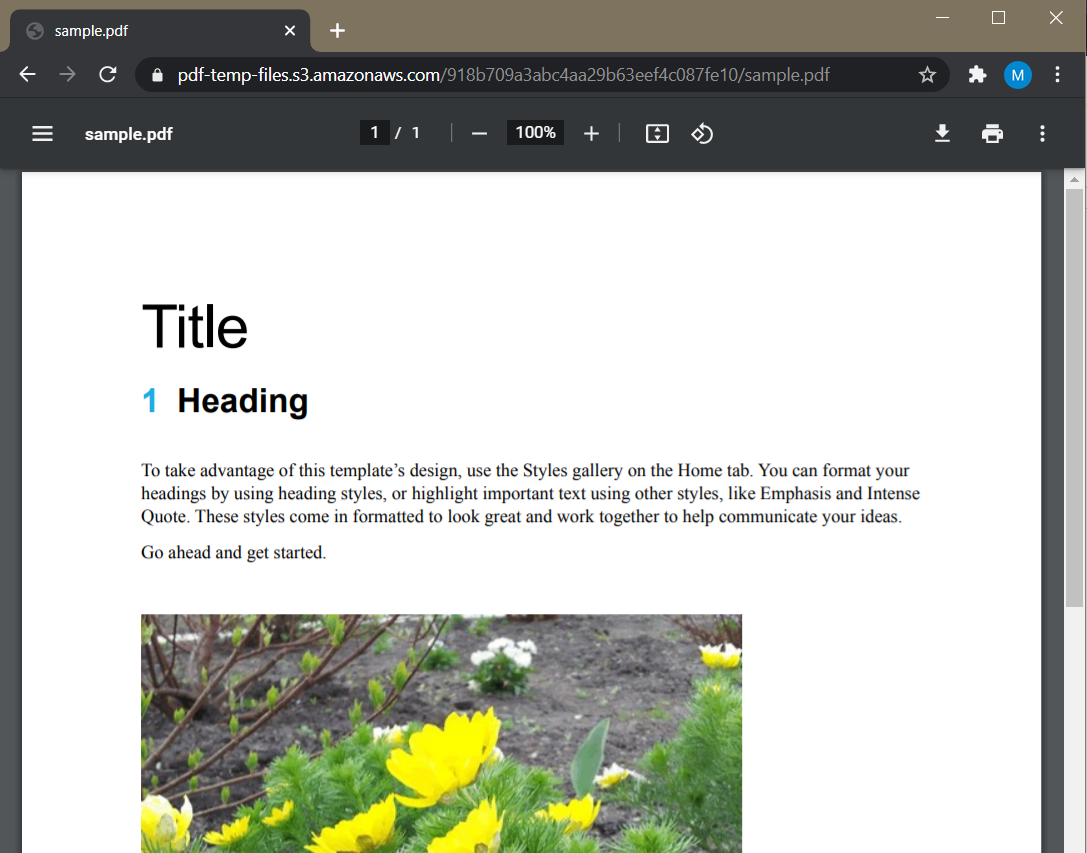 Screenshot of Word Doc Converted into PDF
In this tutorial, we learned how to set up the Google Drive trigger step to access the folder location where the files to be converted are stored. We also learned how to convert the Word document to PDF using the Anything to PDF Converter in PDF.co.
With this automation, you can easily convert any document to a PDF format. For example, it would be easy to convert a Google Doc to PDF.
NOTE: You can set up the next step to save the generated file in Google Drive or Dropbox depending on your requirement.
Check out this video tutorial to convert anything to PDF: