PDF Filler Overview – UiPath
In this article, we will be reviewing PDF filler activity here. PDF filler activity is used to add text or images to an existing PDF file. This activity can also be used to fill out the PDF forms. Now drag and drop PDF filler to PDF scope. As we see this activity primarily expects a source PDF file either we can provide in the URL format or the absolute path format. Let's review the other properties of this activity.
The destination file path is the absolute file path of the output PDF file. We can provide the images we want to add to the PDF. If you want to fill out any existing forms fields we can provide it in the PDF form fields and text objects we can specify the text annotations or the text we need to add to the existing PDF. In the output properties, the resulting file URL is the URL of the generated resulting URL.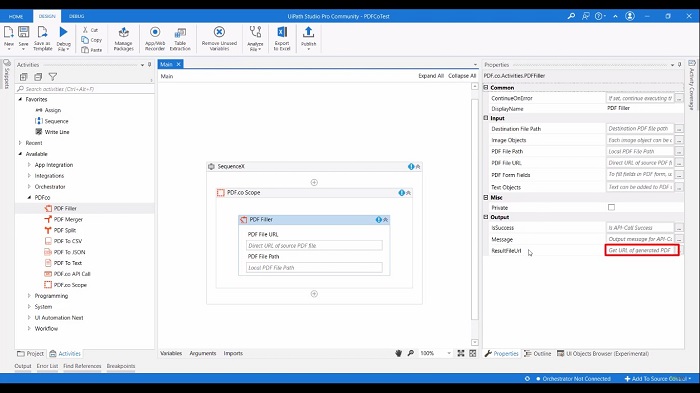 PDF.co and UiPath Integration
To start, please use the button below:
or
Download the latest UiPath plugin for PDF.co
Need help or support? Please
contact us for free support
UiPath Plugin Videos