ABBYY FlexiCapture and PDF.co are powerful platforms that offer advanced capabilities for document processing, data extraction, and PDF management, empowering organizations to automate data entry, streamline document workflows, and enhance productivity.
In this guide, we will explore comprehensive solutions for document processing, data extraction, and PDF management with ABBYY FlexiCapture and PDF.co.
What is ABBYY FlexiCapture?
ABBYY FlexiCapture is an enterprise-grade document capture and data extraction solution. It supports processing various document types and offers advanced OCR (Optical Character Recognition) technology for accurate data extraction.
ABBYY FlexiCapture Features
Cloud Availability
REST API,
Proven security,
Trusted environment,
Powerful FlexiCapture functionality in the Cloud.
Technology Leadership
Auto-learning,
Handwritten ICR,
Image enhancement,
Natural Language Processing,
Advanced document classification,
Multi-level document classification.
Enterprise Readiness
Multi-tenancy,
Mobile capture,
Smooth integration,
Easy administration,
Multi-channel data entry,
Multi-level data protection,
Visibility into data and processes,
Service Level Agreement support,
Single solution for all document types,
Scalability and enhanced performance,
Advanced monitoring and analytics tools.
Ready-to-use solutions for SMB and enterprise
Quick start,
Accessible anywhere,
Document classification automation.
Timeline integration for FlexiCapture solution
Cost reduction,
Customer journey visibility,
Compliance risk management,
Reduced time and manual effort,
End-to-end process visualization,
Build a Digital Twin of your FlexiCapture business processes.
What is PDF.co?
PDF.co is an online platform that provides a variety of tools and functionalities for working with PDF documents. It offers a comprehensive set of APIs and web-based applications that allow users to automate PDF-related tasks, extract data from PDFs, and perform various operations on PDF files.
PDF.co Features
Document Parser
Template Creator,
Easy-to-use-Macros,
Pre-made templates,
Output formats: JSON, CSV, and XML.
PDF Extractor
PDF to CSV,
PDF to XML,
PDF to XLS,
PDF to TEXT,
PDF to JSON,
PDF to XLSX,
PDF to HTML,
PDF to Images (PNG, JPG, TIFF, and WEBP).
PDF Tools
Edit PDF,
Convert PDF,
Extract PDF,
File Upload,
HTML to PDF,
Document Parser,
Barcode Generator,
File Storage (Beta),
Merge and Split PDF.
Generate PDF
You can create PDFs from scratch or use PDF templates.
Convert other documents such as Doc, DocX, RTF, TXT, XPS, HTML, Images (JPG, PNG, TIFF), XLS, and XLSX into PDF.
Barcode Tools
It can work with all 1D or 2D barcode types.
Can scan barcodes from images, PDF files, and even from a link.
Extract Structured Data
Built-in OCR text recognition support,
Export extracted data into different types such as CSV, XML, JSON, HTML, Spreadsheets, etc.
Extract PDF data from various documentation including PDF with tables and images, reports, invoices, scanned documents, etc.
Business-oriented Features
Auto detector and remover of sensitive data,
Email to PDF transformation. Supports emails with attachments including tools to extract important data from emails separately.
ABBYY FlexiCapture vs PDF.co: Comparison Table
Let's take a closer look at ABBYY FlexiCapture and PDF.co to understand their similarities and differences.
| | ABBYY FlexiCapture | PDF.co |
| --- | --- | --- |
| Purpose | Intelligent document processing and data extraction platform | Online platform for PDF-related tools and APIs |
| Data Extraction | Yes | Yes |
| Pre-made Templates | Yes | Yes |
| Template Creation | Yes | Yes |
| Scalability | Handle high volumes of documents and data processing | Platform to handle PDF-related operations |
| Pricing | Open-source project and free to use | Offers free and paid plans |
| User Interface | User-friendly Interface | User-friendly interface |
| Customer Support | Support page, Community, and Contact support | Email support, tutorials, and documentation |
| Security | Data encryption, Access control, Data privacy, User authentication, and Secure document storage | SSL, TLS security, and File encryption |
| API | Yes | Yes |
Compare ABBYY Flexicapture vs PDF.co Workflows
Here is an effective workflow for handling PDF documents using ABBYY FlexiCapture and PDF.co.
ABBYY FlexiCapture Extract Invoice Data
ABBYY FlexiCapture is a powerful feature to employs advanced optical character recognition (OCR) technology to automatically extract relevant data from invoices.
Here's how you can extract data from invoices using ABBYY FlexiCapture.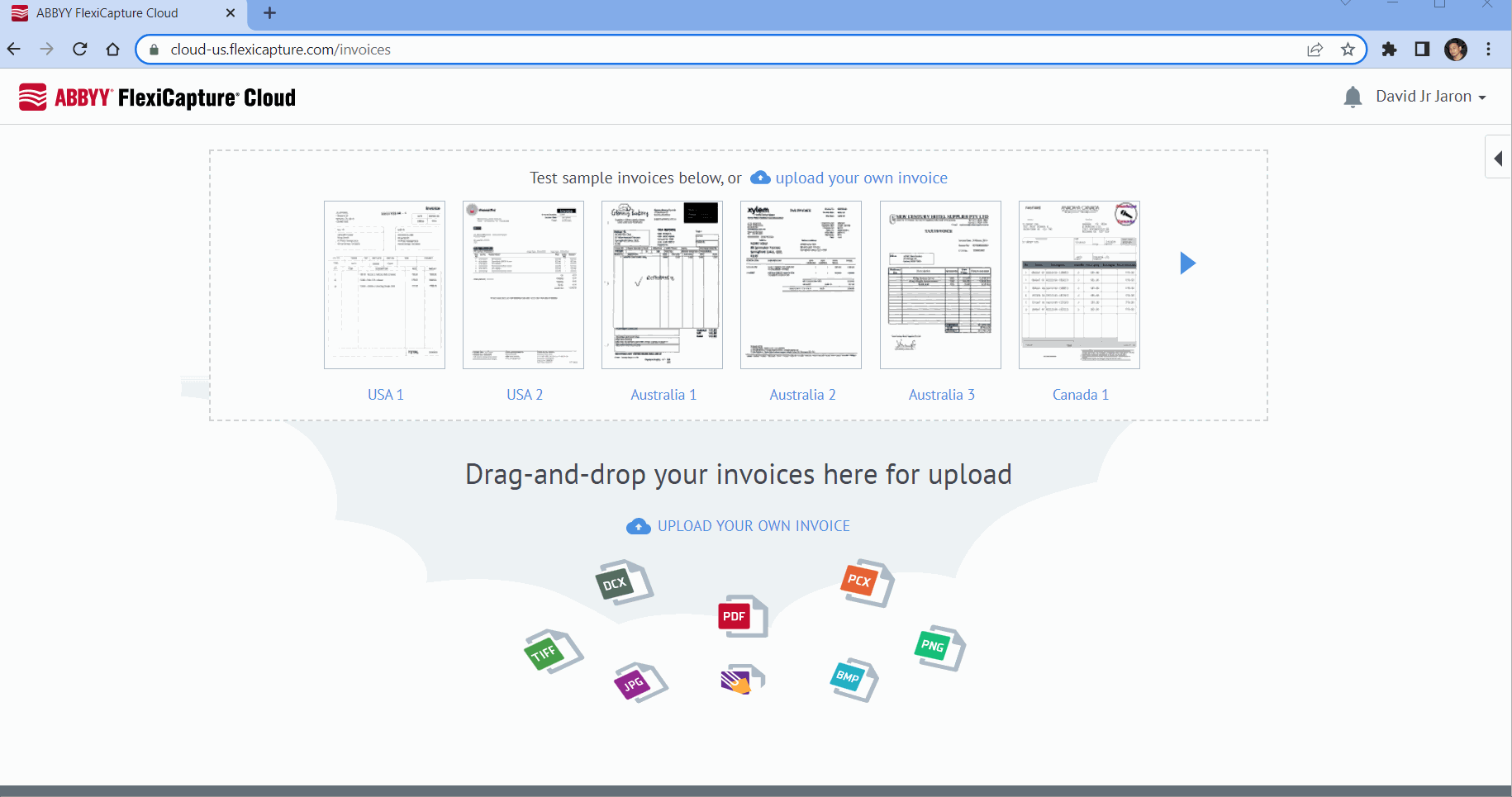 PDF.co Extract Invoice Data
PDF.co is a powerful tool using advanced algorithms and optical character recognition (OCR) technology, it automatically extracts relevant data from invoices within PDF documents.
Here's how you can extract data from invoices using PDF.co.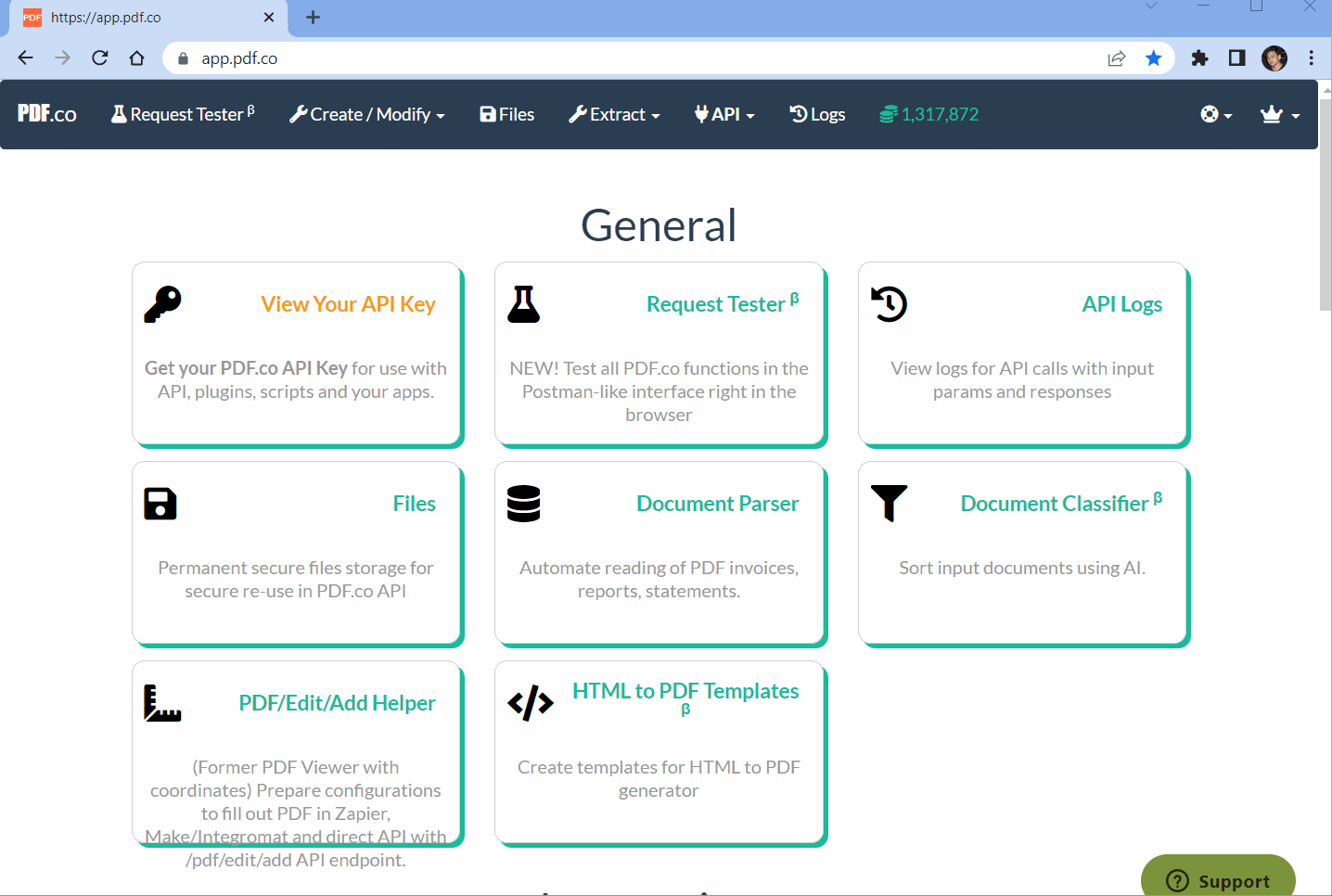 ABBYY FlexiCapture vs PDF.co: Integrations
PDF.co Integrations
PDF.co offers an extensive selection of more than 3000+ integrations to choose from:
Salesforce, Dynamics 365, Zoho, and other CRM systems;
SharePoint, Office 365, Box, Egnyte, Dropbox, SignNow plus ready-to-use 3000+ integrations;
RPA UiPath, BluePrism, Automation Anywhere;
RapidAPI.
ABBYY FlexiCapture Integrations
ABBYY FlexiCapture offers a variety of integration options to connect with different systems and applications:
SAP, Oracle ERP Cloud, Microsoft Dynamics, NetSuite, and Infor ERP;
Salesforce, Microsoft Dynamics 365, SugarCRM, and Zoho;
Microsoft SharePoint, OpenText Content Suite, IBM FileNet, Alfresco, and Laserfiche;
Microsoft SharePoint, Adobe Experience Manager, Drupal, Sitecore, and WordPress;
UiPath, Automation Anywhere, Blue Prism, WorkFusion, and Kofax RPA;
Appian, IBM Business Automation Workflow, Pega Platform, Bonita, and Camunda;
Microsoft OneDrive, Google Drive, Dropbox, Box, and Amazon S3;
Microsoft Teams, Slack, Microsoft Office 365, Google Workspace, and Asana;
IBM Sterling B2B Integrator, SPS Commerce, OpenText B2B Managed Services, Cleo Integration Cloud, and TrueCommerce.