Add Text Annotations to PDF with UiPath
We have already seen how to add images to our existing PDF file. Let's try to add some text annotations to our input file. I already have a PDF file URL added to as input. It's time to add some text objects. Here the first parameters are the X and Y coordinates then the pages on which this text annotation needs to be added. Then the text which needs to be added, font name, font size, font color, and any link if you want to open then click on text objects whether the added text should be transparent or not that note to be specified.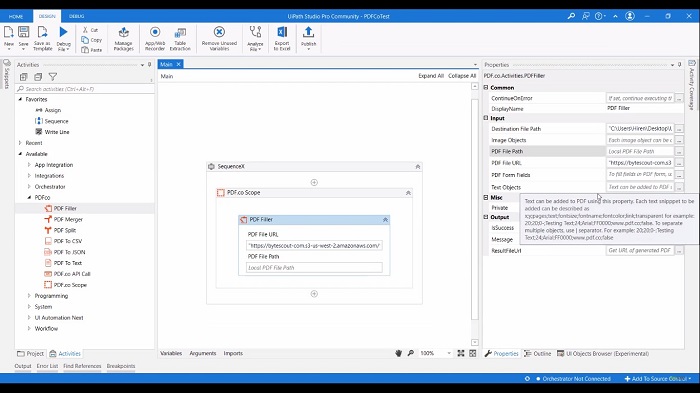 I already have one input annotation string. Here 20;20 are the X and Y coordinates. I'm providing the zero to all. Basically, it is a zero page index. This will be applied to all the pages in the PDF then input text is like the PDF form filled with PDF.co. 24 is the font size, the font name is Arial and we are applying the red color. Here is the link which we have specified. It will be open when we click to this text and it is transparent.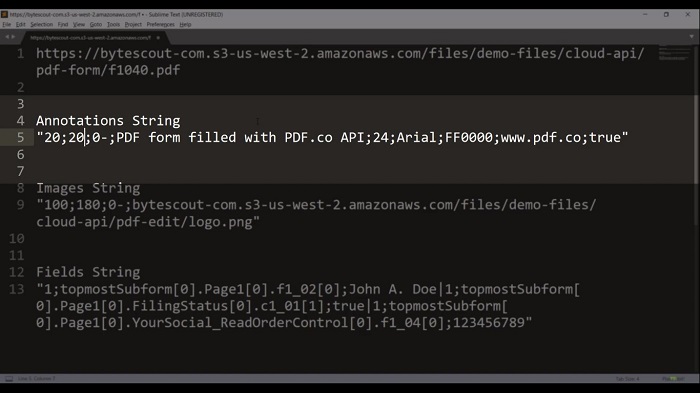 Now copy this and add in text objects. Change the destination file path to result_text. I think we are set with the configuration and let's see in running. Our execution is completed. We can see the result_text file has been generated and we open it.
We can see our text has been added. If we click, it will redirect us to the PDF.co website. This is how we can add text annotation to existing PDF files.
PDF.co and UiPath Integration
To start, please use the button below:
or
Download the latest UiPath plugin for PDF.co
Need help or support? Please
contact us for free support
UiPath Plugin Videos