About Automation Anywhere
Automation Anywhere is a technology company headquartered in San Jose, California, USA. It is a provider of an end-to-end Robotic Process Automation (RPA) and Artificial Intelligence (AI) platform for automating any business process. They offer Discovery Bot for fast-track automation, IQ Bot for transforming unstructured and hidden data with AI that can learn on its own, Bot Insight for real-time analytics, and a Bot Store to get pre-built automation solutions.
Read more about Automation Anywhere at https://automationanywhere.com
PDF.co and Automation Anywhere Integration
Download Automation Anywhere Bots for PDF.co
Need help and support? Please use the button below:
Request Support for Automation Anywhere+PDF.co
What is PDF.co?
PDF.co is the secure and scalable data extraction API service with a full set of PDF tools included.
PDF.co in Automation Anywhere screenshot: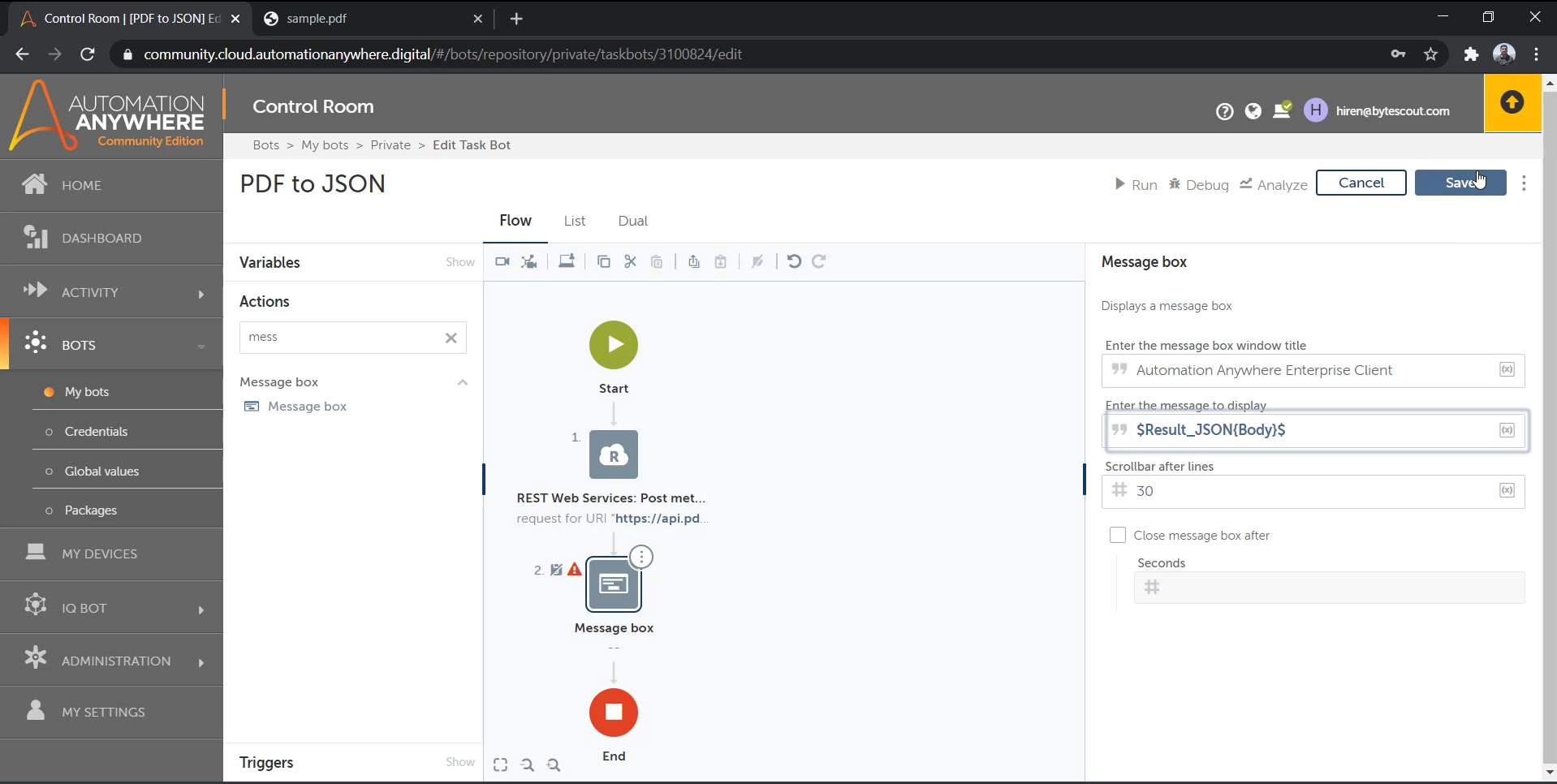 Benefits:
Automation Anywhere bots for PDF.co can help decrease manual data entry costs using AI-driven data extraction from PDF and scanned documents, receipts, agreements, invoices, reports, etc.
You will be able to read from complex documents using customizable Document Parser. It supports automatic reading from tables, PDF forms, and mixed content documents
Gives you the opportunity to significantly save time as you plan documents with PDF filler beneficial for attachment of images, text, conversion to PDF from forms, and PDFs;
Using the Automation Anywhere bots for PDF.co, you can leverage the power of a built-in full set of PDF tools. These are functions available: PDF splitting & merging, pages deletion, and advanced HTML to PDF generation
Offers Enterprise users detailed API records together with audit log requirements.
Business clients can access connected and offline forms of the application.
Security
All documents and files processed by PDF.co are encrypted at rest using AES 256-bit encryption;
PDF.co relies on TLS and SSL to transmit data and files (the same security protocols that are used by banks)
Runs on award-winning secure certified Amazon AWS infrastructure: https://pdf.co/security
Automation Anywhere Bots Key Features
Automation Anywhere Bots for PDF.co is totally configurations and extensible with lots of built-in activities. We can integrate any PDF.co endpoint based on our need and can create custom bot with it.
The following are the pre-built Automation Anywhere Bots for PDF.co. However as stated earlier, we can easily consume any of PDF.co endpoint as per our need and create customized Bots.
PDF to Text
PDF to Text Bot for automation anywhere converts PDF file format to text output. We can also convert the whole PDF file or just a particular region of PDF to text format. Output text can be retrieved either directly in inline response or we can also get response URL containing response text. It has built-in OCR with support to multiple languages, hence works smoothly with scanned PDF also.
PDF to CSV
This Automation anywhere Bot converts PDF file to CSV format. We can either convert the whole PDF file to CSV or particular pages to CSV file format. We can also further fine-tune extraction by providing a region within the PDF page also. Like all PDF converter provided this works very well with large files.
PDF to JSON
As the name suggests this automation anywhere bot converts PDF to JSON. The final output text is like virtual table. This bot generates output JSON with each text group as a different value.
PDF to XML
This automation anywhere bot converts PDF data to an XML file format. Like all other data conversions from PDF provided, we also have options for line-group output items.
PDF Split
This automation anywhere bot splits PDF into multiple files. This is a very common function we often need with PDF, and a real-time saver when it is provided with an automation tool. This action is very generic in terms of page splits we want to configure.
PDF Merger
As the name suggests this automation anywhere bot merges multiple PDF documents into one PDF. This is a very useful automation feature when working with PDF.
PDF Add Text and Images to PDF
The main purpose of this automation anywhere bot is to add text annotations or images to the existing PDF file. We can also add redirect links to added images or text annotations.
Fill PDF forms
With this automation anywhere Bot, we can fill-out existing PDF forms and documents.
Automation Anywhere and PDF.co Integration
Download Automation Anywhere bots for PDF.co
Need help and support? Please use the button below:
Request Support for Automation Anywhere+PDF.co
Automation Anywhere Bot Videos