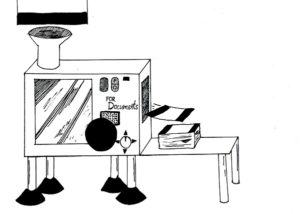 The size of computer files is often very small. This is desirable, as many sharing services have file size limits. Small files also save data storage space. You can learn how to resize a PDF file that's too large.
Resizing PDF
The resizing or compression means that you resize the file to make it smaller in disk space size, which allows you to save more space and helps manage your files easily. This becomes helpful when you have a very large number of PDF files and you are facing a problem of running low on disk spaces.
Why it is necessary to resize the PDFs?
Well for this answer I would like you to suppose there is a bool of 1000 pages or more and you want to share it with your friends, colleagues or anyone else. You have been faced the issue where most of the email management software's like Google's Gmail doesn't allow you to attach documents that are more than 25 MB, then how you will send it, and the question comes in your mind is how can I downsize a PDF file or how can I condense a pdf file. Don't worry, we have come to rescue you here. PDF.co is an online tool which provides a lot of features along with a feature to reduce the size of PDF's.
How can I condense a PDF file offline?
One way to make a PDF file smaller offline is to condense it with existing software on your computer. For example, the basic process for how to reduce PDF file size in Adobe Reader or Mac Preview is.
Open your software.
Open the PDF.
Choose «Save as Other» or an export option.
Look for an option allowing you to reduce the PDF size as you save.
Save the compressed version of your file.
How can I downsize a PDF file over the Internet?
If you need to know how you can reduce PDF file size online, look for a compression service. These companies all work roughly the same way. You visit the provider's website and upload the file. The provider condenses the file for you during uploading. Here's how to reduce PDF file size online through PDF.co.
Visit PDF.co.
Choose the Compress PDF Online option on the homepage.
Choose the PDF file you want to compress. PDF.co lets you find files from your computer, Dropbox or website URLs. But some services that teach you how to reduce PDF file size have more limited capabilities.
Download the compressed version of your file.
When done, rename the compressed file if the service named it like the original. This will let you more easily tell the files apart. Do not delete your original PDF until you're sure it's safe.
Other options
In some cases, you can reduce PDF size by converting its format (e.g., to .jpg). Splitting a PDF works if compression or conversion still doesn't create a small enough file.
Check this video for a full Compress PDF tutorial:
Following this tutorial, you will learn how to reduce pdf file size online using our tool pdf.co
Now let's start our tutorial. This is a very short and simple tutorial.
First, you will open this link.
https://app.pdf.co/compress-pdf
When you open this link, a new window is opened on your screen which looks like this:
When this window is opened the next step, we will do is to click on "choose file" you can also drag and drop your file. You can also choose to select a file from Dropbox or select the file from URL.
After clicking, a new small window is opened on your screen which looks like this:
When we choose a file which we want to compress and hit open. After the file selection, it takes some time to process the file.
When processing is complete the PDF file will be displayed on the screen like this:
After this, we will see clearly that on the top mid of the window a red highlighted link is shown to download the compressed file (picture above).
When we click on the link a new window is opened in which PDF file is shown, this is the compressed file you can download it.
Finally, we have compressed the PDF file. I hope this tutorial will help you.