Are you wondering how to request a tax refund, tax credit, or how to file your taxes come 2022? Well, here are the top ten Internal Revenue Service (IRS) tax forms. You are likely to use one or more of these IRS tax forms before April 2022.
TOP-10 IRS Forms List – Where Can I Get IRS Tax Forms?
You can get the latest version of any tax form from the IRS website. The forms are available free, any time of the day and night, throughout the year. You can also get paper copies of the IRS tax forms from the Taxpayer Assistance Centers (TACs).
There are 401 TACs in the whole country, where you can get a free face-to-face consultation.
1. Form 1040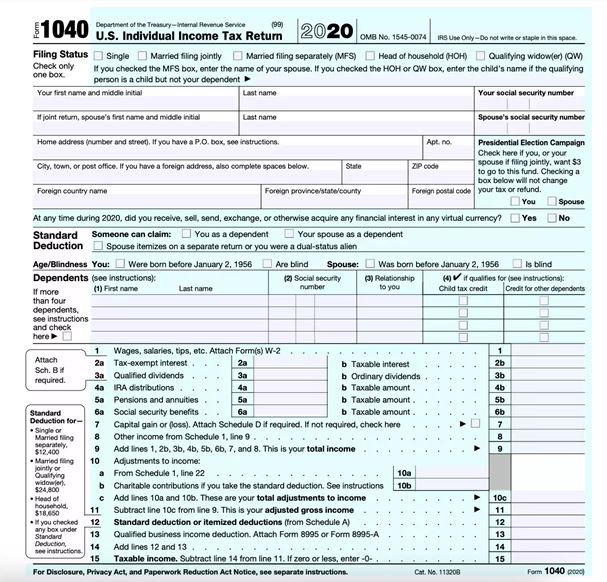 Form 1040 (U.S. Individual Income Tax Return), is a standard IRS form. U.S. citizens or non-US citizens use it to file their annual income tax returns.
Using this form, you can declare your taxable income for the year 2021, any taxes owed to the Internal Revenue Service (IRS), or any refund you expect to receive.
For instance, in 2021, the standard individual income tax deductions that you can file are:
Single or married separate filing, $12,550
Married joint filing or a qualifying widow or widower, $25,100
Head of household, $18,800
There are various 1040 Forms for different individual tax income filing scenarios. They include:
Form 1040-SR: Used by citizens over the age of 65 years. It allows taxpayers in that category to add $1,300 to their standard deductions.
Form 1040-X: Used correct errors and omissions incurred during filing of returns previously done by form 1040.
Form 1040-NR: Also known as the Nonresident Alien Income Tax Return, non-US citizens who do not possess green cards to use this form.
2. Form W-4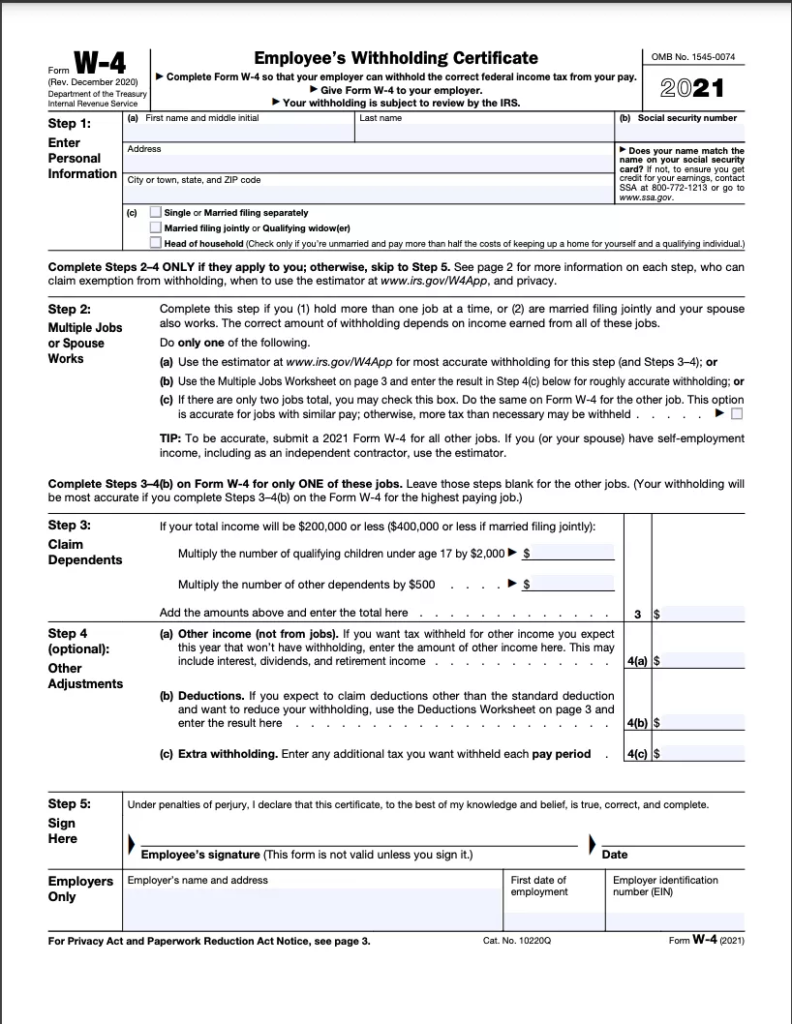 Anytime you change jobs or employers, you need to complete Form W-4 and give it to your new employer. They need it to determine how much in federal taxes to withhold from their employee.
The amount of tax withheld varies depending on factors such as tax credits, tax arrears, dependents, etc.
If you did not have tax liabilities from 2020 and there will be none in 2021, you can use Form W-4 to instruct your employer not to withhold any tax.
Find out more about the W-4 form.

3. Form W-2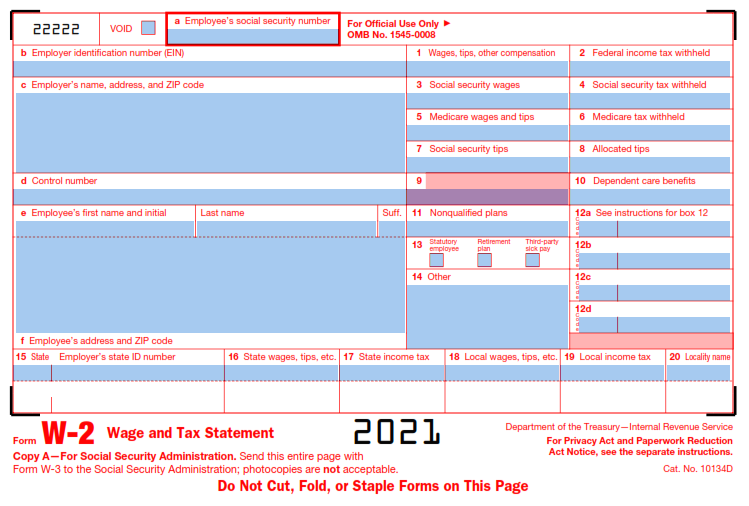 Employers use Form W-2 to file the wages they paid to their employees and the taxes they withheld.
Form W-2 helps the IRS track the reporting of taxes such as Medicare tax, social security, and income tax withheld.
Employers should provide their employees this form earlier to allow them enough time to file returns before the April deadline.
4. Form 4868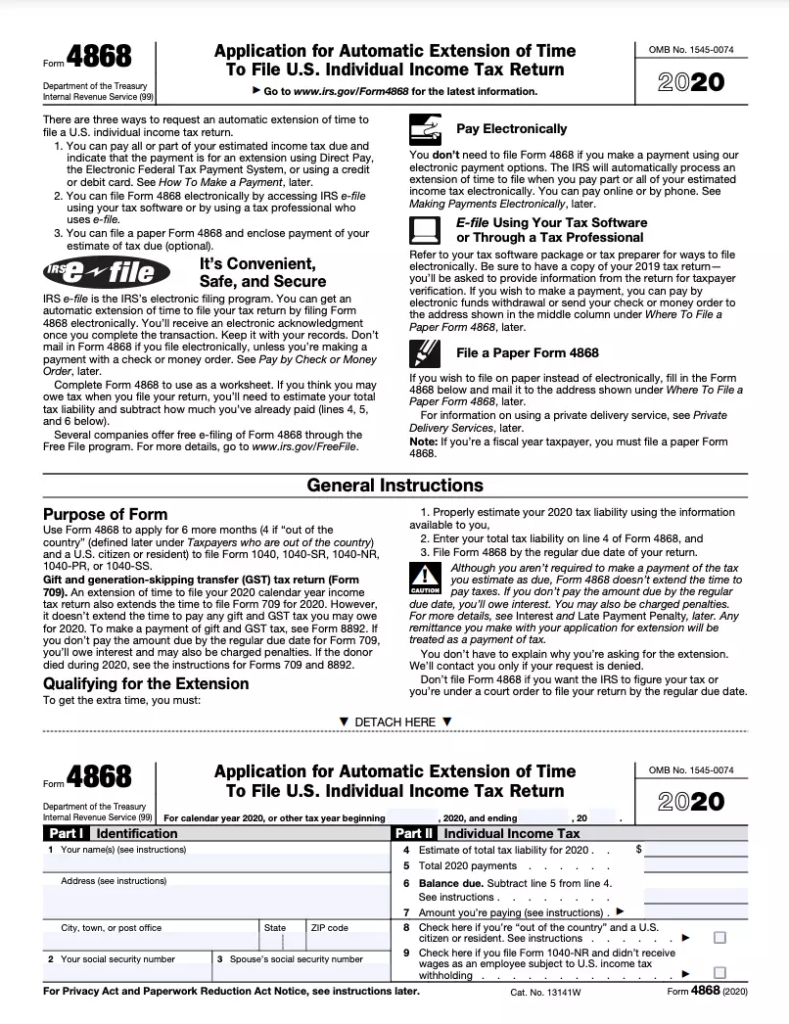 You can use Form 4868 to request for extension of time to file a U.S. individual income tax return. The form is also as "Application for Automatic Extension of Time to File U.S. Individual Income Tax Return."
Form 4868 gives you a one-time extension of six months; however, you have to submit the form before the initial due date of filing returns. Moreover, form 4868 does not extend the time for paying taxes.

5. Form 941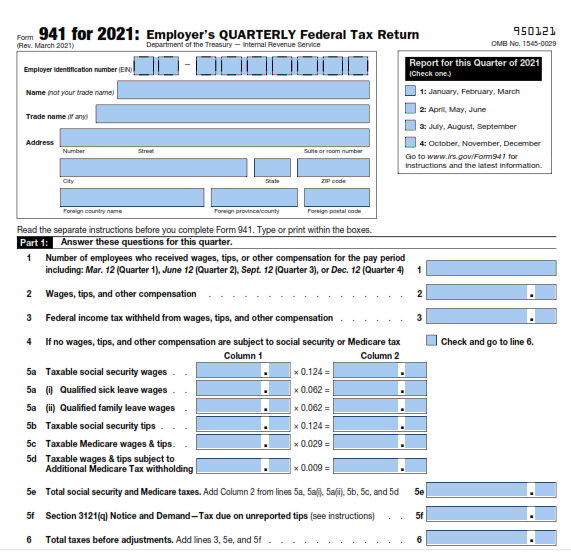 Form 941 is also known as "Employer's Quarterly Federal Tax Return," and employers use it to report their employee's withheld taxes as they pay their FICA and Medicare taxes. It is filed quarterly and has the following deadlines: April 30, July 31, October 31, and January 31.
Check how to complete Form 941 properly.

6. Form W-9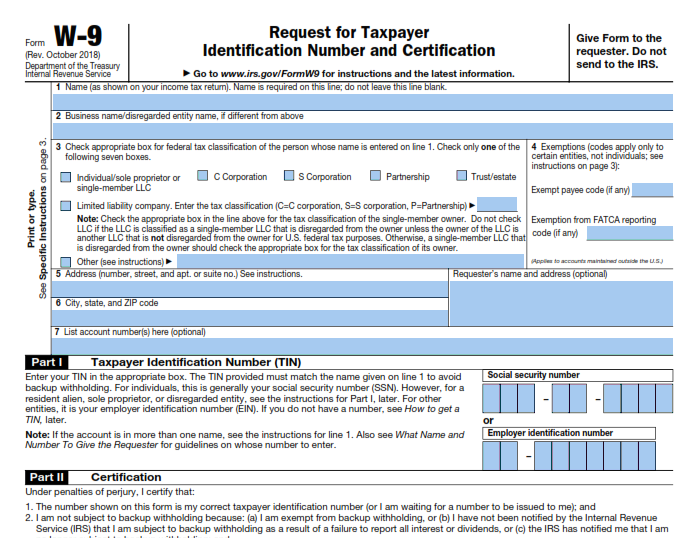 Form W-9 is also known as the Request for Taxpayer Identification Number (TIN) and Certification Form. Employers use it to send taxpayer details such as the name, address, and tax identification number to the IRS.
The IRS requires anyone who resides in the USA and earns an income to fill and submit a W-9 Form. The employer uses the information you provide in Form W-9 to generate Form 1099.
7. Form 1099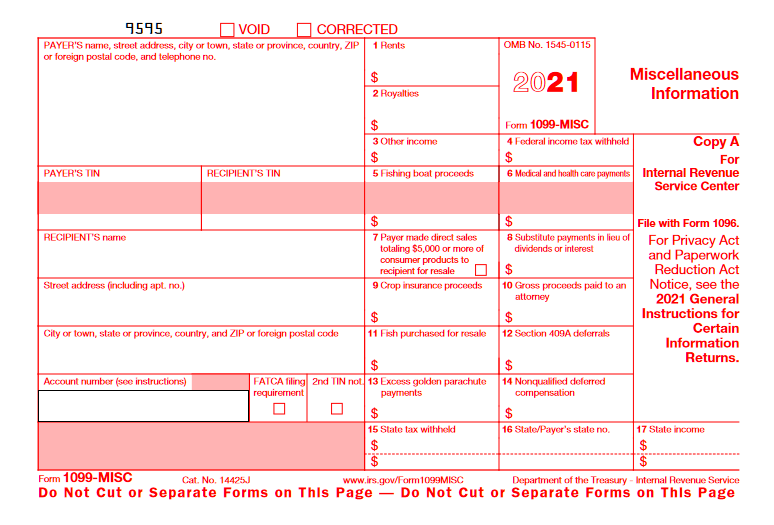 If you are a business entity, you have to issue Form 1099 to any person you have paid $600 or more. You must also send a copy of Form 1099 to IRS. There are several variations of Form 1099, and they include the following:
Form 1099-DIV: You use this form to declare any income in the form of dividends and capital gains.
Form 1099-MISC: You can use this form to report income of more than $600 from one or more business entities. You will get a 1099-MISC from each business that sent you cash rewards, royalties, one-time payments, and other types of earnings.
Form 1099-G: Use this form if you received any income from the government, such as a grant or unemployment benefit.
Form 1099-INT: You will receive this form if you received interest on your bank savings.
8. Form 4506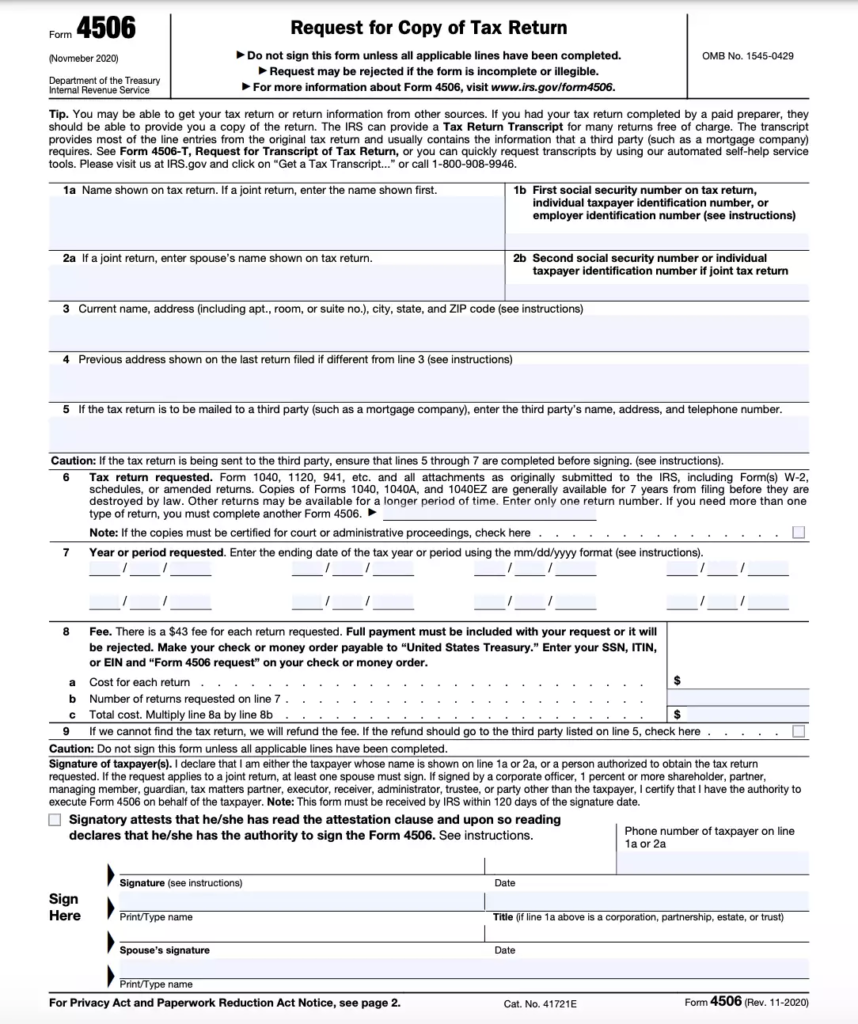 If you need copies of your previously filed returns, you can request them using Form 4506 (Request for Copy of Tax Return).
The IRS will then send you copies of tax returns sent to a third party. The other variations of Form 4506 include:
Form 4506-A – used by political entities to request copies of tax exemptions or exemption applications.
Form 4506-T – used to request a return transcript or know information on penalties for the current fiscal year.
Form 4506T-EZ – used tax return transcripts for up to three previous fiscal years.
Check how to complete Form 4506-t using Zapier and PDF.co.
9. Form 1098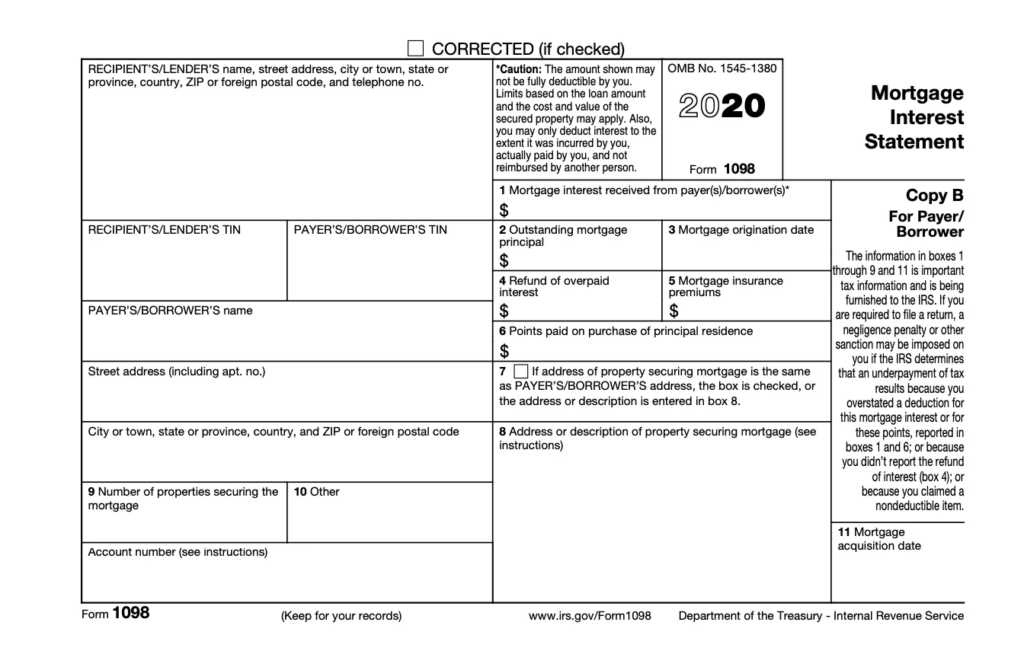 If you are a homeowner paying a mortgage, or you donated an automobile, or you either paid tuition fees, or you are repaying a student loan, you will receive Form 1098. There are four types of form in the 1098 series.
Form 1098: Used to declare mortgage interests of more than $600 paid to lenders.
Form 1098-C: A donee uses a 1098 Form to file a qualified vehicle contribution to a charitable organization.
Form 1098-E: Provided by lending institutions to report interests of more than $600 on student loans.
Form 1098-T: Provided by post-secondary institutions to report tuition fees and related fees received.
10. Form 9465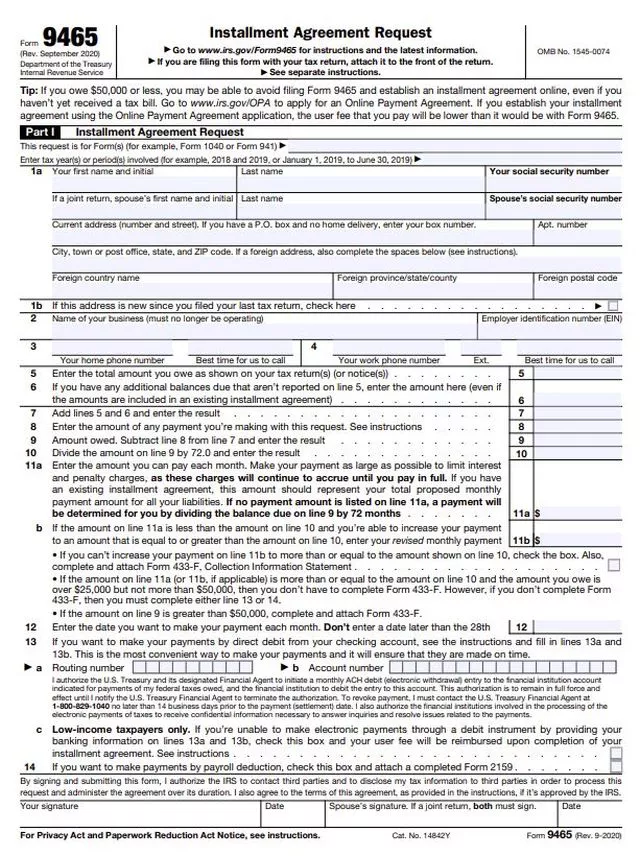 Taxpayers use Form 9465 (Installment Agreement Request) to request a monthly installment payment plan. You can use it to request that you pay the taxes you owe in monthly installments if you cannot afford to pay the whole amount at once.
Conclusion – IRS Forms
It is important that you use the right forms when filing your tax returns, or make requests to the IRS. Often, you may find a form that has several variations, which obviously means you have to be keen to choose the one that fits your specific situation.
In that regard, using a tax filing solution or hiring a professional accountant can help you avoid making costly mistakes.