Does your company need a top banking software solution? Several vendors have developed top digital solutions and core banking systems most beneficial to all types and sizes of companies. Top vendors include FIS Global, Fiserv, Temenos, CSC, and Ebanq.
In our TOP-10 banking software solutions, we highlight solutions that are suitable for big companies:
Find out how you can tap into these systems to scale operations, improve accounting processes, enhance risk and credit management, and customize payments. Banking software also provides technology that companies can leverage in the capital markets environment. Moreover, at the end of the list you will find a bonus tutorial to process banking documents.

1. Temenos Transact
Switzerland-based Temenos offers a massively popular core banking product that is used by multiple banks around the world. A uniquely scalable and customizable solution can suit any company's local needs. The provider takes the cloud banking concept to a new level with this software solution. Exploit aspects like Credit Card Management, online banking, payments, and risk management capabilities with this product.

2. EBANQ
EBANQ is a top banking software made for a company that wants to exploit e-banking out of the box. This fully customizable product is ideal for companies that offer payment and remittance services. The white-label banking app is known to offer an excellent turn-key solution for payment institutions, neobanks, banks, cryptocurrency exchanges, remittance companies, and other organizations that manage client accounts.
EBANQ is light and clean, a term used in the banking industry to refer to its ability to load fast on all devices and work correctly with almost all browsers. The app is also a white label. So you can customize it by uploading your colors, icons, and logo to achieve your desired look and feel in no minute. What's more, EBANQ makes the best use of the latest technology responsive to the changing needs in the online banking industry. Its built-in intelligence and risk control mechanism allows financial institutions to meet customer needs and build trust that enhances growth.
For that matter, if a business deals with client assets, then EBANQ is the banking solution to use.

3. FLEXCUBE
Oracle is one of the leading banking software vendors with wide market visibility. The company's FLEXCUBE offers a top-of-the-range solution for banks. Notably, however, any business after a system that offers many customizable features will consider Oracle's product. Big companies that handle large financial transactions and have a huge clientele can benefit from customer's self-service portals that come with this solution. There are also in-built features that can be tailored to multiply revenues as well as aid in digital marketing strategies.
The most outstanding features of FLEXCUBE are:
Responsive user interface
Personalized user experience
Core functionalities that support all banking needs
Data privacy and compliance with regulatory requirements
As you can see, if you are looking for a universal banking solution that can give you holistic customer views, increase your revenue, and shift your business to centralized big data processing, you need FLEXCUBE. It has been designed with your needs in mind.
4. FIS Profile
FIS Profile is a Core Banking solution built for both commercial and retail-based enterprises. This cloud-based solution is that business that wants to enhance its 'profile' by automating operations to satisfy customer needs, integrate regulatory compliance, and generally transform its business through fast payment processing.
Among other benefits, banking software offers the following:
Allows access to credible product libraries. Due to this, banks can launch new financial products within a shorter period.
Helps banks to have a complete view of the customer's relationship with the bank. As such, the financial institution can create offerings that are suitable for the needs of different customers.
Allows the creation of real-time banking systems and ensures efficiency
Reduces overhead costs
5. BankWare
BankWare is a Core Banking Software solution that any bank can use to streamline customer services, increase efficiency, and generally reduce operational costs. Companies after top digital solutions can tap into BankWare for a flexible as well as intuitive system. As a core banking solution, this product is ideal for a company looking for software custom-made for front-end and back-end offices.
BankWare installation is simple. The process comprises a few components that are matched with your bank's business requirements. Banks can mix and match the components they wish, as long as they form a logical combination. They also have the freedom to add new components in the future. There is no financial penalty for adding them later.
6. Mambu
Mambu provides for software as a service (SaaS) platform that has transformed banking across the globe. Instead of the design of core banking systems, the German-based company offers a composable Banking Engine that helps businesses exploit the digital revolution to meet demands. With Mambu, companies can transform existing operations and launch into new markets all with a user-friendly digital platform.

7. CorePlus
CorePlus is a web-based banking software solution developed for those seeking versatility in their business operations. The platform comes with a suite of tools and a great user interface for retail banking, transaction monitoring, compliance, and investment banking.

8. Avaloq Banking Suite
Avaloq is a banking software solution its Swiss-based vendor offers as SaaS. The product is also available as a ready-to-use Business Process as a Service (BPaaS). This digital platform supports front-to-end operations with easy user-friendly software modules. Avaloq Banking Suite is for companies that deal with wealth management and private banking. The software comes all ready for use and supports processes and core banking interfaces.

9. Cleartouch
Cleartouch is a top banking software solution from U.S-based firm Fiserv, Inc. The product has been developed to offer a real-time banking solution for banks and other big companies. With this software companies can optimize workflows and improve the overall customer experience.

10. Celeriti
Computer Sciences Corporation offers Celeriti, an enterprise-ready software solution made for those in the banking sector. However, its end-to-end suite of tools allows for integration with any company that is looking to expand on its capabilities. Other than helping businesses improve their customer loyalty, companies can expand their delivery channels and scale processing operations.
Bottom Line
Banking software offers the platform that businesses can explore to build and roll out financial products. The software can also help enhance a company's online banking and improve the overall feel of customer self-service portals.
It is good to pick a software solution from a top vendor as the company usually adheres to regulatory compliance measures. These vendors are also likely to offer products tailored for companies of all ilk- from retail businesses to multinational corporations.
Features to want from a banking software solution include real-time account management, a customizable interface, and a customer self-service portal. Others are multi-currency funds support, accounting and workflow processing, and mobile app development.

How to Extract Bank Statements in PDF to Excel
If you are looking for the best way of extracting data from your Bank of America Core Checking Statement, we suggest that you use an integration of PDF.co and Zapier. This tutorial walks you through the few simple steps of accomplishing it.
Step 1: Use Google Drive
In this demonstration, we will use a sample bank statement document we have on file in Google Drive. Then we will select New File in Folder in the Event field as our trigger.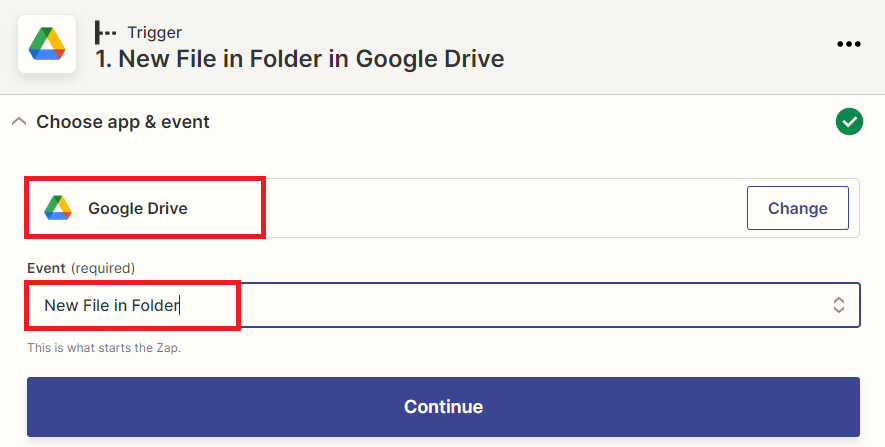 Step 2: Setup the Trigger
To accomplish this step, we will choose the drive and the folder name that holds the sample bank statement.

Step 3: Test the Trigger
To make sure that everything is in order, we will test the trigger as illustrated below.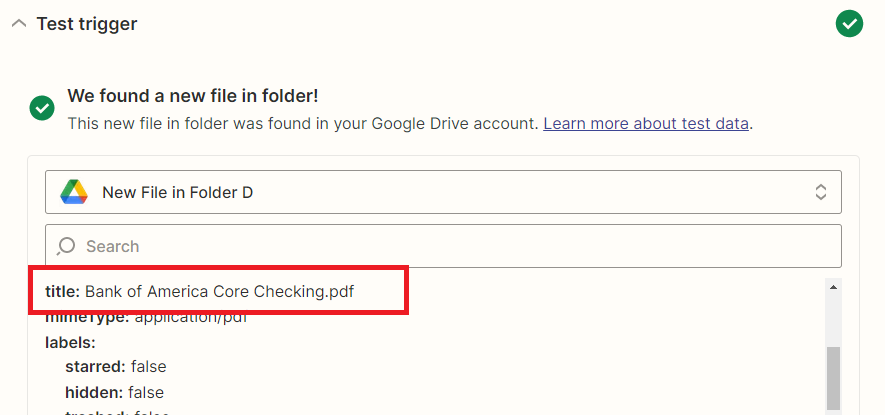 Step 4: Using PDF.co for Data Extraction
Now, we will select PDF.co as the App, while for the Action Event, we will use the Document Parser to begin the bank statement extraction process.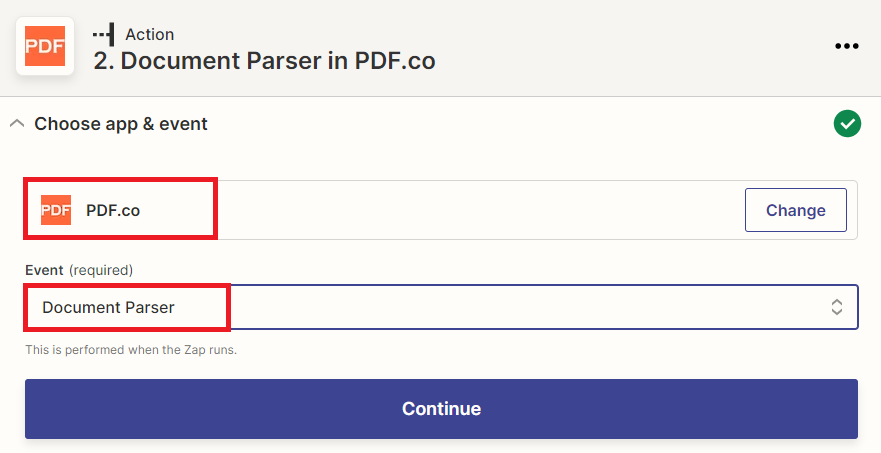 Step 5: Configure the Document Parser
In this step, we will do the following:
We will use the Web Content Link from the previous step to fill up the Input
Then we will input the bank statement template ID in the Template Id To get a copy of the template, just click here. Copy it and then save it to your Document Parser.

Step 6: Test Action
To see the result of the Document Parser's action, we will test it by following the step below:

Step 7: Check the PDF.co Output
After doing all the steps listed here, we will now see the result of the action taken by the Document Parser, as shown below: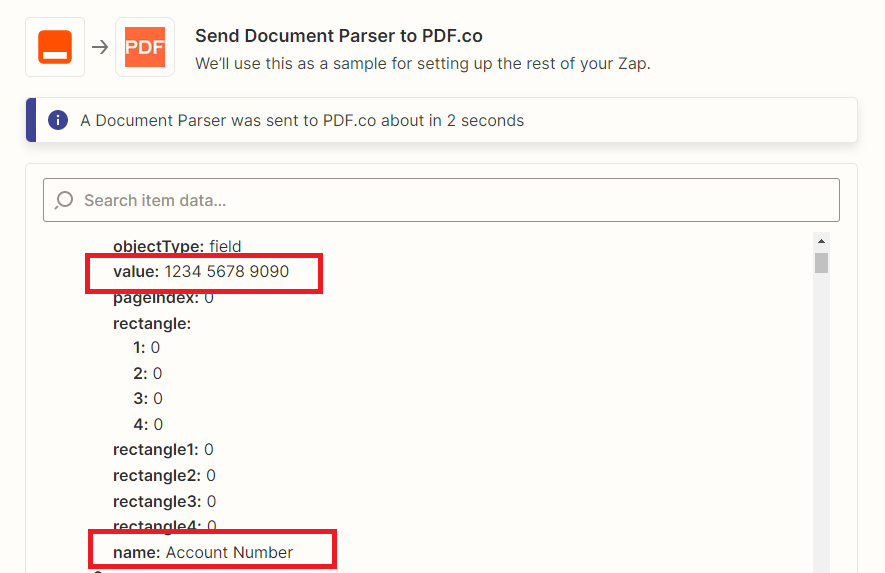 Conclusion
You might have noticed how easy the process is in extracting a Bank of America Core Checking Statement when you use PDF.co and Zapier. We have also shown you how to set the Zap trigger by using a document stored in Google Drive. You also saw how to configure the Document Parser in PDF. to implement the extraction of the bank statement.
Automated Data Capture, Extraction & Analysis – Solutions for FinTech