A real-estate assignment contract is a piece of legal document that is used to transfer the legal obligations of a party of a contract (property) from one individual to another. That is, it is usually drawn up after a real-estate purchase agreement has been created and signed by the buyer and the seller. Once a real-estate assignment contract is signed, all the legal obligations of real-estate property are legally transferred from the seller to the buyer.
A standard real-estate assignment contract contains the following information.
The full names of all the parties involved in the real-estate assignment contract.
The full addresses of all the parties involved in the real-estate assignment contract.
The price and other costs associated with the property.
The date of sale of the property.
Term and conditions of sale.
Creating and Signing a Real-Estate Assignment Contract
A real-estate assignment contract can usually be developed using any software application that allows a user to create a word file or a PDF file. pdf.co provides a user the ability to embed an electronic signature using its tools. Below is a picture of an unfilled real estate assignment contract document, which is ready to be filled and signed.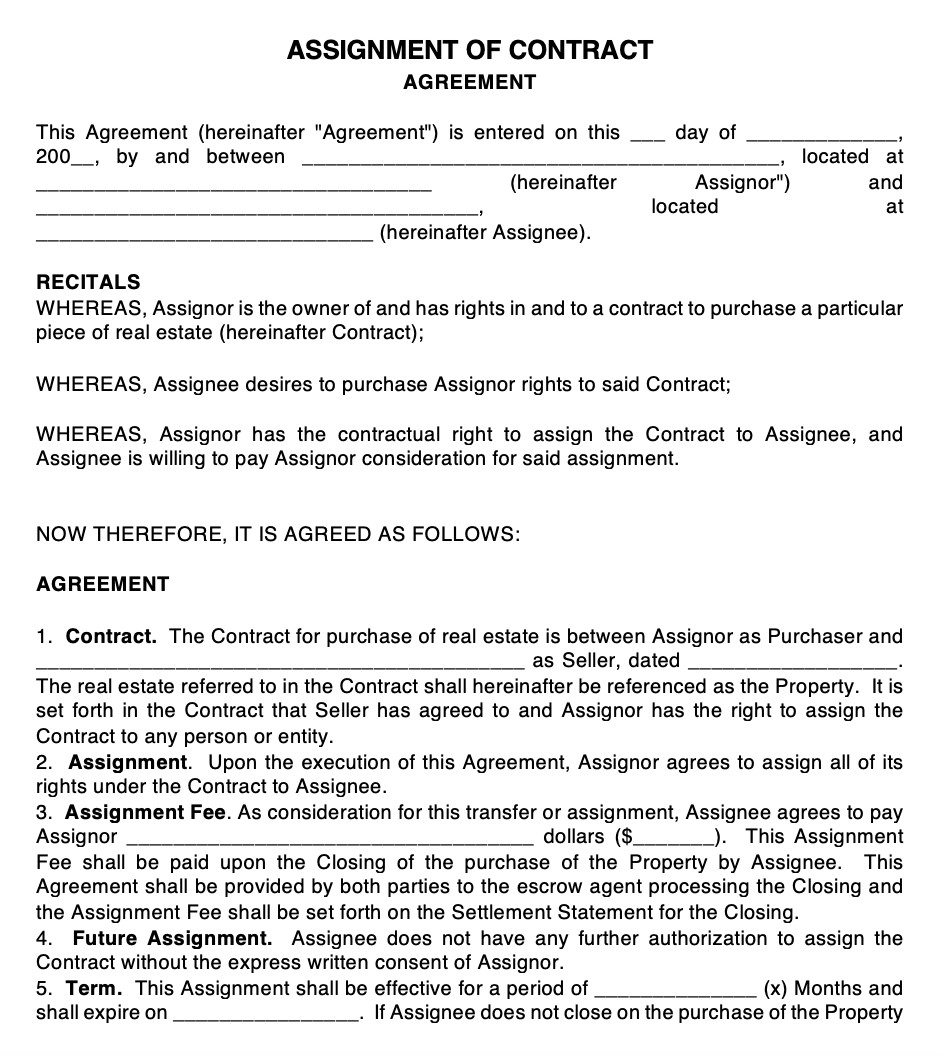 When the website is opened, an individual can register and verify a new account using an email address. Afterward, an individual can continue to upload a copy of the real-estate assignment contract.
A user can upload a document by choosing from the file, Dropbox, and URL. As the file is uploaded, the option below appears.
A person can then select the desired option. The filled uploaded document can be seen below.
The highlighted options from above are used to fill the document. Additionally, an individual can upload a signature or other documents.
The user can navigate within the document as they fill all the necessary fields. A picture of a signature can be written or uploaded into the file. The snapshot of the signed file is illustrated underneath.
Using the control options highlighted above, an individual may decide to save the document with a signature certificate and document stamp. Otherwise, a person may decide to only save the document without a signature certificate and a stamp. The signed document appears amongst the list of documents as seen below.
Tutorials:
How to Create and Sign Car Rental Agreement
How to Create and Sign Lease Agreement
How to Create and Sign Real-Estate Assignment Contract
How to Create and Sign Real-Estate Power of Attorney
How to Create and Sign Real-Estate Purchase Agreement
How to Create and Sign Vehicle Purchase Agreement
Types of Electronic Signatures
Electronic Signature: Pros & Cons
Top-5 Reasons a Business Should Switch to Electronic Signature
Using Electronic Signatures for Contracts in Business
Electronic Signature in Fintech
Importance of Electronic Signature in Remote Work