With our PDF to CSV converter tool, you can extract data from your PDF files, and export it to Comma-separated Values (CSV) file.
You can analyze a CSV file with any computing tool, which you cannot do with the unstructured data on a PDF file.
GET YOUR API KEY Zapier plugin  Explore API Docs
Benefits of Using Our CSV file converter
Secure Conversion
When you convert PDF to CSV free, using the free PDF to CSV file tools available online, you expose your private data to third parties. Fortunately, with a paid CSV file converter like ours, we do not store or share your data.
You can, therefore, process your confidential files with fear of leaking your private data to third parties. With the introduction of privacy laws in the EU and some states in the US, being able to guarantee the security of the data in your possession is important.
Easy to Use
Our online CSV converter is easy to use, which makes it ideal for use by Small and Medium Businesses. Moreover, the use of a credit billing system allows you to pay for what you use only, instead of a blanket monthly subscription.
How to Use Our PDF to CSV file Tool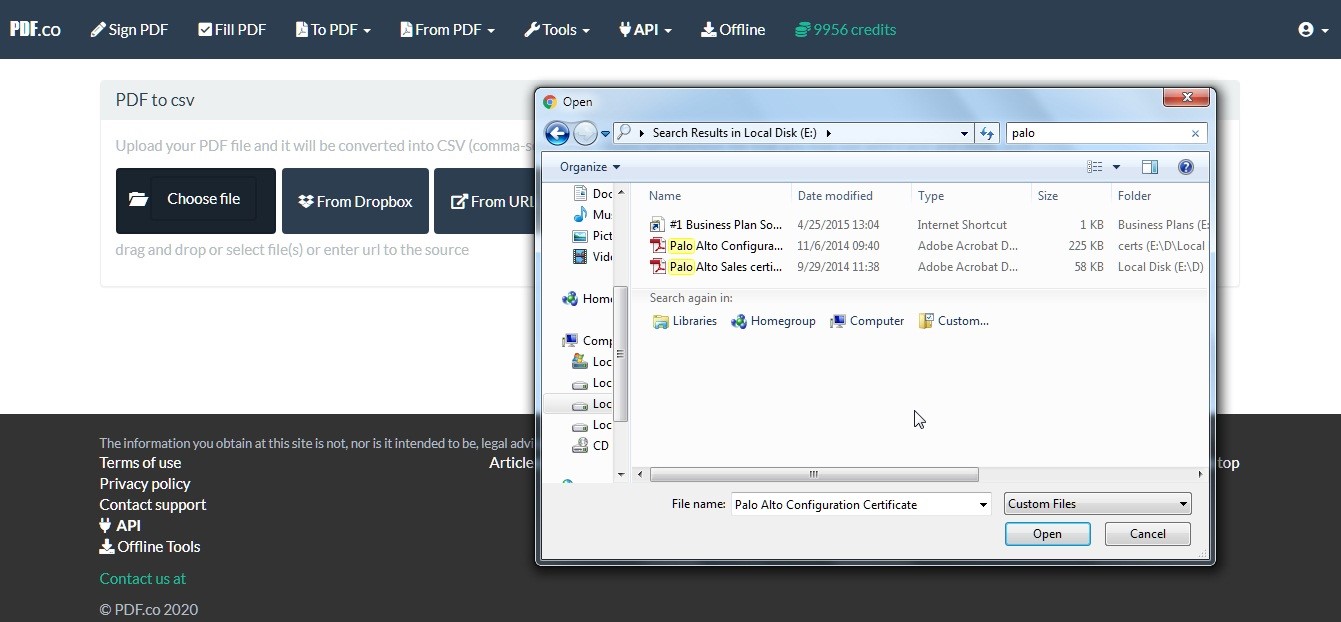 Before you start the conversion process, you need to make sure you have signed up for an account and bought some credits. It costs 4 credits co convert a single PDF file to a CSV file.
You also need to have ready access to your PDF files. We recommend that you have them stored on your desktop or laptop, Dropbox account, or in a live URL.
Step 1: Upload Your Files to Convert PDF to CSV File

To start the process to convert the PDF to CSV file, click on the "From PDF" menu item, and choose the "PDF to CSV" from the drop-down menu. That will bring up the interface where you can export your PDF to CSV.
Step 2: Wait for the Tool to Change PDF to CSV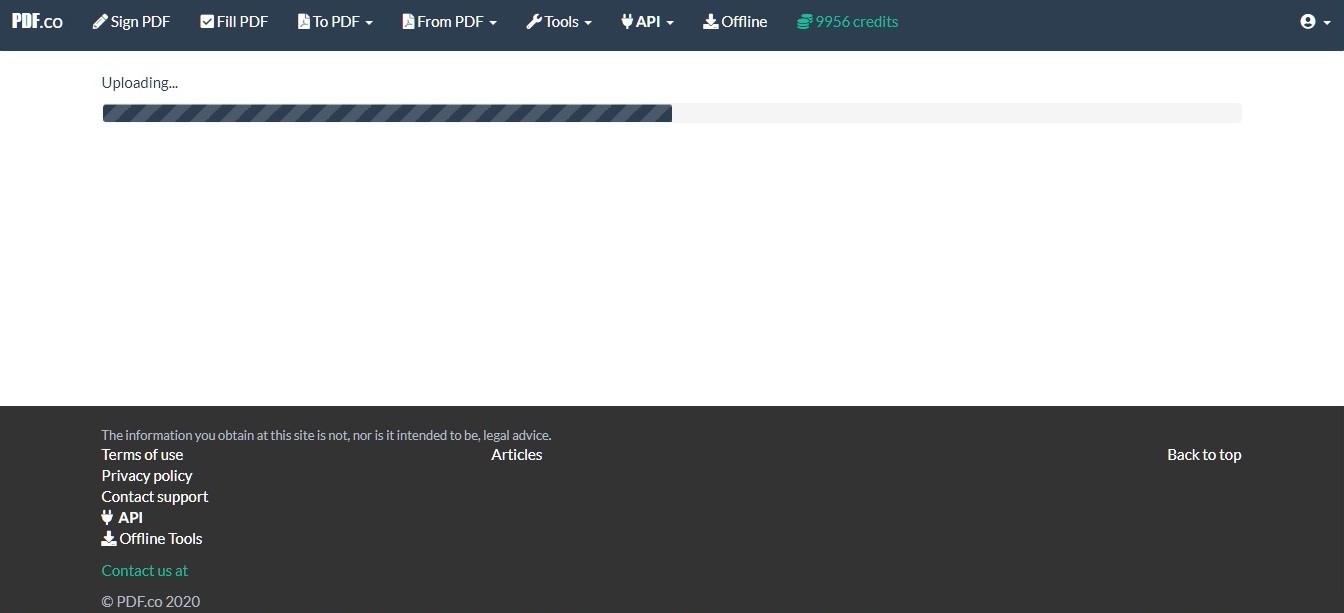 Once you open the PDF to CSV interface, you can upload your PDF files from your PC, Dropbox account, or from a URL. Once the upload is complete, the conversion process will start automatically.
GET YOUR API KEY Zapier plugin  Explore API Docs
Step 3: Download Your CSV Files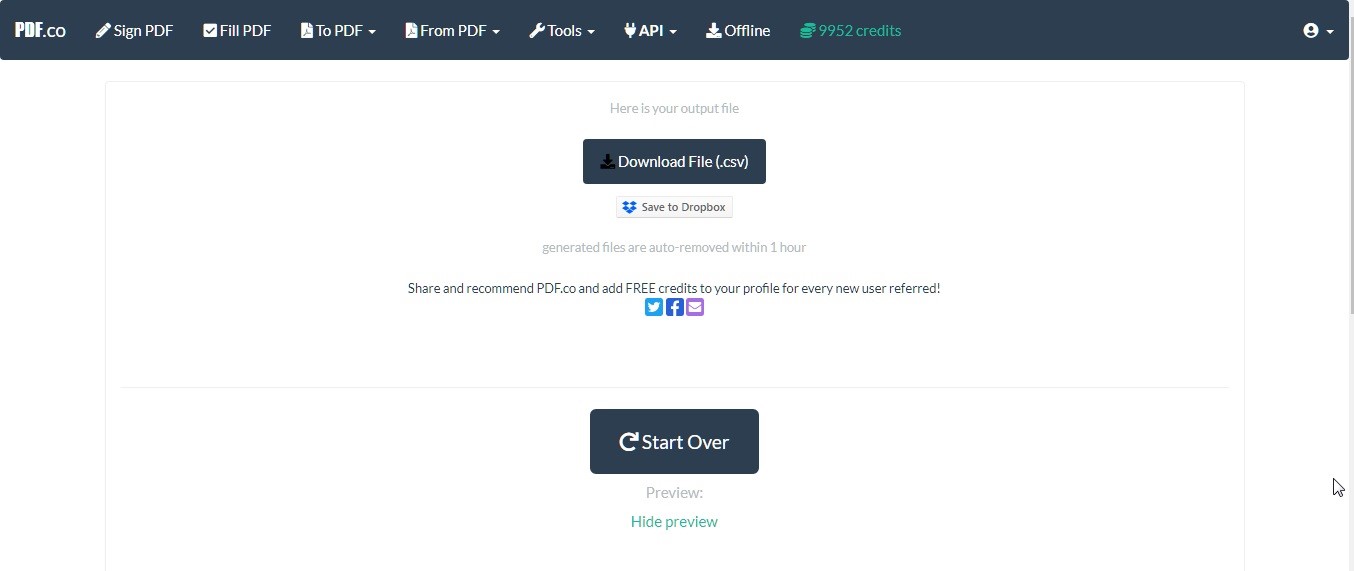 After the conversion process is complete, you will have two options for getting your converted CSV files. The first option is to download the file by clicking on the "Download File (.csv)" button.
The second option is to click on the "Save to Dropbox" Button. You can also view a preview of the CSV file, by scrolling the page downwards.
Frequently Asked Questions – PDF to CSV Converter
How Do I Convert a PDF to CSV?
You can easily convert PDF to CSV, using our PDF to CSV converter, by uploading your PDF file. You then start the conversion process, with a single click. The tool will scan the PDF file, and create a CSV, which you can then download. You will also get an option to save your file Google Drive or Dropbox.
How Do I Convert a PDF to CSV on Mac?
You can convert a PDF to CSV on Mac, or any other devices using our PDF to CSV converter. The tool works from any browser from a device with internet connectivity. That gives you the freedom to convert PDF to CSV from most devices, including Mac, Windows, Linux, iPhone, Android, etc.
How Do I Convert PDF to CSV for Free?
The app is almost free, thanks to the rock bottom pricing of $0.05 to $0.002 per credit. Moreover, you only need about two credits to convert one page PDF to CSV. That makes this tool perfect for anyone looking for a secure, budget, and fast way to convert PDF files to CSV files. We also recommend it for anyone who handles ePHI, and wants to remain compliant to data privacy laws.
How Do I Extract Data From a PDF?
You can easily extract data from a PDF by using our PDF to CSV app. Our converter will extract information from any PDF file, and present it to you as a CSV file. You can then use that file to manipulate your data, using software that handles CSV files.
How Should a CSV File Look?
A CSV file has important information arranged in a serial manner and separated by commas. That makes it easy for software to scan it, and then manipulate it. However, CSV files are not easy to read for humans, although they are not impossible to read. In that regard, you should convert PDF to CSV, if you need that format for data manipulation, or someone has specifically requested it.
Conclusion – convert PDF to CSV file
That is how simple it is to convert your PDF file to CSV using the PDF to CSV tool from PDF.co. PDFs are indispensable when it comes to presenting information in a permanent format that is also easy to read. However, they are not so good when it comes to data extraction and manipulation. CSV formats tend to be the best for such tasks, which is why we created the PDF to CSV converter tool.