The invoice add-ons are the less important elements on an invoice. Invoice add-ons usually depend on your company's policy or the preference of specific clients. In general, there are two common types of add-ons used on an invoice. These add-ons are the message field and a tax identification number.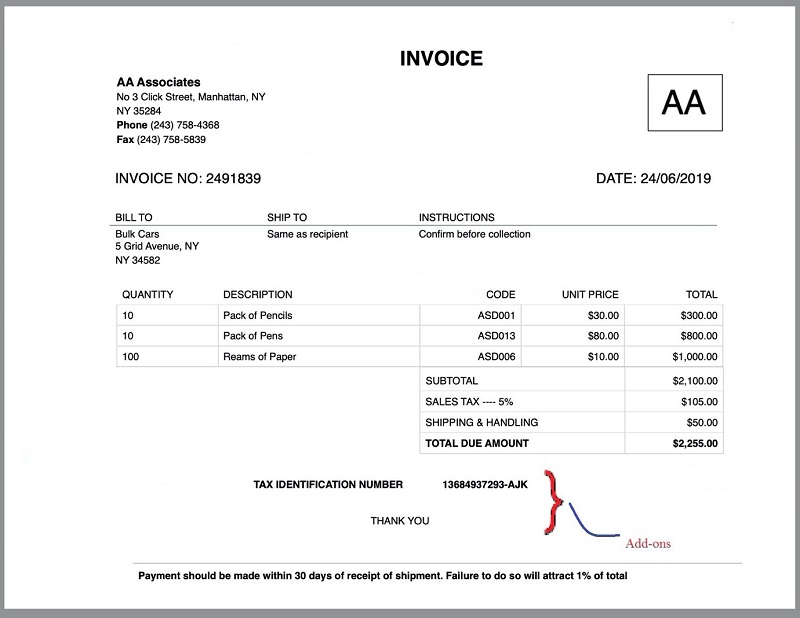 PDF.co Web API creates accurate and structured invoices, converts from HTML to PDF, and provides nice templates for your invoices!
GET YOUR API KEY Zapier plugin  Explore API Docs
Message Field
The message field is used to convey a personal message to your clients. Usually, the message field is situated below all other elements just before the footer. Professional companies always try to include a message field in their invoices. It allows you to provide a personal message that can help to retain your clients. Doing this makes your clients feel respected and appreciated. In turn, this can guarantee loyalty. Write a statement as simple as "Thank you" can go a long way in fostering lasting business relationships between your company and your clients.
Additionally, you may want to reference a previous business transaction between you and your clients. The message field allows you to make references to unique past transactions.
Tax Identification Number
The tax identification number is usually not a requirement for the generation of invoices. A company usually decides whether to include it or not. You would want to write the tax identification number just above the message field. Writing the number can be done manually or automatically. If you are using an invoice generating software, you would input the tax identification number into the software and it would automatically write the number whenever you open the template to generate a new invoice.
The tax identification number is, however, a fixed number that is given by the government within a jurisdiction. Each number is unique to each organization. Some clients especially large organizations would like to have the number on the invoice as it is useful in the documentation of their processes and contractual obligations.