The invoice term of sales is a crucial component of an invoice. It provides the bases for carrying out any business transaction below the buyer and the seller.
These are basically three main things that define the term of sales. These are the industry ethics and regulations, your company's requirements, and your relationship with your clients. Therefore, when stating your terms of sales on an invoice, you must keep these three things in mind.
The components of terms of sales include the following:
Payment Plan
Deposit or Advance
Payment Details and Acceptable Payment methods
Penalty for Delayed Payment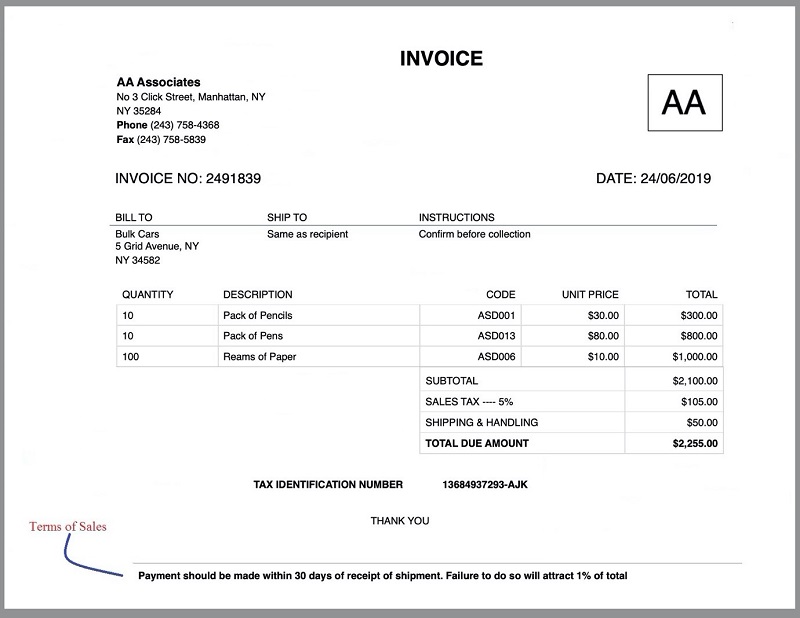 PDF.co Web API creates accurate and structured invoices, converts from HTML to PDF, and provides nice templates for your invoices!
GET YOUR API KEY Zapier plugin  Explore API Docs
Payment Plan
When you provide goods or services to your clients, you may want to recover your money based on an agreed payment schedule. This payment plan depends on your organization's policy and your relationship with your client. Your company may demand a one-off payment plan that offsets the bill at a go. Also, you may provide an option for installment payment to frequent and trusted clients. You may want to write this information on the footer or sending your clients an installment invoice.
Deposit or Advance
If your client has provided a deposit or an advance beforehand, you would want to indicate this information in the footer or as an attachment.
Payment Details and Acceptable Payment Methods
It is a company policy to input payment details within the invoice. This information gives the client the required details to make payment. Additionally, it may give your clients options for payment. Usually, you may provide this information in the footer or as attachment where appropriate.
Penalty for Delayed Payment
If your company charges a penalty for delayed payment, you would want to explicitly state this information. Such fees could be a percentage of the total due amount for purchased goods. You can easily type this information as a footer. For example, AA Associates has given Bulk Cars 30 days to make a payment, or else they would pay a 1% penalty.