All businesses involved in the supply of goods or services must, at one time or another, provide their clients with an invoice, which is indispensable in any transactional cycle. Therefore, if you own a company, you would want to know how to create an invoice for your clients. The type of invoice you generate solely depends on your requirements, preferences, customer needs, and available software applications.
You may want to include your company logo in some invoices, and you may want to omit it in others. Your decision to have your logo or not on your invoice may depend on the type and size of the invoice you create. Therefore, you must know how to do both.
PDF.co Web API creates accurate and structured invoices, converts from HTML to PDF, and provides nice templates for your invoices!
GET YOUR API KEY Zapier plugin  Explore API Docs
How to Create an Invoice without a Logo
For you to create an invoice without a logo for your business, you require a software application. This application could be a specialized or generic software application. Although expensive, using specialized software gives you access to advanced features with a wide range of templates. Generic applications are usually cheap and easy to use but lack the versatility of specialized apps.
Armed with your desired software application and template, you want to follow the general steps of creating an invoice. These steps are stated below.
Provide a Title for the Invoice and Invoice Number
Add Your Company and Buyer Information
Describe all Goods and Services Sold or Supplied
Include all Relevant Dates
Highlight Additional Fees, Deductions, Taxes, Advances, and Others
State Payment Method, Terms, and Personal Message
For more information on each step, check out the article How to Create an Invoice. Below is an example of an invoice without a logo.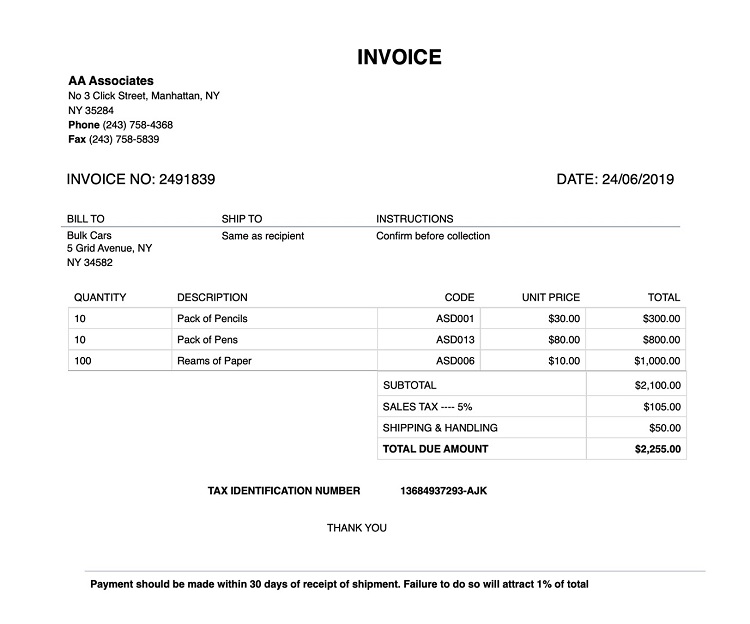 How to Create an Invoice with a Logo
Now that you have successfully created an invoice without a logo, you can easily include a logo with a bit of modification. Next, you would want your logo in digital form. If you don't have a logo, you can create it or have someone do it for you. If you already have a digital copy of the logo, you would want to convert it into a picture form.
Most software applications, especially word processing applications, would allow you to import the logo into the workspace where you have created your invoice.
Once you have inserted your logo, you may place it anywhere within the document. However, based on convention and professional best practices, you would want to place the logo either above (header) or below (footer) the invoice document. Within the header or footer, the logo is usually centered. You can either place it to the right or left within the header or footer, depending on your preference or based on good aesthetics.
Make sure you adjust the size of your logo to fit within your invoice as you would not want it to spill over into other elements of your documents.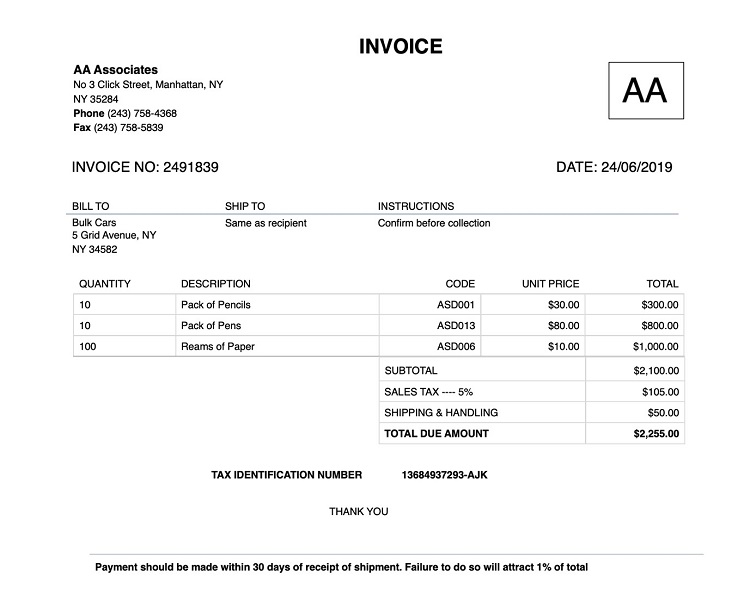 Similar Pages