A car rental agreement is essentially a document, which an individual completes and signs at the point of renting a car. Additionally, it is a legal agreement that stipulates and defines the relationship between a car rental company and the end-user, which serves to protect the two parties involved. All the terms and conditions of a rental car are usually well defined and extend until the rental duration is exceeded.
A well-designed car rental agreement should contain the following information:
The full names of all the parties involved in the car rental agreement.
The full addresses of all the parties involved in the car rental agreement.
Information about the rental car.
Duration of rent.
Mileage limit for driving the car.
Rental price.
Insurance.
Other terms and conditions.
Creating and Signing a Car Rental Agreement
Any individual that knows how to use a computer can develop a car rental agreement using various software applications. Once the document is created in PDF or word format, it can be uploaded on the pdf.co platform. There, a user can fill and sign the document using the available electronic tools. A sample car rental agreement is illustrated below.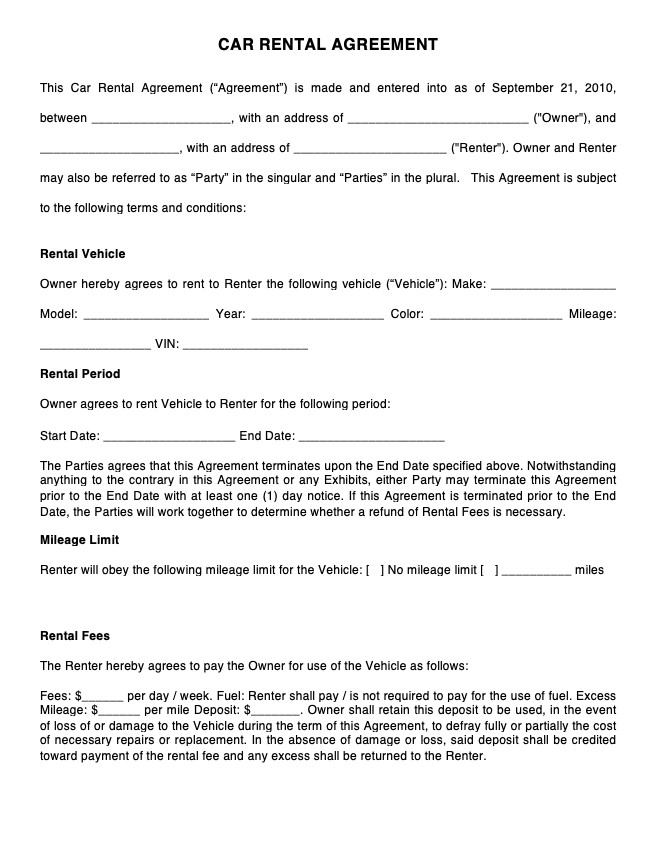 A user can go ahead to register with the website before gaining access to the document filling tools. The options for uploading a car rental agreement are shown below.
A user is usually given three options for uploading a document, which is via URL, Dropbox, or directly from the file. Once uploaded, the option below appears.
Here a user selects the number of people that are going to contribute to the document by filling and signing. The filled file is shown below.
To fill the document's fields, the highlighted tools are used. These tools allow for the insertion of signatures and pictures. For each page, a user fills the relevant fields and navigates to the end of the document. A signature can be drawn or imported and placed where required. An image of a signed car rental agreement is shown below.
After the document is filled, a user can go ahead to save the document. Additionally, a stamp and a digital signature certificate can be attached to the document to increase the level of security before being saved. All these functions can be carried out using the highlighted tools from above. A saved file appears ready for download as seen below.
Tutorials:
How to Create and Sign Car Rental Agreement
How to Create and Sign Lease Agreement
How to Create and Sign Real-Estate Assignment Contract
How to Create and Sign Real-Estate Power of Attorney
How to Create and Sign Real-Estate Purchase Agreement
How to Create and Sign Vehicle Purchase Agreement
Types of Electronic Signatures
Electronic Signature: Pros & Cons
Top-5 Reasons a Business Should Switch to Electronic Signature
Using Electronic Signatures for Contracts in Business
Electronic Signature in Fintech
Importance of Electronic Signature in Remote Work