Virtual signatures allow fast document signing online, sharing important contracts and documentation with clients and freelancers, requesting a signature, and more exciting things you can do!
Table of Content
In this tutorial, you will learn how to type or draw a signature online using powerful in-browser apps. It is much easier than using physical signatures on documents.

What is a Digital Signature?
It is a mathematical scheme based on cryptographic protocols. It is basically used to verify whether digital documents are authentic or not. In most cases, you will need digital signatures to sign documents electronically. You can do that in the countries where electronic signatures are legal, for example, European countries, the USA, Mexico, Brazil, Indonesia, Uruguay, Turkey, and many more countries.

Types of Digital Signatures
Generally speaking, there are three types of these signatures, which are simple, basic, and advanced digital signatures. However, not all countries utilize or accept the use of all the different types of signatures to prevent forgery and to facilitate document validation.
Simple Digital Signatures
This type of signature is the same as the class 1 digital signature. The lack of encryption on this signature makes it the simplest form of a digital signature. The generation of this signature is easy and straightforward. All you need to do is scan and affix a physical signature to an electronic document. Class 1 signatures mostly serve as signatures that appear at the end of emails.
In most cases, the terms and conditions of apps that you must accept while downloading an app are typical examples of simple digital signatures. The absence of any security layer or identification makes this signature simple to alter and possesses little or no legal value. The term electronic signature can also refer to a simple or class 1 signature.
Standard Digital Signatures
Standard or basic digital signatures are the same as class 2 digital signatures. This signature is similar to the class 1 digital signature, although it has a data logger embedded in the document. The primary function of the logger is to track and record all alterations performed on the document after signing and during transmission. The standard signature does not contain the personal details of the document's creator. Therefore, the receiver may not be able to verify the identity of the sender.
The encryption of a standard digital signature requires the use of the standard asymmetric cryptography technique. It makes the validation of such kinds of signatures easy, and it makes documents affixed with basic signatures legally binding.
Advanced Digital Signatures
The advanced digital signature is the same as the class 3 digital signature. This type of digital signature is the safest and the most secure form of signature. Two tools must be available to create this type of signature, which are the asymmetric cryptography encryption technique and the public key. Advanced digital signatures also have a logger embedded, which tracks and records changes made to documents.
In most countries, advanced digital signatures carry similar legal status just to their physical counterparts. In some particular cases, digital signature providers impose a two-layer authentication process while signing a document. Authentication maybe through mobile phone text messages, emails, or phone calls. There are also apps, which allow authentication through barcode, fingerprint, or face identification. The authentication process helps to verify the identity of the sender when the document is signed. It also enables verification by the receiver or a third party.
It is easy to see that the advanced digital signature is the most secure form of digital signature for your business transactions. You should always opt for this signature when transmitting highly confidential correspondences or business documents. In most cases, countries that allow the use of digital signatures for transactions, tax purposes, and government-related activities only accept advanced digital signatures. PDF.co offers both standard and advanced digital signatures to cater to any of your needs.

How It Works
Digital signatures are based on asymmetric cryptography. They are similar to handwritten signatures even if created electronically. It is more difficult to create a false digital signature as many algorithms are used to check its validity. If the electronic signature is properly made, it can testify that the sender really signed it and the document was not altered on the way.

Draw a Signature with PDFlite.co
Sign PDF tool that helps to create a unique and properly made picture of your handwritten signature. You can use it later on in any document, contract, or agreement.
STEP 1
Go to the Sign PDF tool.
STEP 2
Upload the document you need to sign, or any document (if you just want to create and save your online signature).
STEP 3
Click the very first symbol – "Create a Signature".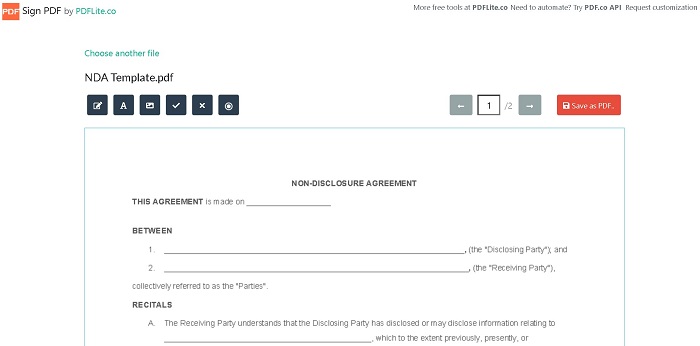 Now you are inside the drawing tool interface. You can start creating your signature online. You can use your mouse, touchpad on your laptop, or any specific device you have. It might take time to create a neat image. Don't hesitate to practice as much as you need. You can clear the picture at any moment.
Moreover, you are able to create e-signatures in 3 colors: black, blue, and red. In order to try them, just click on the selected color and start drawing a new signature. You can't change the color of the signature already made.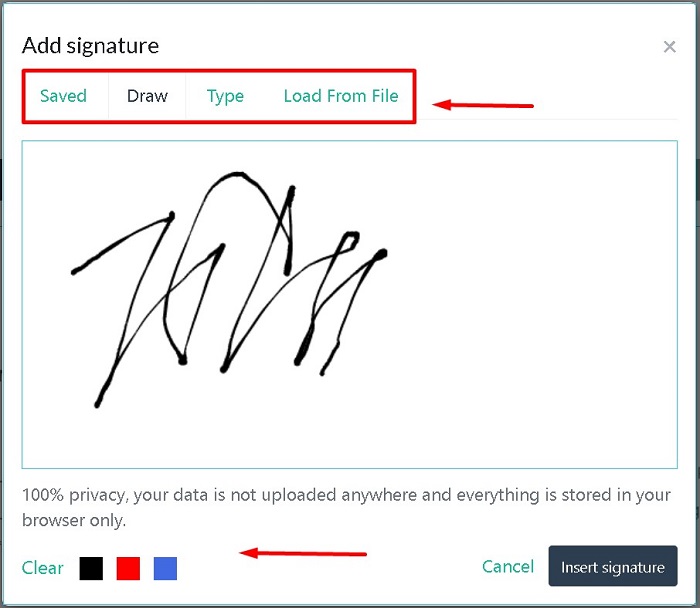 STEP 4
When you are done with your signature, you can Insert it into your file (if you need to sign it). Otherwise, if you just need to save your signature for the future, you can download it to your device by left-clicking on it.
Anyway, it will be stored in your browser, and you can come back and save it any time (if you access the tool from the same browser).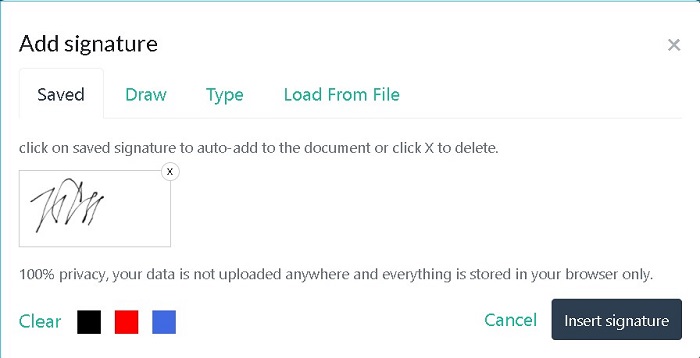 Type a Signature with PDFlite.co
You can use the same tool at PDFlite.co, to create your original signatures. It allows you to type them directly using your keyboard.
STEP 1
The first few steps will be the same. Go to the Sign PDF tool.
STEP 2
Upload the document you need to sign, or any document (if you just want to create and save your online signature).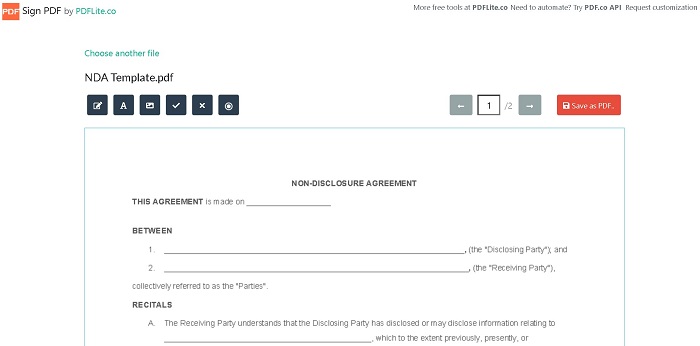 STEP 3
Click the very first symbol – "Create a Signature".
Switch to "Type" where you can type and save your online signature.
In this tool, you can change the color and the font of the signature already written by clicking the 'Change font' button or picking the appropriate color (black, red, or blue).
By selecting + or – you enable the font to be bigger or smaller accordingly. It can be big enough until it stops fitting the little screen.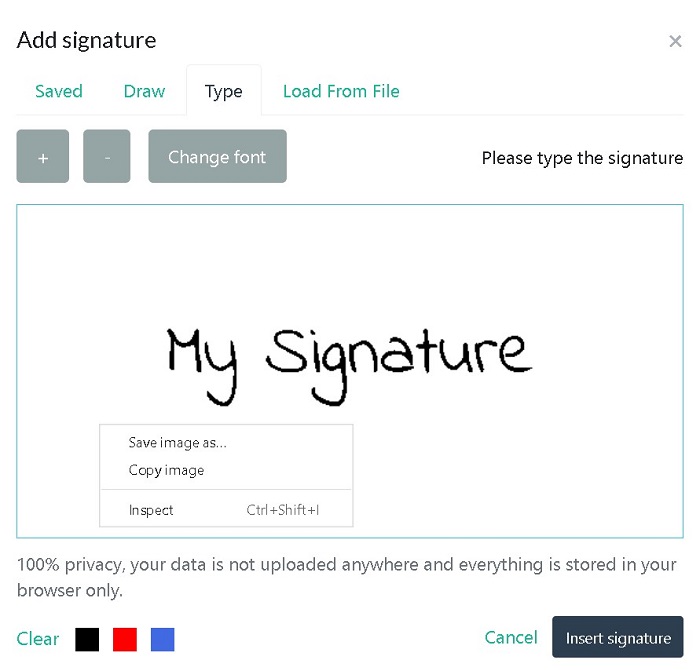 Clear everything if you don't like it, or Save your signature to use it later on contracts and agreements.
To save it, just left-click on the image and choose "Save image as…"
Find more fresh tutorials on our blog:
How to split and merge PDF documents;
How to convert PDF to CSV;
and more are coming…