Financial forecasting is a process by which financial analysts estimate and project a business's future outlook (financially).
A financial forecast predicts any given business's future income and expenses, usually over the next year. In some cases though, you may prepare financial forecasts that cover a shorter period (like six months) or longer period (one-three years).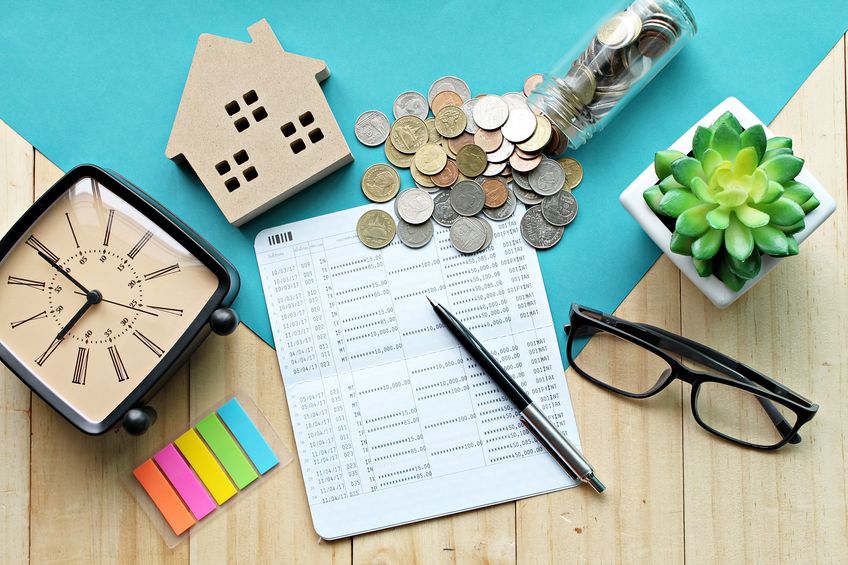 Financial forecasting involves the use of financial statements prepared in advance to project company revenues or expenses. Used in this manner, the financial statements are called pro forma statements.

What is financial forecasting?
Taken simply, financial forecasting refers to that process by which a business estimates or predicts how it is likely to perform in the future. As noted below, forecasting finances for a business involves a look at three main financial statements.  Here we mention what financial statements are essential to forecasting and help you understand the difference between creating forecasts and models.
We will elaborate on the topic below, but it's worth remembering that the core makeup of a financial forecast is prediction.
For any given business, the present financial status carries a lot of weight- not just for its health, but also to ensure the business satisfies investors. Properly undertaking this process gives the company a glimpse of its future income and expenses, helping in revenue management and expenses calculations.
Financial forecasts are made for a specific period, usually for the next year. However, it's possible to project financial forecasting to cover shorter periods- six months- or for longer periods than can run up to three years.
What is the most common type of financial forecast?
For most businesses, forecasting the profit and loss statement, or what many know as the income statement is the most type of finance forecast. However, note that many businesses go for a complete financial projection, with the idea being to predict future performances using all the three major financial statements.
The three financial statements most commonly used are:
Income Statement
Balance Sheet
Cash Flow Statement
Types of approaches to financial forecasting
A financial forecast is meant to give you a rough estimate of the direction of the business in financial terms. Your estimates say "this is what the future is likely to look like for our business."
Before you settle down to creating or preparing your financial forecast, first decide on what resources you have at your disposal. Typically, analysts can choose to use a business's historical performances or look at other external factors like competition and market trends. The type of financial forecasting you create thus depends on these resources.
Historical financial forecast
Historical forecasting involves analyzing your past financial statements and using the data to project future growth. Here you look at the company's income statements, balance sheets, and Cash Flow statements. From these documents, you can determine how the business has grown over the past few years and draw an estimate of what the next year and so on will be like.
The advantage of this approach is that it's somewhat easy and doesn't require a lot of expertise. One of its drawbacks, however, is that as a quick-and-dirty approach, historical forecasting doesn't take into account aspects of the wider market and competition. It, therefore, isn't suitable when looking for a financial forecast document to present to potential investors.
Research-based financial forecast
Research-based forecasting means you go beyond your past financial statements. A researched-based forecast will take into account past performances of the broader industry. You also research what competitor businesses have in their projections and see how that compares to your company's.
Other than that, financial consultants will factor in industry growth- new consumer trends; changes in technology, and how that impacts future growth, and other factors that can impact the whole industry.
For example, if your business is in the telecommunications industry, research-based financial forecasting will factor in market size, market share, new trends, and competitors to forecast revenue.
Apart from being a much more detailed approach to projecting growth, research-based forecasting offers estimates that could appeal to investors and lenders.

How does financial forecasting work?
If you've gathered all the relevant past financial statements and/or researched the market, the next step is to create a forecast. You can create financial forecasts based on all the three financial statements mentioned above or just one, depending on whether it's for internal use or investors.
A financial forecast meant for internal planning may only require an income statement, while a projection targeted at big lenders or investors may need to use all three statements.

Forecasting the income statement
The income statement is one of the most important financial statements for a business, and projections involving this document are crucial in showing how the business turns its revenue into net income.
When working on forecasts for profit and loss statements, managers and financial teams look at revenues, cost of goods sold (COGS), and operational expenses. The pro forma details also include entries of non-operational expenses.
How do you forecast Income Statements?
If you are looking to forecast your businesses' income statement, develop a pro format, and use these steps:
Check historical data – focus on the company's past financial performance and take into account at least two past periods. For example, to project 2021, go back to 2020 and 2019.
Forecast revenues – look at the annual growth figures and use the rates to make assumptions regarding future projections.
Forecast your COGS and operating expenses – compare these to the company's revenue.
As an example, financial forecasting using the Income Statement will work like this:
Make a sales projection for the next year- increasing sales based on the previous years' growth patterns. If you had sales of $20,000 in 2019, you can project that to grow to $40,000 in 2020 and $60,000 in 2021.
Take the $20,000 increase in sales for 2020 and map out the growth over 12 months. Deduct the cost of goods sold and other operating expenses from your monthly sales. Create an income statement that predicts the revenue and net income over the year in question.

Financial Forecast Example
Here is an example of a financial forecast, with the projections starting with figures for the current financial year and looking at the next two. Many businesses use Excel and other automated programs to prepare examples of forecasts, e.g. the income statement forecast.
Here is an example:
BenQtec's Financial Forecast for 2020-2021
(All figures in USD)
| | | | |
| --- | --- | --- | --- |
| | 2019 (Current) | 2020 | 2021 |
| Sales Revenue | 36,000 | 54,000 | 70,000 |
| Cost of Sales | (17,000) | (28,000) | (37,000) |
| Gross Profit | 19,000 | 26,000 | 33,000 |
| Operating Expenses | | | |
| Rent | 2,000 | 2000 | 2,000 |
| Marketing | 5,000 | 5,000 | 5,000 |
| Total Operating Expenses | (7,000) | (7,000) | (7,000) |
| Operating Income | 12,000 | 19,000 | 26,000 |
| | | | |
| Net Income | 12,000 | 19,000 | 26,000 |
How to Forecast Gross Margins and SG&A Expenses
We use the revenue forecast to estimate gross margins, usually a percentage of the revenue. More often, people use historical figures to determine future gross margins. So if your gross margin has grown by 1 percent yearly, you can use that to forecast for next year. However, it is advisable to consider other factors that may impact the projection, e.g. economies of scale.
Selling, General, and Administrative (SG&A) expenses are also forecast as a percentage of revenues. SG&A costs are usually fixed expenses that you can easily forecast in the short term. However, there's a greater likelihood of variability if the forecast is long-term.

What is the difference between financial modeling and forecasting?
In financial forecasting, companies want to look at their present finances and use the information to prepare for future performances. Forecasting is therefore geared towards putting into perspective possible future financial results. Companies can make calls based on these estimates.
As for financial modeling, a company will take the projections made in the forecast to make calculations based on the various financial statements.
When it comes to business financial forecasting, a company will look at the financial forecast as an estimate of its future income and expenses.
If done correctly and with the right input from the accounting department, forecasting finances for your business can help you make projections applicable to the income statement, balance sheet, as well as cash flow among other business projections.
Parse Financial Forecast – Step-by-Step Guide
In this tutorial, we will show you how to parse the Net Income in a Financial Forecast using PDF.co and Zapier. Here's the screenshot of the sample Financial Forecast that we will use to parse the Net Income value.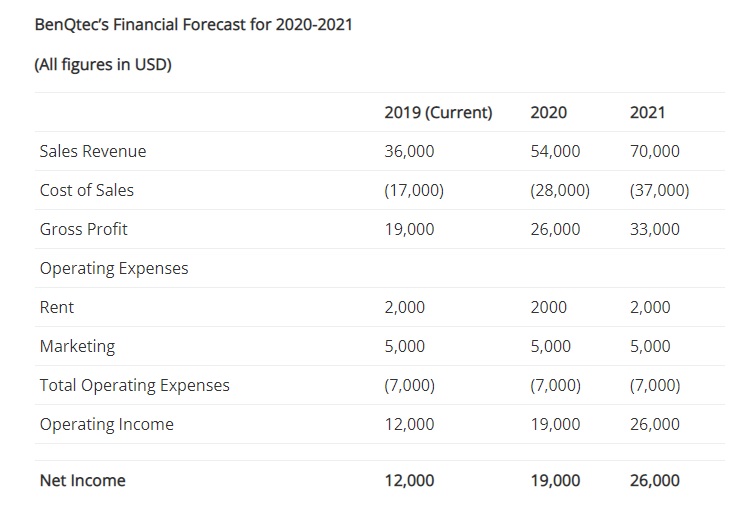 Financial Forecasting Sample Form
Step 1: Click the Make a Zap
First, click the Make a Zap button to create a zap.

Step 2: Select the PDF.co App and Choose the Document Parser
Next, select the PDF.co app for the App Event and Choose the Document Parser for the Action Event.

Step 3: Document Parser Configuration
Now, let's set up the Document Parser configuration.
In the Input field, type the source file link you'd like to parse data.
In the Template ID field, enter the ID of the Document Parser Template. You can use the PDF.co Document Parser Template Editor to parse data and create a new template ID.  Kindly click on this link for more tutorials.
Now, send the request to PDF.co to make sure that we set up the Document Parser correctly.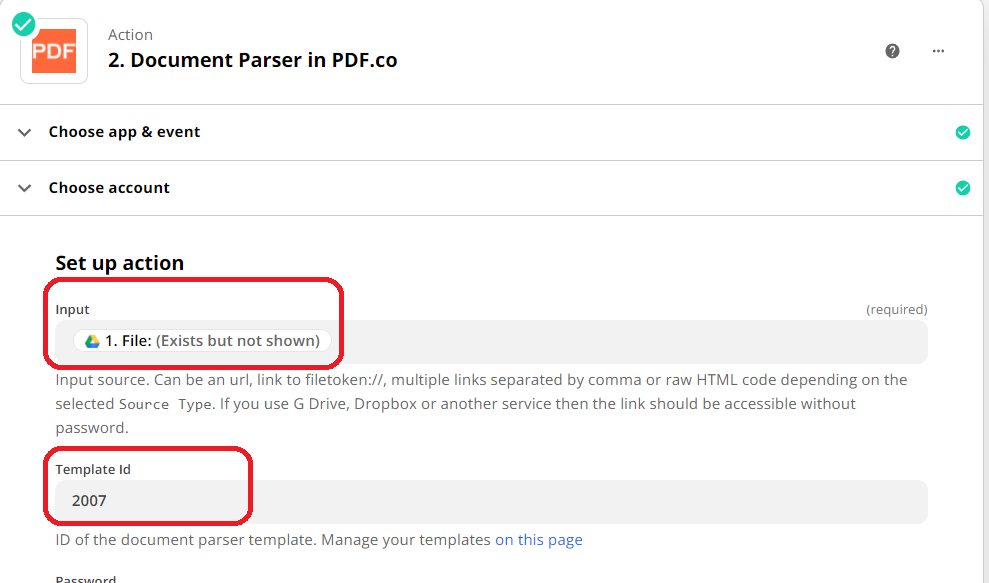 Step 4: Test Result of PDF.co Request
Excellent! The PDF.co request was successfully processed.

Step 5: Parse Net Income Output
Here's the Net Income output that we parse from the Financial Forecast.

In this tutorial, you learned how to parse specific fields such as the value in a Financial Forecast using PDF.co and Zapier. You learned how to get the template ID to parse the document. You also learned how to create a Document Parser template using our tutorials and samples.
Conclusion
You need both historical accounting and external market details to make a financial forecast that gives a robust prediction of a company's financial performance over any given period in the future.
Automated Data Capture, Extraction & Analysis – Solutions for FinTech