The banking sector plays a significant role in the development of the Indian economy.
It is regulated by the Reserved Bank Of India Act 1934 and the Banking Regulation Act 1949. It is defined as sufficiently capitalized and well-regulated which has successfully withstood the global downturn.
The banking system of India consists of the following banks:
21 private sector banks
27 public sector banks
49 international banks
56 regional rural banks
1,560 urban cooperative banks
94,380 rural cooperative banks
The most dominating position in the Indian market is enjoyed by public sector banks (PSBs). These banks hold approximately 80% of the market share. In these banks, the larger part (about more than 50%) is held by the Indian government.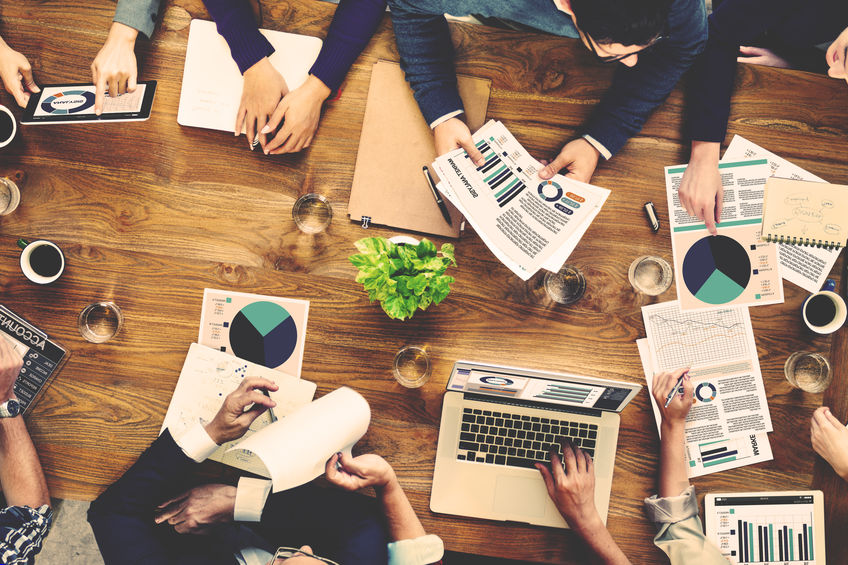 Here is the list of top 6 biggest public sector banks (PSBs) in India in 2019 in terms of market capitalization.
1. HDFC Bank Ltd.
The Housing Development Finance Corporation (HDFC) is the largest private sector bank based on market capitalization and assets. Market capitalization in March 2020 proves it is the largest bank in India, providing products and services such as wholesale banking, retail banking, treasury, loans, credit cards, lifestyle loans, and other variety of loans with Payzapp and SmartBUY as digital products.
The bank's Corporate Social Responsibility under the HDFC Bank Parivartan a successful 11-year initiative that has managed to contribute an estimate of Rs. 14.41 to the CSR industry.
Here are some details about this bank:
Established in 1994
Headquarters in Mumbai
More than 88000 employees
4900 branches and 13000 ATMs across 2727 cities in India
Market capitalization: Rs. 6,25,666.08 crores
2. State Bank of India (SBI)
State Bank of India (SBI) is the oldest and most reliable brand in India and one of the world's biggest corporations. It is the 2nd largest bank owned by the Indian government in terms of market capitalization.
The SBI offers credit cards, savings accounts, fixed deposits, personal loans, debit cards, home loans, loans against property, car loans, gold loans, mudra loans, and business loans. The multidimensional bank was the largest bank in India with one-fourth of its share in the deposits and total loan market before being overtaken in March 2020 by the HDFC Bank.
Here are some details about the SBI bank:
Established in 1955
Headquarters in Mumbai (Maharashtra)
More than 26350 branches across India
Over 60,000 ATM across India
195 offices in 36 countries
Serving more than 43 crores customers
Market Capitalisation: Rs. 2,93,218.11 crore
3. ICICI Bank Ltd
ICICI bank is one of the most popular banks in India. It was established in June 1994 in Vadodara by the Industrial Credit and Investment Corporation of India offering a wide range of services including online money transfer and tracking service, current, savings account, time deposits, recurring deposits, mortgage, loans automated lockers, prepaid and debit cards, credit cards, and ICICI Pocket; a VISA powered digital wallet. It is a part of the Big Four Banks of India.
It has maintained a big role in Indian financial infrastructure with the Entrepreneurship Development Institute (EDII) established by IDBI, IFCI, and SBI cohort companies, promoting the National Stock Exchange, establishment of CRISIL, India's first credit rating agency with UTI amongst other significant achievements.
Here are some details about the ICICI bank:
headquarters in Mumbai (Maharashtra)
more than 4870 branches across India
More than 14367 ATMs across India
International presence in 16 countries
the market capitalization of Rs. 2,56,205.53 crore
4. Kotak Mahindra Bank Ltd.
Kotak Mahindra Bank is the fourth largest bank in India, based on market capitalization. This bank was established in February 2003.
It is the second-largest Indian private sector bank with services for corporate and retail customers that include personal finance, investment banking, life insurance, and wealth management.
Here are some details about Kotak Mahindra bank:
Achieved 245th rank in brand finance banking in 2014
Approximately 50,000 employees across India
Market Capitalisation: Rs. 2,55,537.49 crores
5. Axis Bank Ltd.
In terms of market capitalization, Axis bank stands at 5th position in India founded in 1993 as UTI bank, and officially changing its name to Axis Bank in 2007. It launched its all-women branch in Patna in 2014 and has Bollywood actress, Deepika Padukone as the bank's ambassador.
The Axis Bank oversees foreign operations with 11 international office branches in Singapore, Dubai, Abu Dhabi, Hong Kong, Colombo, Shanghai, and representative offices in Dhaka, Dubai, Abu Dhabi, Sharjah, and a subsidiary in London, selling financial services to large and mid-size businesses.
Here are some details about the Axis bank:
The fifth-largest bank in India
Headquarters in Mumbai
About 4000 branches across different cities India
12700 ATMs across different cities in India
More than 55000 employees across India
the market capitalization of Rs. 1,97,360.89 crores
6. IndusInd Bank Ltd.
IndusInd bank of India stands at 6th position in terms of market capitalization according to the survey of April 2, 2019.
It is recognized as one of the new generation private sector banks in India including corporate banking, retail banking, treasury, and foreign exchange, investment banking, capital markets, high-net-worth individual banking, and non-resident banking as services. It has successfully established representative offices in Dubai, London, and Abu Dhabi.
Here are some details about the IndusInd bank:
Established in 1994
Headquarters in Mumbai
1558 branches across India
2450 ATMs across India
the market capitalization of Rs. 1,07,064.08 crores