With over 37 million digital banking customers and 27 million being active mobile banking customers, the Bank of America's digital transformation is among the most successful US banks in digital transformation.
In 2019, their revenues from digital banking stood at 27 percent, which made their CEO and Chairman Moynihan claim that they are a digital company encompassing a great bank.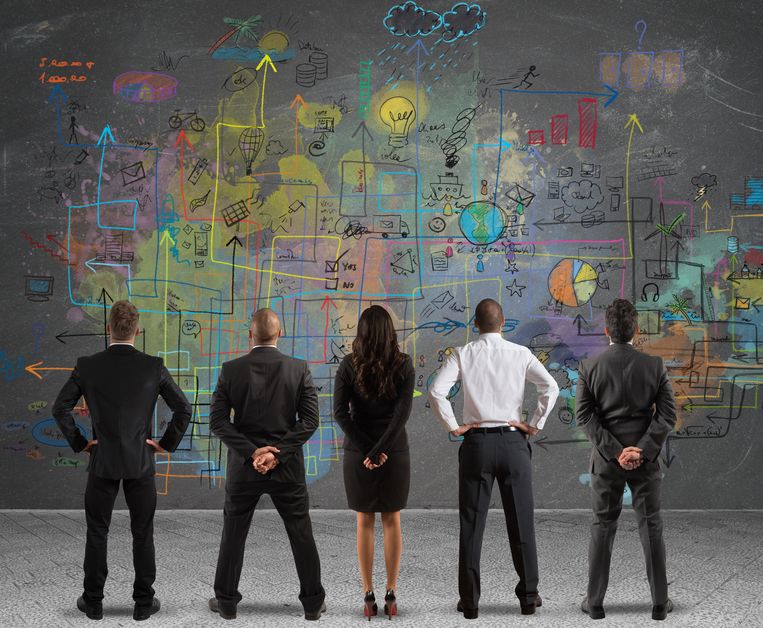 Bank of America Transformation Summary
The Bank of America's transformation from a traditional bank to a digital facilitator of payments and banking services is evident when you look at some of its digital banking and financial products. Their products include:
Bank of America (BofA) Technology Innovations
In June 2018, Global Finance named Bank of America Merrill Lynch a leader in financial innovation. The award focused on several Bank of America technology innovations, which we will discuss in this article.
The BofA's Global Transaction Services (GTS) division has played a crucial role in developing and implementing these innovations.

Liquidity Express – Bank of America Digital Funds Manager
Liquidity Express is a Virtual Account Management (VAM) digital solution that offers services that are a substitute for physical cash concentration and notional pooling. The Liquidity Express allows customers to manage funds from various accounts as a single balance.
Moreover, the solution allows clients to categorize transfers and report the transfer using a virtual account manager.
To achieve all that functionality, Liquidity Express incorporates the features of CashPro Assistant Analytics & Forecasting tools, Global Liquidity Platform (GLP), and VAM.
In that regard, this solution simplifies account structures for the clients, which saves them time, and money.
Customers will find the Liquidity Express indispensable when they want to maintain a separate physical account, for purposes of tax, regulatory, or operational requirements.
The GLP solution will automatically transfer funds to each separate physical account, track the transfers, and reconcile all the fund movements.
Overall, the Liquidity Express solution offers simplicity, cost efficiency, and flexibility when a client needs to have greater control and accountability of their funds.
BofA recommends Liquidity Express to customers who may not qualify for conventional pooling, and require a banking solution that is easy to use and implement right away.

Bank of America Merrill Lynch innovation – Intelligent Receivables
Another outstanding Bank of America Merrill Lynch innovation is the Intelligent Receivables. The solution helps clients to match incoming payments with invoices automatically.
Therefore, it saves them thousands of valuable Full-Time Equivalents (FTEs) annually. For clients that always struggle to determine "who among their customers is paying for what," this solution will come in handy.
Intelligent receivables use Robotic Process Automation (RPA), Optical Character Recognition (OCR), and Artificial Intelligence (AI), to help customers greatly improve their Straight-Through Reconciliation (STR) of incoming payments.
Because the solution helps BofA clients post their receivables in real-time, clients who have adopted the solution can now offer better services to their paying customers.
Intelligent Receivables are best suited to large and medium-sized companies that handle large volumes of payment, which often come in with minimal remittance information, or they receive the information on a separate channel.
Overall, the Intelligent Receivables solution helps BofA customers to streamline and lower the cost of their reconciliation process.

API Gateway – Bank of America technology innovation
API Gateway is a technology innovation that makes it possible for BofA clients to connect with the bank's digital platform. The connections can be direct, or indirect through resources such as Treasury Management Systems (TMS), Enterprise Resource Planning (ERP), and other third-party providers.
With API Gateway, clients can check their banking information and initiate transactions 24/7. The banks' clients will be able to benefit from direct and indirect use of the API Gateway.
Interested clients are already working with BofA Merrill to help them set up direct API Gateway connections.
The second option is for clients to use the API Gateway through ERP and TSM platforms. BofA is working with top ERP and TMS vendors that will be able to include API Gateway in their products.
The last option is where BofA is working with third parties such as FinTech firms, who will help clients facing working capital challenges, to implement their API Gateway connections.

Global Digital Disbursements
Global Digital Disbursements is a digital financial service, courtesy of BofA Merrill Lynch, and PayPal. The service allows commercial clients from the U.S., to make payments outside the U.S using PayPal, in local currencies.
At the time of writing this article, this service is available in the Philippines, U.K., Italy, France, Mexico, and Germany. That makes BofA, the first to have a digital disbursement product for payees outside the U.S., for commercial clients based in the U.S, in various industries.
The digital solution is suitable for real estate businesses, gig economies, online marketplaces, the insurance industry, non-profit organizations, institutions of higher education, and others that make global payments.
Digital Mortgage
As of April 2020, BofA clients had access to a digital mortgage application, which they can access from the bank's leading mobile app. The app allows customers to prepopulate their applications, with the information they have already provided the bank.
Moreover, the app is connected with BofA's Home Loan Navigator, which enables them to track the status of their loans 24/7. They can also use the app to upload mortgage documents, review them, and accept agreements and disclosures.
Mobile Car Shopping
BofA customers can access a mobile car shopping tool online, where they can choose new or old cars, available at participating car dealerships. They can also use the tool to estimate how much car loan they can pay each month before they visit the dealership in person.
So far, over 50% of all car loan applications by BofA customers are initiated digitally. That is a seven-fold increase from the online car applications they had recorded prior to May 2017.
MyRewards Hub
The BofA's MyRewards Hub allows its customers to view and redeem their rewards from a central location after they have received them for using the various products.
Some of the qualifying products whose points can be accessed from this hub include Preferred Rewards, Bank of America credit card, and BankAmericaDeals. Moreover, the site also provides easy-to-understand reward guides.
BofA Merrill Virtual Payables
The BofA Merrill Virtual Payables is a virtual card solution that links to BofA's virtual card system, through an API. It allows BofA commercial clients to pay with virtual cards connected to their bank accounts.
The virtual payables solution eliminates the need for commercial clients to acquire credit/debit plastic cards. Moreover, the Virtual Payables solution provides customers with single-use virtual card numbers in real-time, which minimizes online fraud.
The Virtual Payables solution allows clients to use an API to initiate payments through the user interface, or a batch file delivery, from their ERP system.
Overall, Virtual Payables makes it easy to manage and track payments, because each transaction gets a unique card number. Clients can also integrate card numbers with their travel bookings, making it easier to track and control travel expenses.
Merrill Edge
The Merrill Edge is a wealth management platform, which BofA customers can use to get investment insights, which align with the client's priorities. It also helps the clients to access easy-to-understand equity resources, so that they can make timely investment decisions.
Innovation Leader
BofA leads in banking innovation, and the Intellectual Property Owners Association, which ranks 300 organizations in the US, ranks it first among banks for its innovation and digital solutions.
Furthermore, BofA encourages innovation, by receiving patent ideas from thousands of innovators from around the world.
Global Technology & Operations University (GT&O)
Through the GT&O 2 year development program, BofA is able to provide undergraduate and master's degree candidates with the necessary skills to manage banking technology businesses.
Erica
Erica is powered by AI, which allows it to learn and update its intelligence data in real-time. For BofA customers, that means they get the latest financial tips, which they may not have gotten from human financial advisers.
Bank of America Merrill Life Plan
The Bank of America is planning to take its digital innovation to another level, by introducing a digital financial coach named Life Plan. The automated financial coach will help its customers to save for retirement or buy a home.
The product can benefit younger customers who are looking for ways to gain financial freedom, and at the same time help the bank to grow its customer base.
Benefits That Corporate and Retail Clients Draw From BofA's Digital Innovation
Easy Access to Products and Services
BofA is automating its services to make it easy for its clients, especially corporate clients to access its services. For instance, using platforms such as Direct Books, BofA has made it easy for its clients to access investment funding, and for investors to track investment opportunities.

AI-Powered Investment Tools
BofA has invested in AI tools such as Predictive Intelligence Analytics Machine (P.R.I.A.M.), which is an equity capital market tool that predicts how markets are likely to perform in the future. That helps corporate investors to make better investment decisions, by eliminating risky investments.

Digital Debit Card
BofA has a digital debit card that allows customers to access their funds online, without the trouble of applying for a plastic debit card. The card is available to any customer using a smartphone and registered with its online banking platform.
The digital card allows BofA to pay for goods when shopping online, or when using mobile wallets such as Google Pay or Apple Pay. The card is available to new and existing customers.
All they have to do to access it is open the BofA mobile app and the digital card will be there waiting for them. Apart from online shopping, they can also use the digital card to make withdrawals and deposits, from the BofA's over 16,000 digitally enhanced ATMs.
BofA assures its customers that its digital card has the same security features as the traditional physical card. Moreover, because it is instantly available for use to any BofA account holder with a smartphone, it offers greater convenience than a traditional physical card.

Merging ATMs and Mobile Apps
BofA has merged its ATMs with its mobile app, which allows customers to initiate transactions from their smartphone app and complete it on their ATMs. This innovative feature allows customers to access traditional banking services from more places, at any given time.
Digitization has also made it possible to have digital-only branches that offer most of the traditional banking services. That allows the bank then to deploy its personnel to deal with more complex customer issues and services.
Customers are therefore able to conveniently access BofA services conveniently, pay lower banking fees, and get professional services 24/7. It is also working with digital payment platforms such as Zelle, which gives its customers another secure avenue to make secure payments online.
Zelle
Zelle offers its customers an easy and secure way to send and receive money. It also allows family and friends to share bills, even when they use separate banks.
The need to lower cases of online banking fraud has also made it necessary for BofA to secure online transactions using double authentication. It is now normal for customers to receive authorization codes, which they must use to complete automated transactions online and offline.

Virtual Financial Assistant
Since 2018, BofA's Mobile users in selected markets have had access to Erica, a virtual financial assistant. The virtual assistant tool has become a big success, allowing clients to request important banking information that includes bank account balances, and routing numbers.
Its usage now includes providing insightful information such as duplicate charges, trading and investment advice, connecting clients with financial advisers, giving updates on portfolio performance, as well as customer spending patterns.

BofA Digital Investment
As a way of driving constant innovation, the bank now makes monthly technology updates, instead of a few annual updates. Overall, BofA invests about $10 billion each year in technology projects, making it a leader in banking technological innovations.
Bank of America digital transformation
The BofA is a US bank whose digital transformation has helped it to grow its client base, improve customer satisfaction by making its online transactions more secure, fast, and convenient.
In this guide, we looked at some of their award-winning achievements, and we hope that inspired you to start your digital transformation journey.
Do you have any questions regarding digital transformation or RPA automation? Contact us today, we can help you find the right answers.
Automated Data Capture, Extraction & Analysis – Solutions for FinTech