We have more than 114 banks in Sweden, and the four biggest banks within Sweden account for more than 80% of the industry's total assets. The banking system is divided into four categories which include commercial banks, foreign banks, savings banks, and cooperative banks.
The banking system in Sweden is stable due to strong operating systems as well as low-interest rates, which have been a source of solid profitability and asset quality.
At the end of this list, you will find a bonus tutorial on how to work with bank documents.

1. Nordea Bank
Nordea began its operations in 1832, and it poses as the largest financial institution in the Nordic region and has a presence in 20 countries. Its headquarters are in Stockholm, and as of 2020, it has 1,400 branches in Sweden, Denmark, Norway, Finland, Latvia, and Lithuania. to have risen to this position, the bank offers personal banking services, commercial and business banking, wholesale banking as well as wealth management to individuals, companies and major corporations. The bank is financially stable with an AA+ rating by credit rating agencies.
2. SEB Bank
This is the second-largest bank in Sweden courtesy of its universal banking services and ensuring that its products cater to small as well as medium enterprises. The bank has branches in other 14 countries with 15,000 employees who have been trained to handle customers with utmost care. The bank recorded a net profit of SEK 23.1 billion in 2018 which has been attributed to the way it operates as a commercial bank and goes out of its way in offering services such as checking and savings account, credit cards, mutual funds, and foreign exchange. It is also important to note that there is a provision of financial solutions for both members and non-members.
3. Svenska Handelsbanken
This is one of the oldest banks in Sweden, after being established in 1871, and it offers banking products and services to individuals and corporate customers. The bank has prioritized offering services of asset management, cash management, debt capital markets, bank relations, corporate finance, asset finance international trade, advisory, securities, research, pension, and advisory services, and sales and execution. The bank has its headquarters in Stockholm, with 800 branches in 20 countries.
Beyond providing banking services to individuals, Svenska Handelsbanken provides businesses and institutions investment banking options and trading access. It also facilitates traditional corporate dealings. The bank's ability to provide these products and services makes it one of the biggest banks in Sweden. In addition, Svenska Handelsbanken has been expanding its operations to other Scandinavian countries since the late 20th century. Similarly, it has expanded its services to the Netherlands and the UK. In the last few years, the bank has opened over 200 branches, making it one of its biggest recent expansions.

4. Swedbank
Founded in 1820, Swedbank offers services to both private and corporate customers, who make up 7.3 million and 600000 respectively. The vision of the bak is the promotion of a sound and sustainable financial situation for the many households and businesses in Sweden. The bank operates 186 branches in Sweden and in 2018 reported operating revenue of SEK 44,222 million. Among the most selling services of the bank include trading services in equity, currency, and fixed income trading services.

5. Forex Bank
This is the biggest bank in Sweden, courtesy of specializing in currency exchange services since 1927. The bank operates 110 widespread branches and it is also present in the other three countries which include Denmark, Finland, and Norway. It is in 2003 that it started offering other services other than forex exchange, through current and savings accounts, internet and mobile banking, loans, debit and credit banks, money transfers, cash handling, and payments.
Forex Bank is owned by the Friberg family, which has expanded its services to other neighboring countries. In particular, the bank has outlets in airports and train stations, where travelers can easily access forex when traveling.

6. Nordnet Bank
Nordnet Bank is headquartered in Sweden and employs over 400 individuals in the country and across international borders. This bank also has a significant presence in Finland, Denmark, and Norway. Nordnet Bank began as a broker but is currently providing investments, loans, savings, and pension services as a full-fledged bank in Sweden and other parts of the world. By 2016, the bank had assets worth $48.7 billion and an income of $ 147.6 million. As of June 2020, the digital bank registered SEK 301.9 million profits after-tax, up 311% from the previous year.

7. Carnegie Investment Bank AB
Founded in 1803, Carnegie Investment Bank is one of the oldest financial institutions in Sweden. It has several branches in the entire Nordic region. In 2001, Carnegie Investment Bank acquired HQ Bank and HQ Fonder, making it the undisputed investment banking leader in the area. The bank has passed the test of time and remains one of the providers of trusted banking products, including private banking, investment banking, and securities brokerage.
Carnegie Investment Bank operates out of Stockholm. However, it has several branches in other Nordic countries. Plus, it has a strong presence in Luxembourg, London, and New York. In addition, the bank has gained quite a standing in wealth management, equities research, brokerage, and financial advisory.
In 2008, Carnegie Investment Bank was nationalized by the Swedish government. This was done because of the financial crisis that occurred. By 2009, this bank was purchased by Bure Equity and Altor Equity Partners in a joint venture takeover. This transaction repositioned the bank as one of the leading financial institutions in Sweden and other Nordic countries.

8. ICA Banken
ICA Braden Bank is headquartered in Solna, Sweden, and serves about 713,000 customers. Moreover, the provider of customer-focused private and commercial banking services employs approximately 356 people. The bank started offering private and commercial banking services when it was established in 2001. However, it was until 2015 that it started offering insurance services through ICA Insurance.
ICA Braden Bank started operating in 2022. It is a subsidiary of ICA Gruppen AB, a retail chain that predominately into providing food and health products and services. As such, this bank creates a system, which makes it easy for ICA to serve its customers all across the country. In the process, ICA Braden Bank makes more money.

9. Resursbank
Resursbank was founded in 1927, and the bank provides customer-centric retailing financial services. Currently, the Helsingborg–based bank has a significant presence in Sweden, Finland, Denmark, and Norway and employs approximately 926 individuals. Moreover, it operates through the Payment Solution and Consumer Loans segments. Through these segments, Resursbank offers the following valuable financial services to its esteemed clients:
Unsecured loans
Sales-driving finance
Payment solutions to retailers
Loyalty
Credit cards
10. Ikano Bank
Ikano is offering the best internet banking services and has emerged as one of Europe's most prominent Internet banks. It was founded in 1988 and named "IkanoBanken" but was rebranded in 2009 to Ikano Bank. In 2019, the bank had 512 employees, a 34% increase from the previous year. Given that the bank offers most of its services online, the labor-force is enough to meet its customers' needs irrespective of their location. Ikano Bank offers a wide range of financial services. Some of the most popular ones are:
Car loans
Insurance
Mortgage loans
Corporate leasing
Ikano Bank is an affiliate of the Ikano group.

11. Avanza Bank
The Avanza Bank was created in 1999. This bank has its headquarters in the capital of Sweden, Stockholm. The bank operates with a small workforce that is less than 1,000 in number. Also, Avanza Bank averages a total yearly income of more than $100 million and it holds a total asset that exceeds $10 billion.
Avanza Bank is known for its excellent customer care service. This excellence led it to win a yearly award for over ten years in a row. Avanza Bank always tries to make banking and access to banking facilities easy for its clients.
Avanza Bank is owned by a larger financial institution named Avanza Group. This institution owns several other financial organizations within Sweden.

12. Westra Wermlands Sparbank
Started in 1856, Westra Wermlands Sparbank is amongst the first banks to begin operation in Sweden. This bank is a large financial institution that caters to hundreds of thousands of people. It offers banking services such as savings account, current account, debit/credit cards, loans, pension schemes, and much more.
Although this bank still operates as Westra Wermlands Sparbank, it was purchased by Swedbank Group in 1998. Since then, the bank has expanded the number of its workforce to a few hundred.
Since the bank's inception in the 19th century, the bank has been at the forefront of providing long-term support to clients, which has fostered significant growth for local businesses.

13. Danske Bank
Danske Bank is another older financial institution that was created in 1937. Initially, when it was opened, the bank had another name. Over the years, several changes have been made to the institution, which had led to different names at different times.
Danske Bank is considered amongst the largest banks with one of the largest assets within the banking sector. Unlike other banks, this bank provides a wide range of financial services to its clients. These services include accounts services, loans, mortgages, insurance, private banking, and asset management. Also, it provides modern banking services such as online and mobile banking.

14. SBAB Bank
Opened in 1985, SBAB Bank is one of the few banks that are owned by the Swedish Government. Although this bank provides several financial services, the bank is primarily involved with residential mortgages. SBAB Bank employs a large workforce of more than 500 people. Currently, the bank operates out of Solna and it has a total asset worth over $500 billion.
SBAB Bank has a client list of about 400,000 and a loan portfolio owed by customers of over $40 billion.

15. Bank of Åland Plc
Created in 1942, the Bank of Åland Plc is a large commercial bank that provides banking services across two Scandinavian countries of Finland, and Sweden. Additionally, the bank operates out of Åland, which is a province within Finland. In 1942, the bank was made open for stock purchase as it was listed. This bank has a large workforce of over 600 staffers across all the regions.
Before 1942 when the Bank of Åland Plc was listed on the Helsinki Stock Exchange, this institution was first established in 1919. By March 2009, this bank got a presence in Sweden via the purchase of Kaupthing Bank Sverige AB. This bank primarily focuses on individuals and organizations with a lot of fortune. Nonetheless, it provides services to commercial and retail entities. The bank is also involved in wealth management. Likewise, this financial institution has developed a good reputation as it is ranked high in client loyalty. In addition, its operations are stable and possess a low rate of credit loss.

How to Extract Data from Bank Statements
The ability to extract data from a bank statement would be very helpful for bookkeeping and other documentation purposes. It enables you to export the information to an XLS file or other digital document or software.
We will show you in this guide the steps for quickly extracting a Bank of America Core Checking Statement using PDF.co and Zapier.
Step 1: Use Google Drive
In this demo, the sample bank statement we will use is stored in Google Drive. For the Trigger, we will input in the Event field: New File in Folder.
Step 2: Setup Trigger
To set up the trigger, we will select the drive and the folder name that stores the bank statement.

Step 3: Test the Trigger
To ensure that we configured the action correctly, we will test the trigger and see the result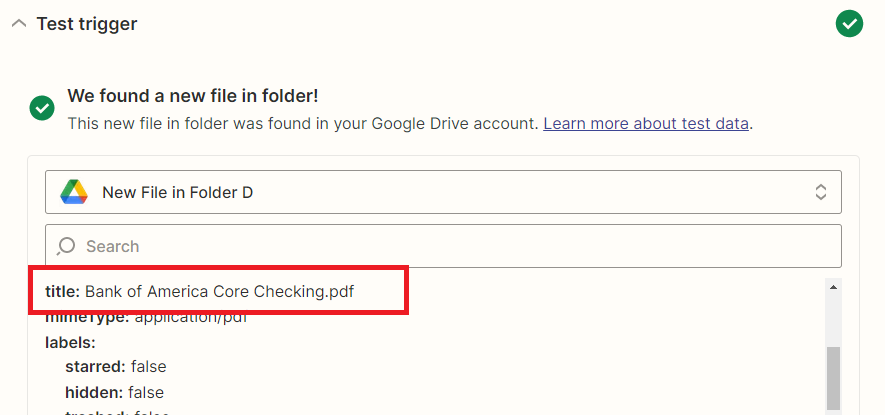 Step 4: Use PDF.co
To begin the actual data extraction process of the bank statement, we will select PDF.co as the App. For the Action Event, we will choose Document Parser.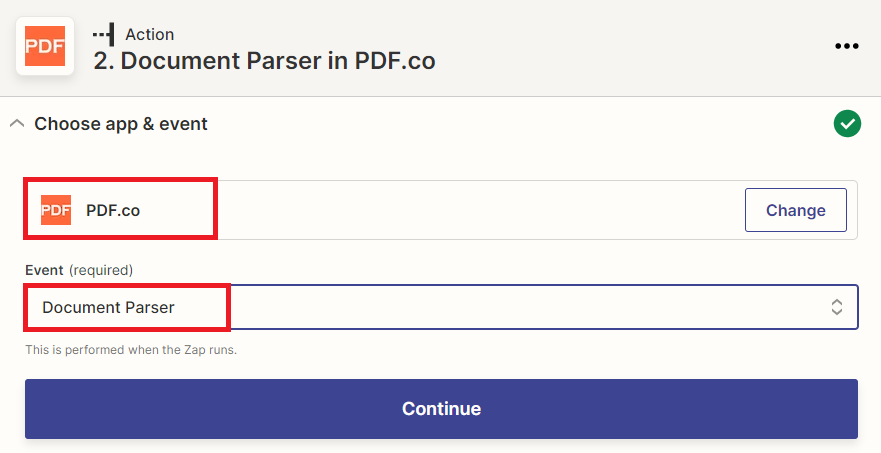 Step 5: Setup Action
To set things in motion, we have to configure the Document Parser using the following simple steps:
First, we will take the Web Content Link from the previous step and place it in the Input
Next, we will input the bank statement ID In the Template Id We will click here to copy the template, which we will save to our Document Parser.

Step 6: Test Action
Once again we need to do a Test Action. We are doing it this time to see the output of our Document Parser.

Step 7: See the Result of the PDF.co Action
The Document Parser result will look like the output below: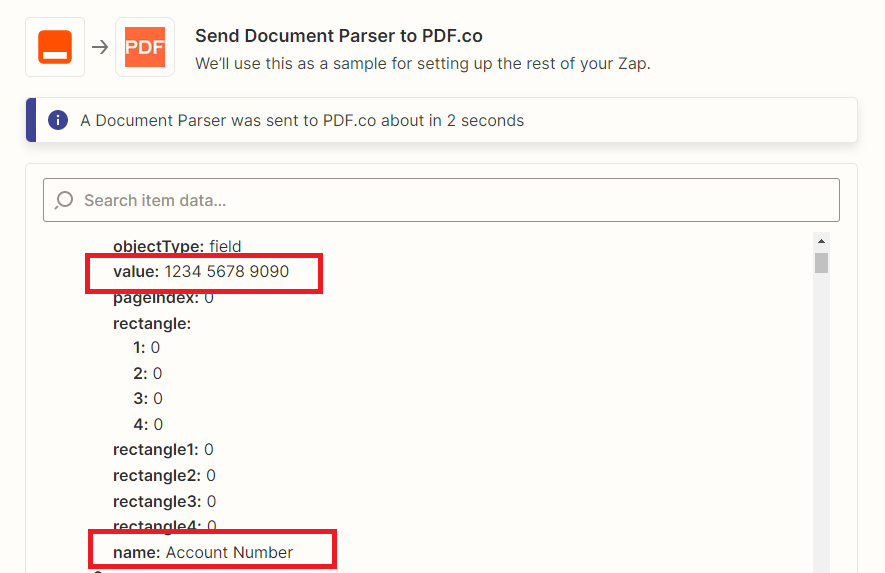 Bank Statement Extraction Complete!
To recap the major things we've learned here: we used Google Drive as the Trigger and PDF.co as the extractor app. The simple demonstration shows how data from a Bank of America Core Checking Statement was easily extracted through the integration of PDF.co and Zapier.