Make PDF searchable online without having to pay for licenses, or installing software on your device. With our tool, you can convert PDF into a searchable PDF, using your smartphone or desktop browser.
Our make PDF text searchable tool is also valuable when you have a scanned PDF. You can use it to make your image PDF, and OCR searchable PDF. So, what makes our convert to searchable PDF tool to stand out?
GET YOUR API KEY Zapier plugin  Explore API Docs
Why Use Our Create Searchable PDF Tool
Search PDF Files for Text
Our tool makes it easy to search text in PDF, even if you initially saved the PDF as an image, or you scanned a document. The tool comes in handy for users who need to find a word in PDF, but cannot because it is not searchable.
Secure
Our premium tool does not store or share information contained in your PDF files. Whether you want to search a PDF document or perform a PDF keyword search, this tool can help you make the PDF searchable, securely.
Easy to Use
Our tool is easy to use, thanks to the three-step process needed to upload, convert, and download the searchable PDF. Since the tool is accessible via a browser, there is no need to download and install it on your device.
That saves you the time and computing resources needed to run such software offline. Furthermore, the tool has an option for saving searchable PDFs in your Dropbox account, making it easy to share them.
How to Use PDF Search Tool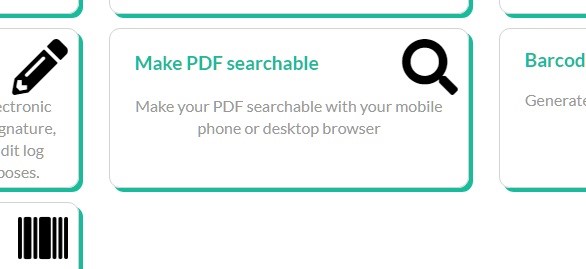 To use the make PDF Searchable Tool, you need to open it and buy some credits as well. You also need to have the PDF files you need to make searchable with you. They can be stored locally in your device, in your Dropbox account, or have them in a live URL.
Step 1: Upload PDF Files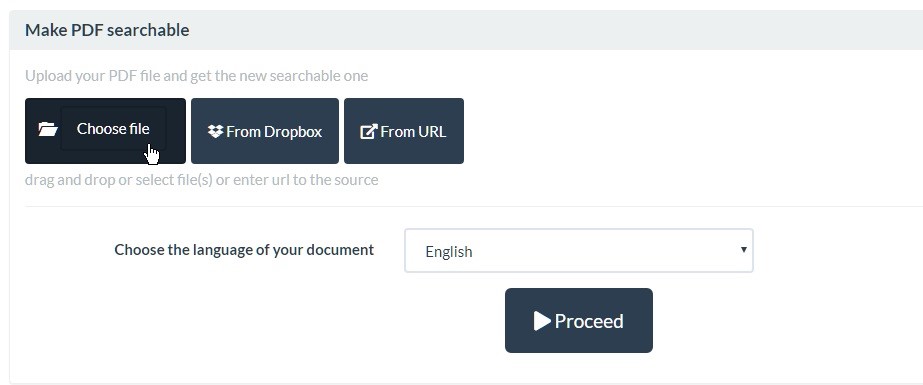 Once you have opened the Make PDF searchable tool, click on "Choose file" to upload the document you want to make searchable. If you have it in your Dropbox account, then click on "From Dropbox," or click on "From URL," if you have it on a live URL.
Furthermore, you need to log into your Dropbox account, for the tool to access it.
Step 2: Make PDF Searchable
Once you have uploaded your file, click on "Proceed" to start the conversion process. The conversion process of making your PDF searchable will start, and it will take about four credits for a single page PDF.
Once the process is complete, the searchable PDF will become available for download.
GET YOUR API KEY Zapier plugin  Explore API Docs
Step 3: Download and search PDF files for text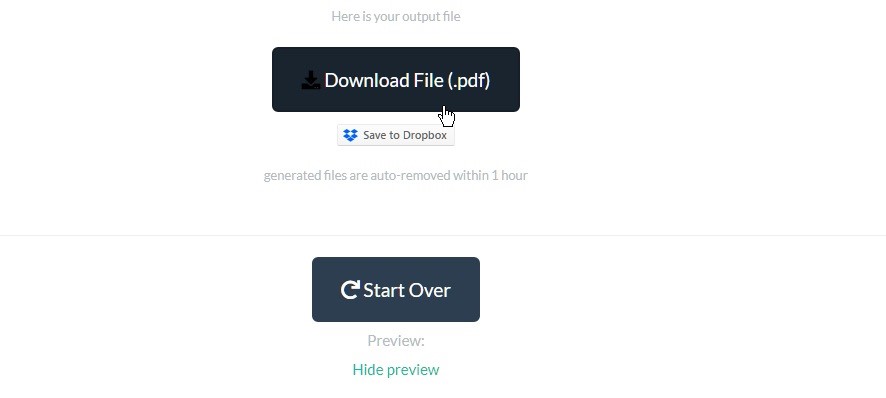 You can choose to download the file to your local storage or save it on Dropbox. When you click on "Download," the searchable PDF file will open in a new tab. You can then view and download it. You can also choose to save it to Dropbox, by clicking on "Save to Dropbox.
How to Make a PDF Searchable – Frequently Asked Questions
How Do I Search for a Word in a PDF Online?
You can search a PDF online by uploading it to our PDF.co tool. All you need to do is to upload your PDF file to our tool and follow the instructions above. The tool will make an image PDF searchable.
On the other hand, if you have a text PDF, you can open it with your browser, and then press "CTRL"+"F" to enter the word you want to search.
You can then press "Enter", and wait for your search results.
Why Can't I Search in My PDF File?
If you cannot search your PDF file, you can try and press "CTRL"+"F" to enter the word you want to search. If that does not work, try to highlight a word, to test whether what you have is a text PDF.
Once you confirm that your PDF is not a text PDF, the next step is to convert it to a searchable PDF. For that, you can upload it to our PDF.co tool, where you can convert it to a searchable PDF.
How Do You Do a Search in a PDF
You can use your PDF reader's search function to search for words in a PDF. However, the search function will only work if the PDF is saved from a text document.
On the other hand, a PDF that was saved from an image must be converted to a text PDF, to make it searchable.
How Do I Search for a Word in Scanned PDF?
You can search a word in a scanned PDF after you convert it to a searchable PDF. While you can view the text by looking at an image PDF, PDF readers cannot decode image text.
But thanks to OCR technology, you can use our PDF tool to extract text from an image PDF, and save it as a text PDF. The tool is free to use, for non-commercial users.
How do I make a PDF searchable without Acrobat?
You can use our free Search PDF tool to make your PDF searchable. Our online free tool is available to non-commercial users. Commercial users can use our discounted PDF Search tool API to search for text in PDF.
What Does It Mean to Make a PDF Searchable?
Making a PDF searchable means extracting text that was saved as an image, and saving it as plain text. That enables a PDF reader's search functionality to detect the text characters when you search for words.
Conclusion – Make Scanned PDF Searchable
Making your PDF searchable allows you to search PDF files for text programmatically, search scanned PDF, or even search multiple PDF files using certain keywords. The tool also makes it possible for others to search for your PDF online, which makes it easy to share the PDF.