You need a QR barcode generator to create QR barcodes for your products, especially if you are in the eCommerce business. The good news is you do not have to pay more, to use a secure online barcode generator.
GET YOUR API KEY Zapier plugin  Explore API Docs
Why Use Our Online QR Generator
Budget Barcode Generator Online
You can start generating barcodes with our 2D barcode generator, which we have designed for small and medium enterprises. All you need is an account with us, and a few credits, because you only pay for what you use.
Secure Barcode Generator Online
As with any business, you need a secure platform to process your data and that of your clients. That is why you need to avoid using a free barcode generator. Such a barcode generator does not guarantee you any security, which is against privacy laws in jurisdictions such as the EU.
Easy To Use
As a business person, you do not want to waste time learning how to use a multitude of tools. Our QR generator is easy to use, which saves you time and money. All you need to start using it is access to our platform.
How to Use Barcode Generator Online
Step 1: Open the 2D Barcode Generator
First, you need to create a barcode generator account with us if you do not have one and buy some credits. You only need one credit to generate a single QR barcode, which makes this tool suitable for SMEs.
Once you have logged into your account, go to the menu, and click on "Tools." On the drop-down menu, you can click on "Barcode Generator."

Step 2: Fill in the Bar Code Details
The second step is to enter the details you wish to encode into a barcode. The online barcode generator interface will appear with a text box.
Enter the barcode values you wish the product to have. You can also choose the type of barcode you need, but in this example, we chose a "QRCode."


GET YOUR API KEY Zapier plugin  Explore API Docs
Step 3: Download the QR Barcode Image
The final step is to click "Proceed," and our online QR generator will create a 2D barcode for you. The app will display the barcode it has generated so that you download the barcode. You will have one hour to download your 2D barcode, after which the app will automatically delete it.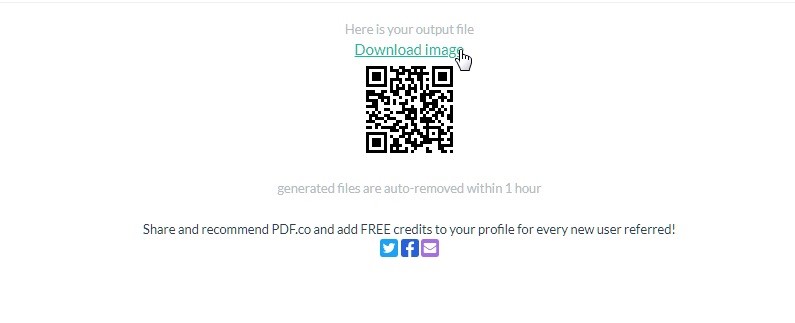 Online Barcode Generator – Frequently Asked Questions
Can I Generate My Own Barcode?
Yes, you can make your own barcodes using our Online Barcode Generator. All you need to start making your barcodes is the product information and a few credits. You don't have to worry about the cost of the credits, because they will cost you pennies.
The most that you can pay for credits is $0.04 per credit when you buy the 125 credits/$4.99. However, the cost can drop as low as $0.0003 per credit, if you choose the Business 3 Annual package. Once you buy your credits, you can start generating your barcodes.
How Do Barcode Generators Work?
Barcode generators work by converting the information you provide, into a series of black and white strips. The width of the strips varies according to the information you want to encode in the barcode.
Furthermore, there are additional strips the barcode scanner uses to establish the beginning of the barcode and for checking if the code was scanned correctly.
Other important information that the barcode generators must include in the barcode is the name of the product's manufacturer, as well as the product's name. You may choose to include the product's price, but most people opt to have the price automatically added at the Point of Sale.
Can 2 Items Have the Same Barcode?
Yes, two similar items have the same barcode. That is why you need to scan say 10 similar items, can take one item, and scan it 10 times, instead of scanning each of the 10 items. However, if the items vary slightly by saying mass, volume, or density, then they will have different barcodes.
That's because barcodes include important information such as the product's content description.
In that regard, the retailer or reseller is able to use the barcode to price the items differently, and identify them accordingly. What makes the barcodes for 2 items to differ from one another, is the information you input into our online barcode generator.
How Much Does It Cost To Get A GS1 Barcode?
The cost of printing a GS1 barcode varies depending on how many GS1 barcodes you want to print. However, if you only want to print one barcode, it will cost you about two credits. The maximum cost for a single credit is $0.04, so you will pay $0.08 for one GS1 barcode.
Some of the different types of GS1 barcodes you can print with our online barcode generator include GS1_DataMatrix, GS1_DataBar_Omnidirectional, GS1_Data_Truncated, GS1_Data_Stacked, GS1_Data_Stacked_Omnidirectional, GS1_Data_Limited, GS1_Data_Expanded, and GS1_Data_Expanded_Stacked.
Conclusion – QR Barcode Generator
With that simple three-step process, you will have generated your QR code. The process is secure and fast, and you only pay for what you use.