You can merge multiple PDF files online, without having to buy, download, and install the software in your computing device. Whether you want to merge PDF documents to make it easy to read them as one document or share them, our online PDF merger is the best tool for the job.
GET YOUR API KEY Zapier plugin  Explore API Docs
Why Merge PDF Files Online
Convenient to Use
When you need to merge PDF files without spending too much on expensive software, online PDF merge tools like ours come in handy. With our tool, you can merge PDFs online, and pay for what you use only.
That can save you hundreds of dollars that you would have spent buying a premium PDF merger software. Moreover, since you do not need to download any software, merging your PDFs will take seconds.
Security
We do not recommend that you merge PDF online using free PDF merging tools, because such products are not secure. Since they do not charge you, the terms of use for such products dictate that you surrender any data the tool extracts from your documents.
With our secure PDF merge online solution, your files are safe, and we do not store or extract any data from them. Therefore, you can merge your clients' PDFs online, with a total piece of mind.
Ease of Use
You do not need to take time to watch tutorial videos on how to merge your PDFs online. Our PDF file merger tool can merge any file in three simple steps, as we have illustrated below.
Moreover, you can use our PDF merge tool to merge files stored in your computer, Dropbox, or from a live URL.
How to Merge PDF Pages
Step 1: Upload Your PDF Files

The first step is to log into your PDF.co account, buy some credits if you do not have some, and then upload your files. While small files merge within seconds, merging large files will take a few seconds to a few minutes.
To get to the upload page, click on "Tools," then click on "Merge PDF." That will bring up a new window, where you can upload your files from your local storage, Dropbox, or from a live URL.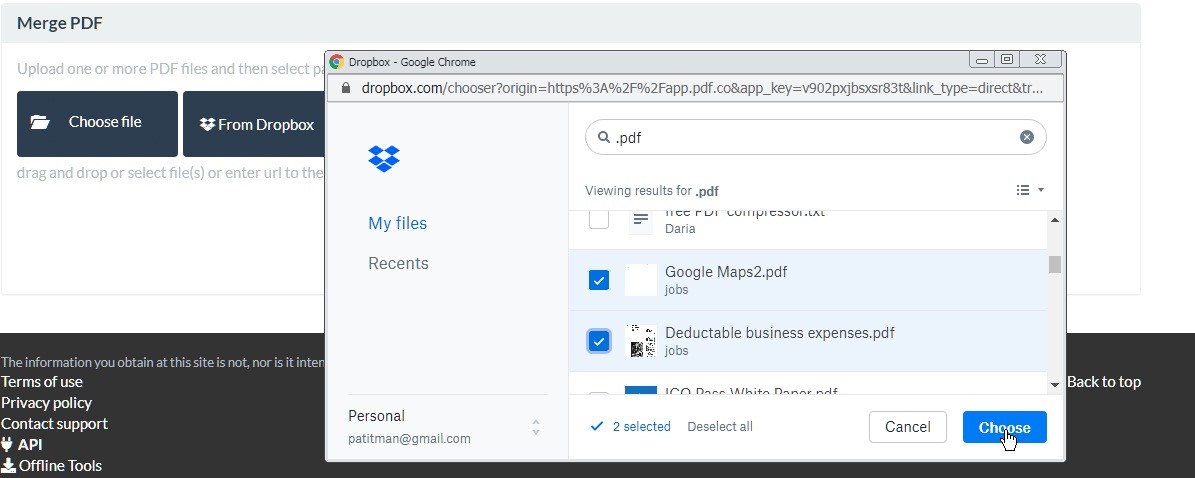 If you have not logged into your Dropbox account yet, a Dropbox login window if you click on the Dropbox upload option.
Step 2: Merge multiple PDF Files
The second step is to click on the "Proceed" button, to start the merging process. Once the process is complete, a new window will appear, with the merged file for you to download.

GET YOUR API KEY Zapier plugin  Explore API Docs
Step 3: Download the Merged PDF File
Once the merging process is complete, you will get an option to download the files to your local storage or save them to Dropbox.
Conclusion – Merge PDF Online
We do not recommend that you use free online PDF merger tools. Those tend to treat your personal and confidential data as the product, which they then sell to third parties.
With our secure online PDF, you can use it at a price that will not "leave a hole" in your budget, and still, the merged PDF file will be of good quality.