A DOC to PDF converter can help you preserve your formatting when creating important documents such as your CV or business contract. The same applies to images. You can use an image to PDF converter to create a business document such as a brochure.
GET YOUR API KEY Zapier plugin  Explore API Docs
Why Use Our DOC to PDF or Image to PDF Tool
Security
Often, when you do not pay for a product or service, then you are the product. If you find yourself using an online Word to PDF converter free, then you are likely losing something else, such as your confidential data.
Our premium tool is secure to use, and none of your files or data is retained. You can, therefore, use our tools with confidence, and peace of mind.
Ease of Use
We hate overly complicated tools or apps as much as you do. That is why we created a tool to convert your DOC or image files to PDF in three steps only.
Presentation
A PDF document allows you to control the format and layout of your text and images, which is important when they get viewed in different operating systems, software, and devices. A PDF is also secure, compact and allows you to add features such as bookmarks and table of contents.
How to Use our DOC to PDF or Image to PDF Tool
Step 1: Log In to Your Account
Log in to your PDF.co account, and buy some credits if you have not done so. On the app's menu bar, click on the "To PDF" menu item, and choose Document or Image to PDF. That will bring up an interface where you can upload your DOC or image files.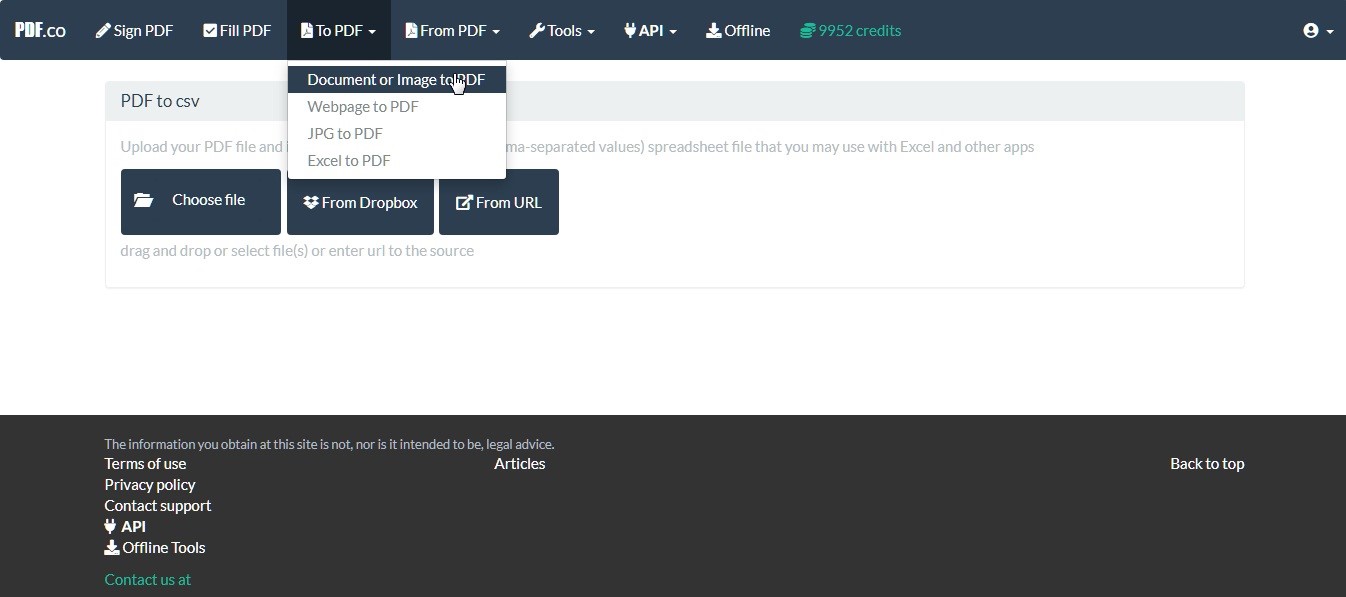 Step 2: Upload Your File/s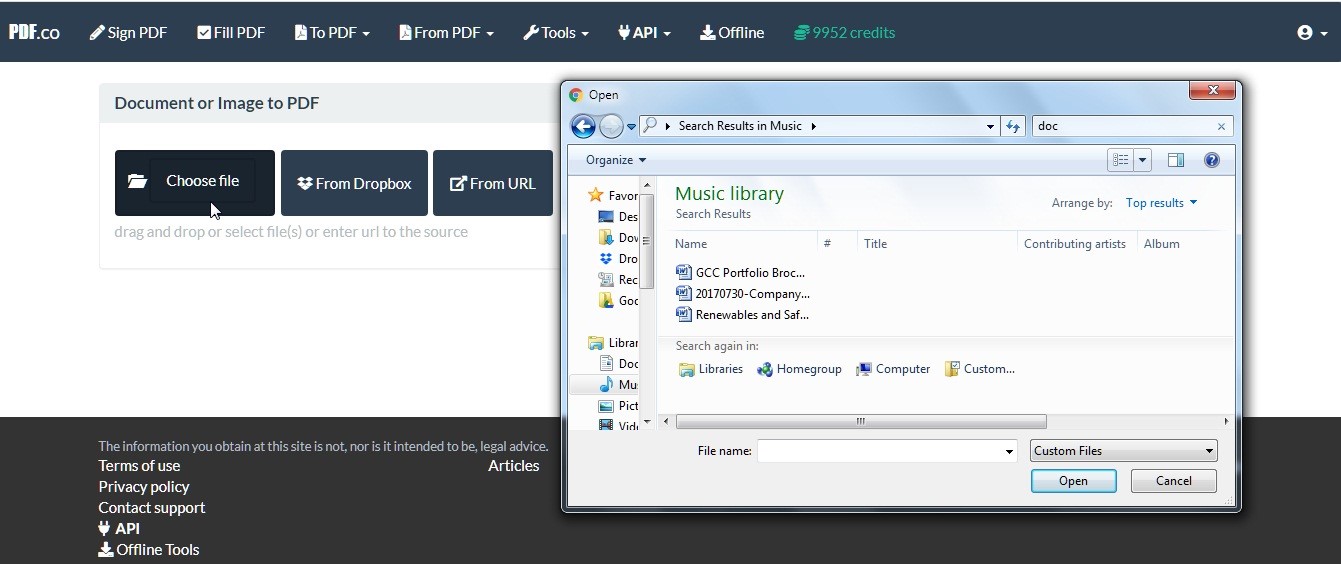 You have three options when it comes to uploading your DOC or image files for conversion to a PDF.
To upload a file from your computer, click on the "Choose File" option, and then choose the file or files you want to convert from your computer. The picture to PDF app will automatically start the conversion process, once the upload is complete.
When fetching your file from Dropbox, you may have to log in first, if you have not done so. You can select your DOC or Image, and click "Choose" to upload it. The conversion process will start immediately the upload is complete.
To upload from a URL,  click on the "From URL" button, and paste the URL in the space provided. Click on the "Proceed" button to convert photos to PDF or document to PDF.
GET YOUR API KEY Zapier plugin  Explore API Docs
Step 3: Download Your File/s

Once the document to PDF converter completes the conversion process, the download interface will appear. You can then choose to download the PDF file or save them to your Dropbox account.
Conclusion – DOC or Image to PDF App
That is how simple it is to use our picture to PDF app, to convert your documents or pictures to PDF. And more importantly, this "To PDF" app does not store your documents after the conversion process is complete.