We live in a world where automation is a must for those who want to achieve something extraordinary. After all, wasting time doing repetitive things is not beneficial for anyone's time management.
That's where the automation software comes in. In this article, we will be covering two of the popular automation software: Zapier vs Integromat.
If you go to their official site, you will instantly find each one selling themselves differently. Zapier, for instance, has a headline that says, "The easiest way to automate your work." In contrast, the Integromat headline reads as "The glue of the internet."
Both may sound a little different, but in essence, they provide automation tools to ease workflow and improve productivity.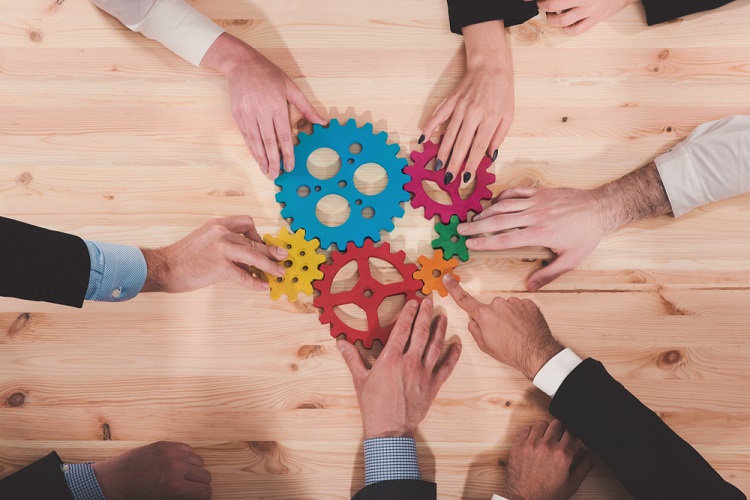 For example, you can set a trigger in Gmail or your email application when you receive a new email. Then, you can set an action, which can be a simple task of copying the attachment from Gmail to a cloud service storage such as Dropbox. Lastly, you can set another action command, for example, alerting you on Slack.
If you are in a hurry, you can check out the table that covers a quick comparison.

Zapier vs Integromat comparison table
| | Zapier | Integromat |
| --- | --- | --- |
| Free Plan | Yes – limited app run | Yes – limited app run |
| No. of Apps | 3,000+ | 400 |
| PDF.co Support | Yes – full-featured integration | Yes – full-featured integration |
| Starting Price | $19.99/month | $9.00/month |
| Price Basis | Features + Task Volume | Processed Data Volume |
| Data Exchange | Internally Generated Links | Internal Buffers and Links |
| If/Then Logic | Yes | Yes |
| Task Scheduling | Yes | Yes |
| Triggers | Yes | Yes |
| Task Logic | List of Triggers and Actions | Multidimensional Diagram |
| Incoming Email Trigger | Yes | Yes |
| Multi-File Processing per Action | No | Yes |
Zapier Introduction
Zapier is automation software that lets you connect apps, which in return, lets you automate workflows. It is aimed at busy people who frequently use web apps. Using Zapier will mean that the user can focus on more creative tasks rather than complete repetitive boring tasks.
To enable users to automate the tasks, it offers three-step implementation: Integrate, Automate, and Innovate.
Zapier can enable you to connect more than 2,000 apps!
Integromat Introduction
Integromat also lets you automate your workflow, enabling you to get rid of mundane tasks. With a plethora of app and services support, you will be able to use it seamlessly.
Also, the support for JSON modules and HTTP/SOAP enables easy integration with web services, opening up a lot of possibilities.

Zapier vs Integromat
Now that we understand what each software aims for, it is now time to pit them against each other.
Getting Started
It's easy to get started with Zapier and Integromat. They both let you sign up for FREE and take advantage of their 14-day free trial to access premium features.
Zapier has a dashboard where you can navigate your zaps, apps, task history, a quick summary of your active tasks and zaps. You can also create your workflow by choosing the two apps that you want to connect.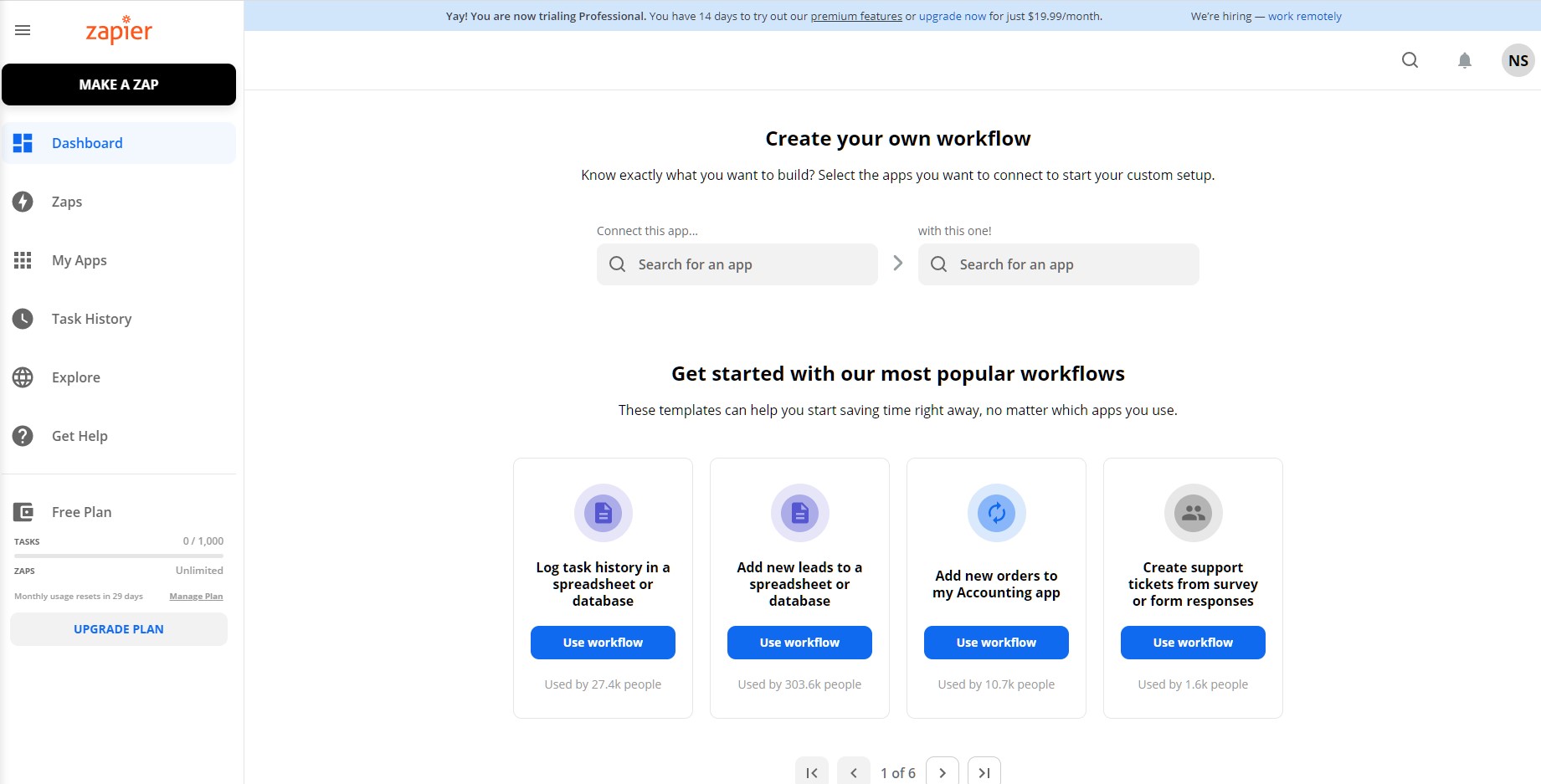 Integromat's dashboard has more features and a menu. What you call Zaps in Zapier is called Scenarios in Integromat. Integromat has a guided tour to quickly walk you through the different features and help you get started. They also have announcement pop-ups to notify you of what's new inside Integromat.

Screenshot of Integromat Dashboard
Ease of Use
When it comes to ease of use, both solutions provide good results. They have pre-built templates for commonly used apps and workflows.
Zapier uses a visual workflow with a top-down approach. The first step contains the trigger event from an app followed by an action event, or a custom logic – path, etc.
When splitting a multipage PDF attachment from a new Email, Zapier creates an internal link of the attachment that other apps can use to access it. PDF.co uses that internal link to split the PDF attachment into individual PDF files.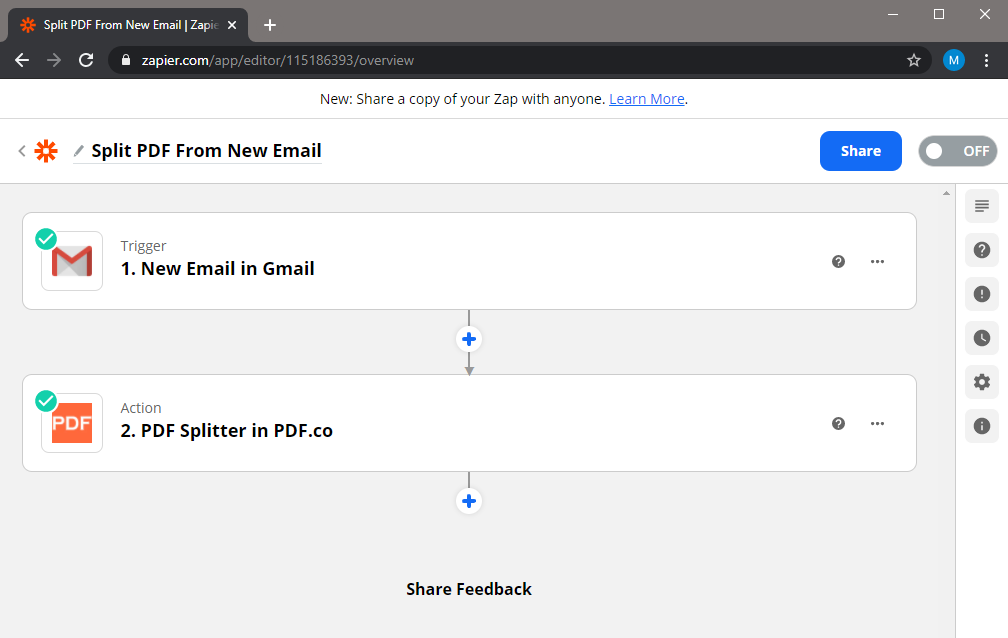 Screenshot of Zapier Editor
Integromat
comes with a beautifully crafted editor that lets you integrate apps with the drag-and-drop feature. You can add modules, move it anywhere in the editor and make your workflow visually pleasing in the eyes. Integromat added an animated touch when processing scenarios, this way you can watch it work in real-time.
When splitting a PDF attachment from a new Email, the attachment goes through an Iterator – a special module that splits a larger bundle into multiple smaller bundles. The Iterator becomes the container for the PDF attachment that PDF.co splits into individual PDF pages.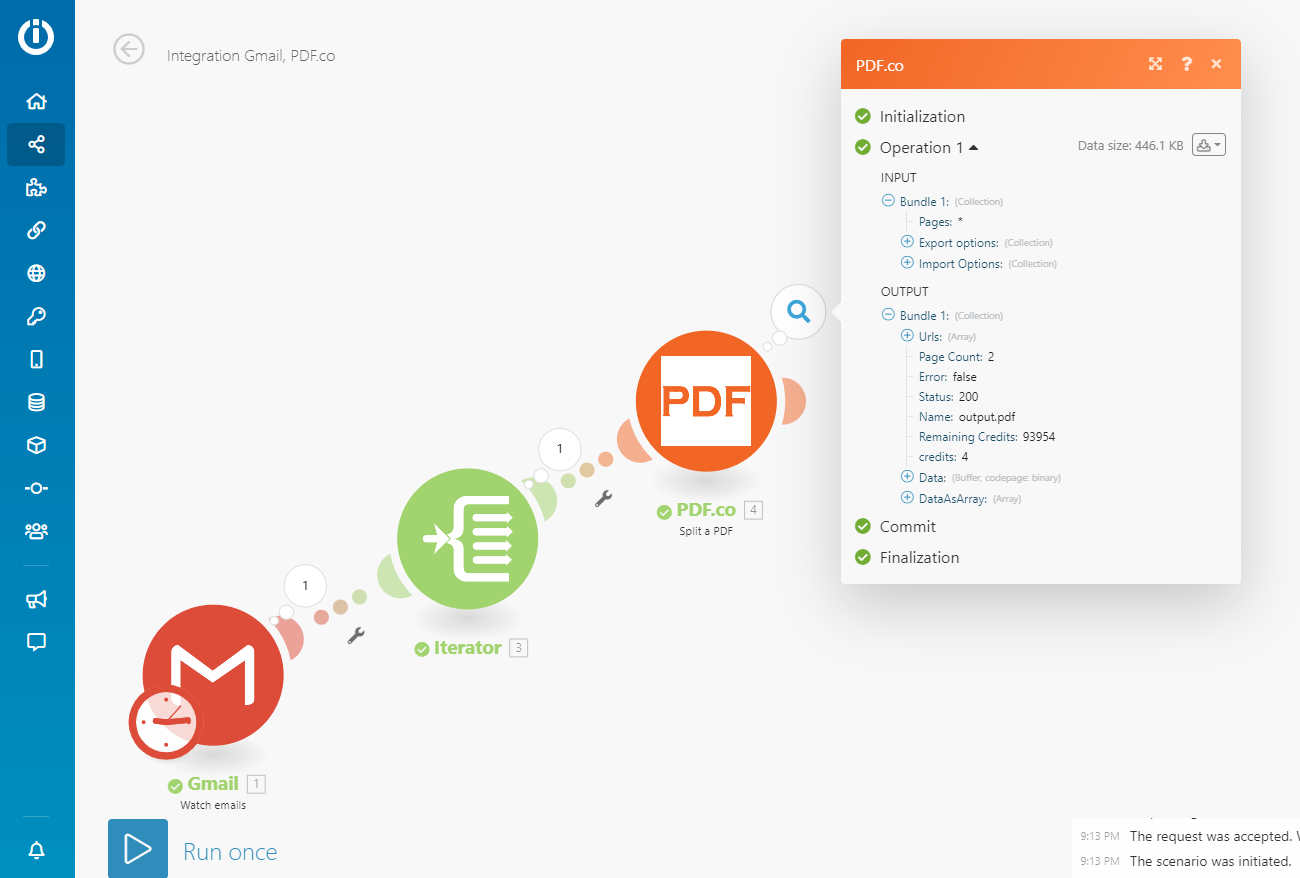 Screenshot of Integromat Editor
Customer Support And Documentation
Zapier and Integromat offer email support during business hours. They have community support on their websites and social media groups as well. On top of that, they have a professionals' directory on their websites where you can hire experts to work on the integration for you.
Zapier provides live training on their highest plan and Integromat offers priority support on higher plans.
Both offer video tutorials and documentation as learning and reference materials.
Features and Functionality
When it comes to features, both Integromat and Zapier are almost similar in what they have to offer. Both offer a good user experience through their step-by-step workflow creation and impressive dashboard.
Key features of Zapier include
2000+ services supported
Build workflows with few clicks
Custom logic – paths
Auto-replays
Formatters
Shared workspace
Shared app connections
Workflow outline
Key features of Integromat include
250+ services supported
Advanced users can use functions
Choose where to start processing the data
JSON/XML parsing and serialization
Automatic error handling
Custom webhook response
SOAP requests
Cycles
Control scenario execution
Schedule days and times to run scenarios
Multiple users
Pricing
When it comes to pricing, Integromat starts at $9/month which offers 10,000 operations, 1 GB data transfer, and five minutes minimum interval. They also offer other plans including standard, business, and platinum which offer more operations, storage, and less interval. Apart from that, it also comes with a free version that lets you test out things on their platform.
Zapier's pricing model is slightly costly as it starts from $19.99/ month with 750 tasks/ mo, 20 zaps, and 15 min update time. Their other plans include professional, team, and company which offers better features at increased pricing. It also comes with a free plan that offers 100 tasks/month.
Conclusion
Integromat has a bit of a learning curve but has more advanced features compared to Zapier. Zapier is costlier than Integromat but has a more user-friendly and simpler interface.
What are your considerations when choosing the best automation service for you? What do you think about Zapier and Integromat? Which one are you choosing? Comment below and let us know.