In the present times, CRMs that are customer relationship management software are an essential tool for all companies regardless of business model, size, or customer base. Why do you need this software? With this software, you can contact details, track leads, and collect data from multiple interactions.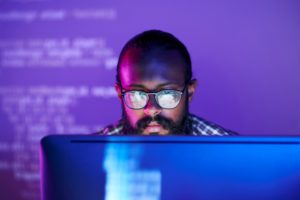 Hubspot
So let us start with knowing what Hubspot is. It may be more synonymous with its popular blog that mainly focuses on tips, tricks, and trends. But what is so special?
It provides a high-level CRM with freemium pricing, thus making it a handy tool for the entry of small-level companies. The paid plans give its customers a CRM that is rich with features to grow their brand with a budget to SaaS tools.
Hubspot Features
Let us know the features that make it different from the other CRMs:
Detailed contact: The contact management system of Hubspot is very organized, and it helps the users to keep the company as well as the contact records in place, allows sales activities, and also allows other communications.
Universal inbox gives its user a central location for further communications and helps integrate its clients and display different notes, records, and contacts.
Bots and live chat: this feature gives their customers service all the time and helps collect more data about people visiting their websites.
Pipeline management: The sales dashboard provides the customer with snapshots of different individuals and team performance.
Hubspot Pricing
There are paid plans that come with some more updated features:
Sales Hub Starter, $50+ per month
Professional, $400+ per month
Enterprise, $1,200+ per month
Salesforce
What is it known for? Salesforce is a name that usually comes to our mind whenever we hear CRM. This platform helps us solve different cycles related to sales and helps us connect with a wide range of SaaS tools from Gmail, Bonjoro, and even Outlook.
Salesforce Features
Salesforce offers many options depending upon the roles, industry, budgets, and other advanced features.
Lead management: this feature helps you understand your position with each deal in progress.
Sales data
Advanced analytics: this feature helps assign a lead score to each new contact and is entirely based on historical data.
Social Collaboration features allow users to share information about deals, leads, and other records.
Salesforce Pricing
Salesforce pricing is done monthly or annually at a discounted rate.
Least Customisable level: $25/user/month, supports up to five users
Higher range: $3000/user/month
Pipedrive
This targets all the small teams and the users seeking some easy set of tools that helps in managing the sales pipeline and different deals related to tracking. So how is it different from the CRMs mentioned above? Unlike the other two, it focuses mainly on sale-specific activities instead of providing the complete tools in a more robust CRM.
Pipedrive Features
Now let us have a look at the different features it provides:
Pipeline management helps simplify the various processes related to the dealing and allows its users to look at the opportunities and make some fast decisions.
Sales reporting: this feature helps you to sort different deals that are based on several filters like newness, person, activities, and many more.
Pipedrive Pricing
Silver, gold, and platinum are three different pricing plans.
Essential: $12.50/user/month
Advanced: $24.50/user/month
Professional: $49.50/user/month
Enterprise: $99.00/user/month
If we come to the final word, Salesforce is the best for large companies with very complicated sales cycles, whereas Hubspot offers a cost-effective solution for simple sales. On the other hand, it focuses on smaller sales processes rather than Hubspot.

How to Fill PDF Forms with Data from Pipedrive using PDF.co
You will learn how to fill out PDF forms with data from Pipedrive using PDF.co and Zapier. The PDF form will include editable text fields to fill out with the Deal Name and Contact Person from the CRM.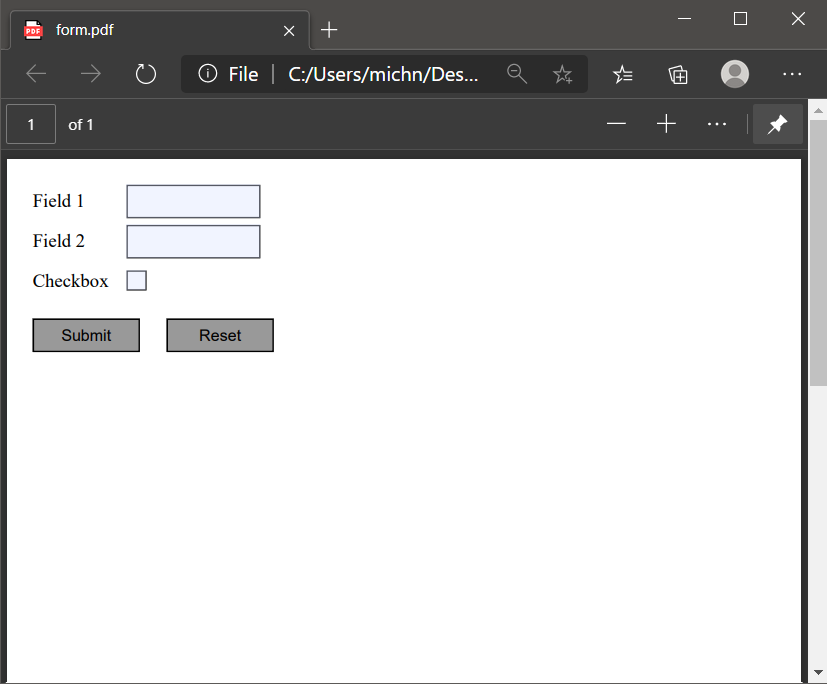 Screenshot of PDF Form with Editable Text Fields
1. Launch PDF.co and Choose PDF Filler
First of all, the CRM Trigger should be set up. After that, the PDF.co action should be set up. Choose PDF.co as the App and PDF Filler as the Action Event. Follow the screenshot for more details.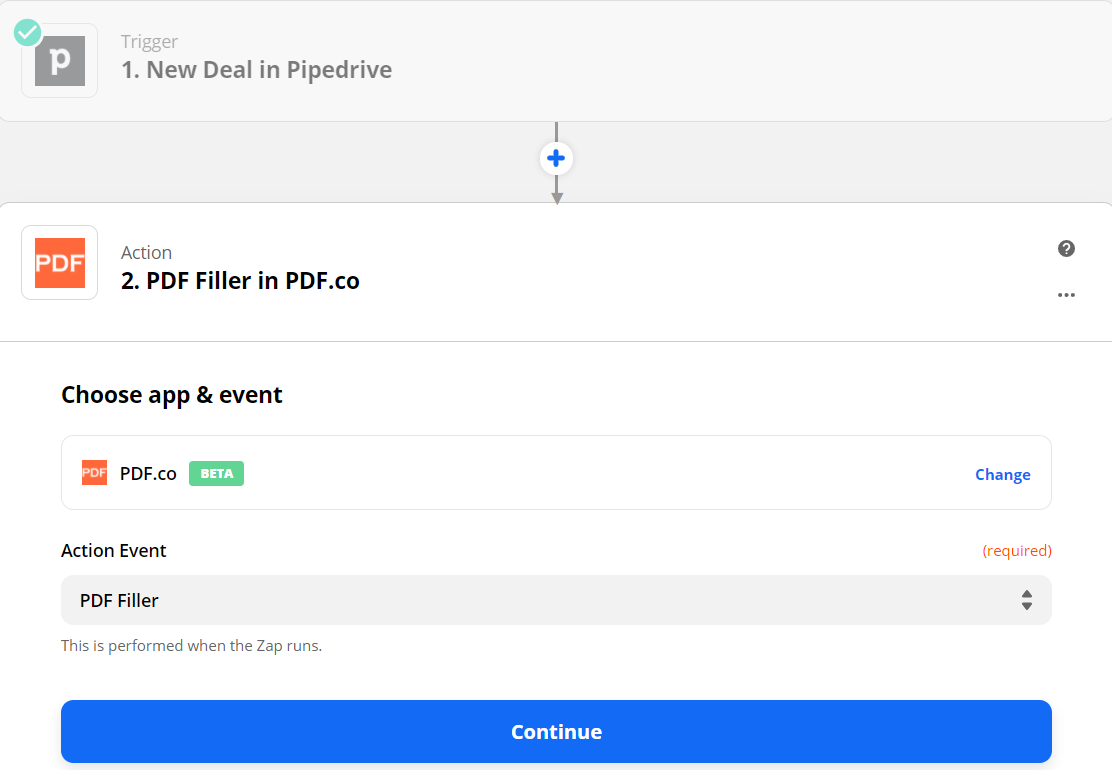 2. Set up PDF Filler to Fill out the Text Fields
It's time to set up the PDF Filler to fill out the text fields with CRM data:
The Source PDF field should include the PDF form URL.
The Fillable Fields field should include the page number, the text field name, and the value.
Take a look at the screenshot for more details: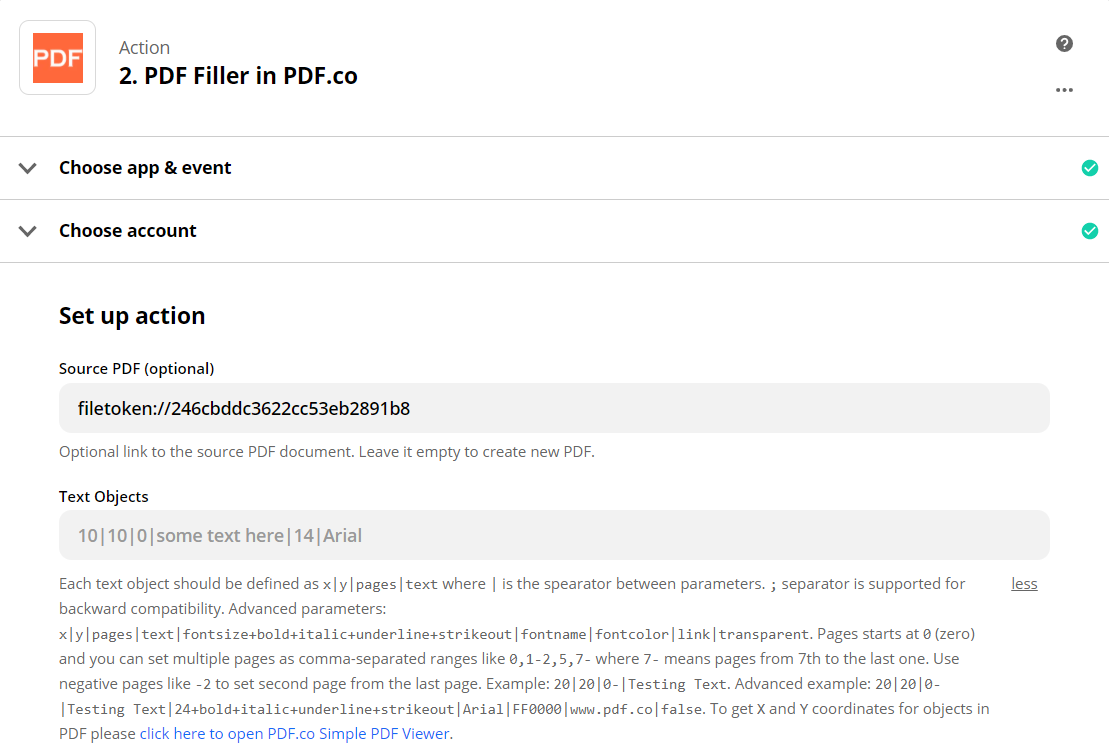 NOTE: PDF.co has a built-in File Storage. To see how it works check out the tutorial here.
3. Test & Review: Final Check
In the next step, you will Test & Review the data to see if it works.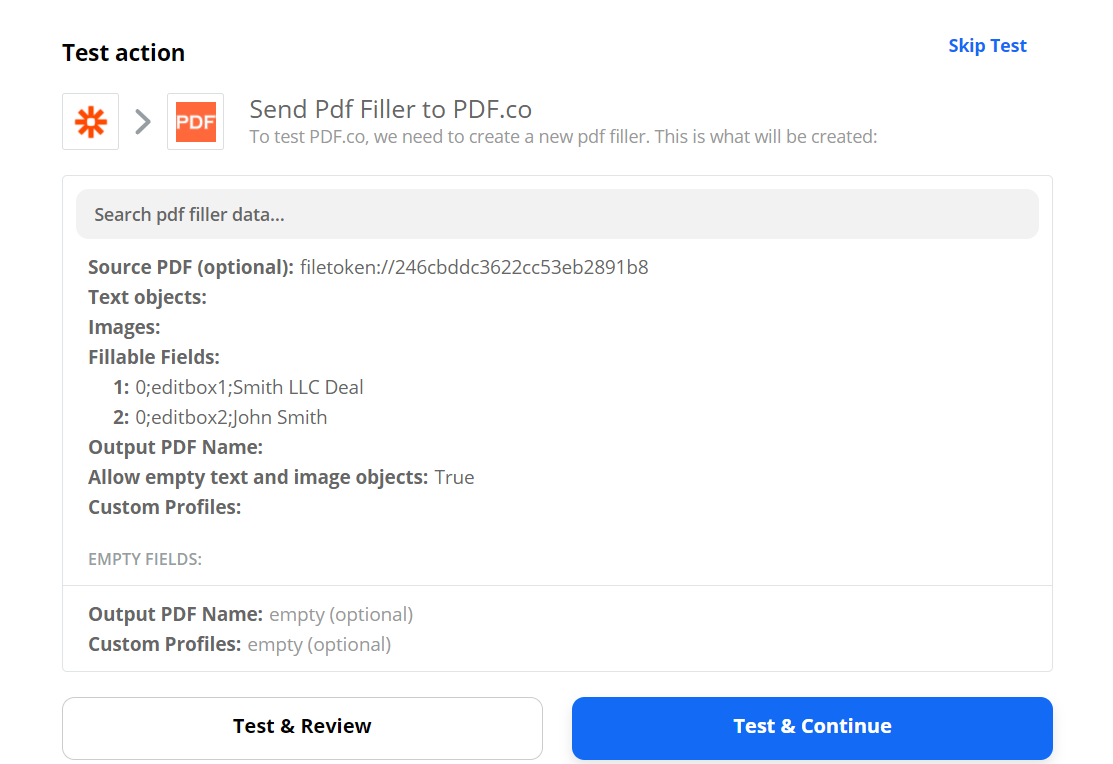 4. Check the Result
The final test was successful. So now, the generated URL can be copy-pasted into the browser and the result can be seen.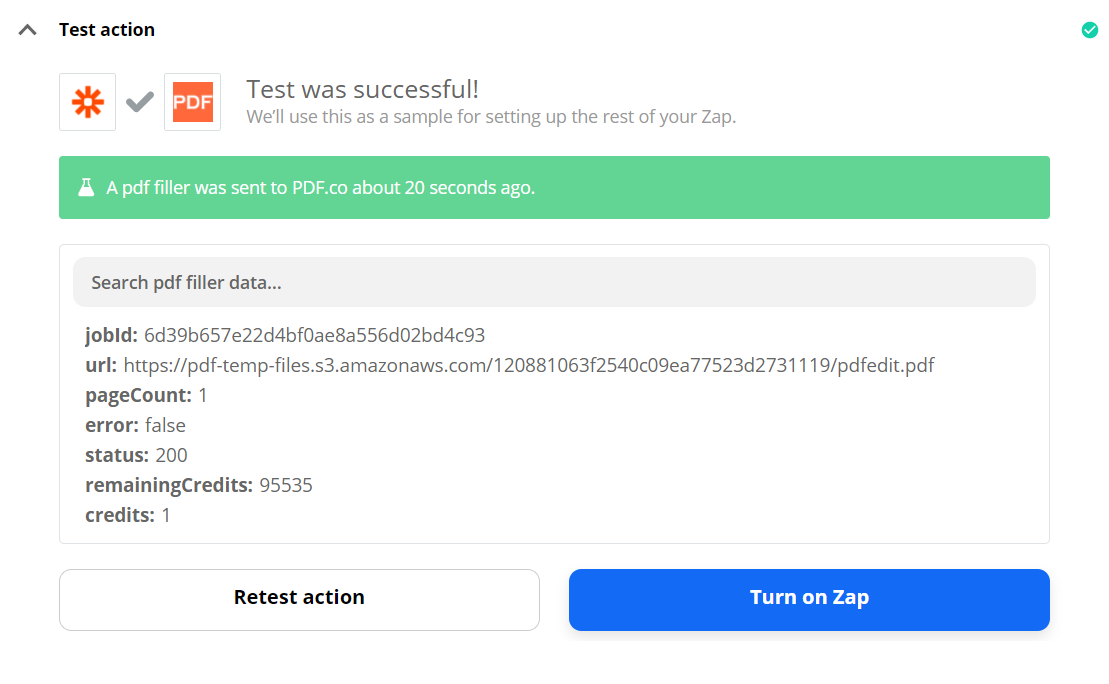 Finally, you know how to create a PDF file with data from Pipedrive with the help of PDF.co.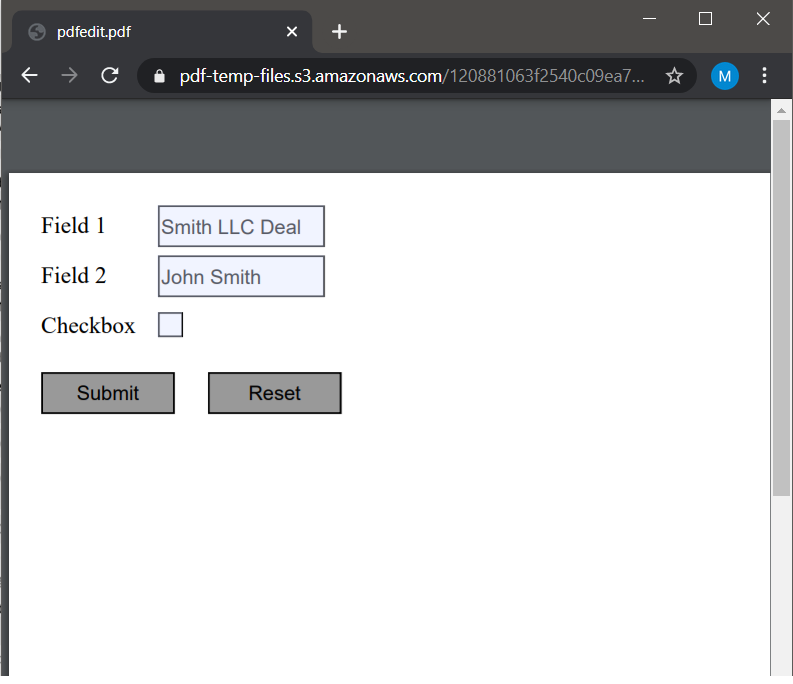 Screenshot of Filled Out PDF Form
Now, you know how to fill out PDF forms with data from Pipedrive using PDF.co and Zapier. You may also check out the tutorials on how to generate PDFs with data from Hubspot and how to generate PDF reports based on Salesforce data. We hope you find it useful!