Microsoft OneDrive and Google Drive are the two most well-known decentralized storage systems. Despite the fact that they both provide similar functionality, their methodologies are significantly different.
While Google Drive prioritizes customers, OneDrive's clientele is primarily businesses. This helps to explain why Google has a cloud-only perspective, whereas Microsoft has one foot in the cloud and one on the ground.
Microsoft OneDrive and Google Drive are essentially the same things. In any event, the consequences will be inconsistent, each having an impact on every relationship, including yours.
We should look at the differences between OneDrive and Google Drive to help you decide which is ideal for your company.
OneDrive: Features, Pros & Cons and Pricing
OneDrive is a secure access, sharing, and record storage system that enables customers to store and share images, videos, reports, and other files from any device, including workstations, PCs, tablets, and mobile phones. By providing a solitary stage.
OneDrive gives clients straightforward access to their images and records. OneDrive clients may keep their beloved images and recordings protected regardless of what happens to their gadget.
Features of OneDrive
Office for the web, Office mobile apps, and Office desktop programs all support document co-authoring, allowing you to preserve a single functioning version of any document.
Said, OneDrive allows you to collaborate on documents in Office programs across all of your devices.
Access all of your documents, as well as those shared with you by someone else, on all of your devices, including mobiles, Mac, and PC, as well as an internet browser.
Share documents securely with anybody within and outside your organization by utilizing their email address, regardless of whether they have a Microsoft Services Account. This linked sharing experience is available in OneDrive's online, mobile, and desktop versions.
OneDrive provides a plethora of cybersecurity options that allow you to fulfill some of the most stringent safety regulations available.
OneDrive Pros
OneDrive allows customers to use a wide range of Microsoft Office products such as PowerPoint, Word, etc.
The free OneDrive flexible tool allows organizations to share files, modify them, and post them without being tethered to their workstation.
OneDrive Cons
Microsoft cannot guarantee the security of your data. At the same time, Microsoft protects against system risks such as software and hardware failure, natural catastrophes, and electrical problems.
At the moment, OneDrive for Business does not support third-party application deployment.
OneDrive Pricing
Free Plan: 5 GB of storage
Business Plan 1: $5/month/user, 1TB/user
Business Plan 2:at $10/month/user, Unlimited Storage
Office 365 Business Premium: $15/month/user, Complete Office Access with Unlimited Storage
Google Drive: Features, Pros & Cons and Pricing
Google Drive is a free cloud-based storage solution that enables users to transfer and view documents from any location. The service evaluates documents, images, and other data across all clients' devices, including cell phones, tablets, and PCs.
Google Drive is compatible with Google's various administrations and systems, including Google Docs, Gmail, Android, Chrome, YouTube, Google Analytics, and Google+.
Features of Google Drive
Google Drive is accessible from any smartphone, tablet, or pc via a web browser or the Android and iOS applications. With just a modest internet connection, you may access your data anywhere you go.
Google Drive has a simple chrome extension that allows you to save page content and images online to your Drive.
When you get an email with photographs or files, you may easily save them to Drive.
Google Drive lets you customize PDF files without Adobe Acrobat by converting them to Docs.
Google Drive Pros
The user interface is idiot-proof. Google Drive has the advantage of inaccessibility due to its intuitive user interface.
Google Drive's shareability and ever-changing features have elevated personal and professional collaboration to new heights.
Google Drive Cons
Google Drive, too, cannot guarantee the security of your data. In contrast, Microsoft protects against system risks such as software and hardware failure, natural catastrophes, and electrical problems.
Collaboration is limited to Gmail. If the recipient has a non-Google account, shareability and continual change are not effective.
Google Drive Pricing
Free Plan: 15 GB storage
Basic: $6/user/month, 30 GB of Storage Space.
Business: $12/user/month, Unlimited Storage, Additional Security, and Admin Controls. Enterprise: $25/user/month, Unlimited Storage and Advanced Admin Controls.
How to Use OneDrive and Google Drive
Check out these two easy tutorials to learn how to use files from OneDrive and Google Drive file storage. You can use your documents to build integrations and automated workflows for your business.
Use Files from OneDrive in PDF.co and Zapier
In this tutorial, you will see how to use files from OneDrive in PDF.co and Zapier. Follow these steps below.
1. Go to OneDrive "New File"
First of all, choose OneDrive as the App and the New File as the Trigger Event. Once someone submits a New File in your OneDrive it will work as a trigger to start this Zap.
2. Set up the New File Trigger
Let's set up the New File Trigger and create the Folder Name where you would add the New Documents.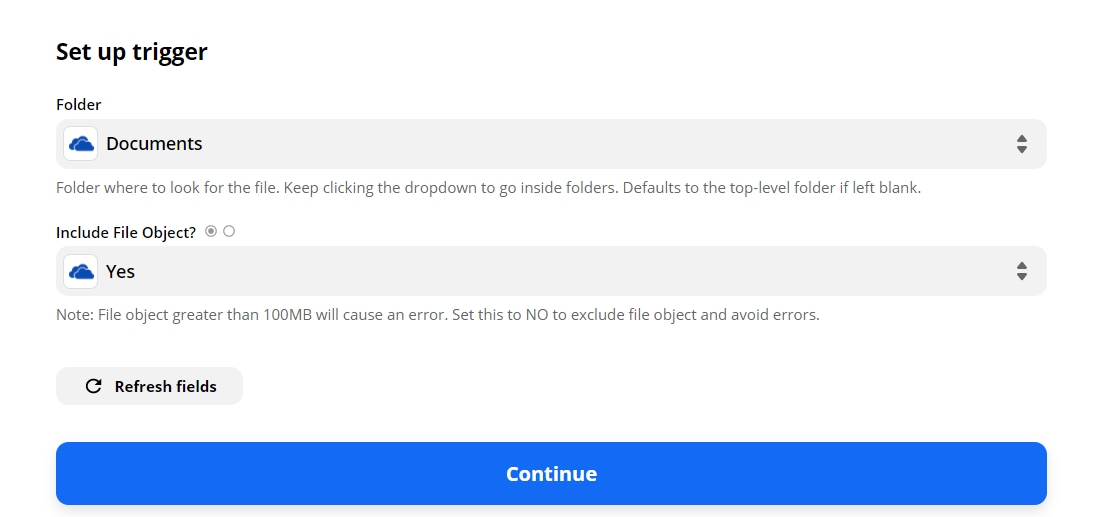 3. Test the Trigger
Now, that's the time to run a Trigger test. If it's successful, your file will be located in the OneDrive folder.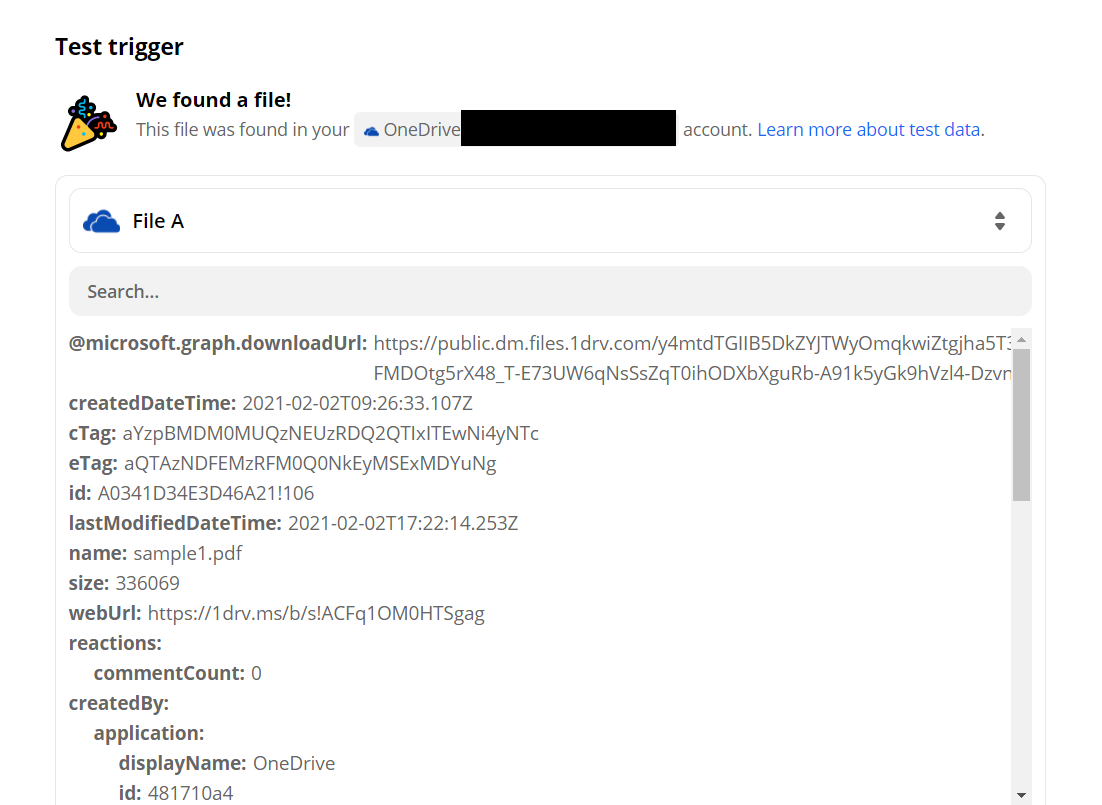 Now you can use the file for other activities like PDF conversion or PDF extraction.
Use Files from Google Drive in PDF.co and Zapier
In this tutorial, you will see how to upload files from Google Drive in PDF.co and Zapier. Check out the following steps.
1. Set up the Trigger Event in Zapier
First, choose or search for Google Drive from the list of applications. Secondly, you should select the Trigger Event "New File in Folder".
2. Connect your Google Account to Zapier
Choose the Google account you'd like to connect to Zapier. Then just select My Google Drive and proceed.
Copy and paste the targeted folder ID from the URL bar in Google Drive. Place the ID as a Folder ID custom value and click the CONTINUE button.
Run the test to see if the Zap works well. That's it! Now, you can use the documents in this Google Drive folder to proceed with any PDF activities you like such as PDF extraction, PDF conversion, PDF editing, and many more.
Conclusion
Both Microsoft OneDrive and Google Drive have benefits and drawbacks. While OneDrive multiples the capacity limit as Google Drive at a comparable cost, Google Drive employs modern encryption technologies to protect both data and systems and data in storage.
While OneDrive provides the familiarity and ease of using Microsoft Office, Google Drive offers many program availability options. As a result, there is always a trade-off between the two options.
Finally, it is up to you, the customer, to decide which components are essential to you. It also ultimately comes down to the product's parent company – Microsoft vs. Google. We hope this information has aided you in deciding between Google Drive and Microsoft OneDrive.