Jotform makes it easier to collect and manage data in a business, a charity, education, or medical care. Authenticate payments, registrations, appointments, and other information.
On the other hand, Cognito forms are ideal for businesses and groups that seek a more straightforward and more robust approach to collect data and payments from their clients online.
Below is the comparison between the two to help find out the best for your business.
Cognito Forms: Features, Pros & Cons and Pricing
Cognito Forms is a straightforward web-based form developer that permits anyone to create, distribute, and oversee forms in minutes. Clients might make a limitless number of structures without utilizing any code.

Features of Cognito Forms
➢   Collect Relevant Data
You can easily configure how information is collected for surveys. Get to choose from a variety of field types to effortlessly gather, verify, and modify various sorts of information.
➢   Data Management
Cognito's managerial tools streamline work procedures and arrange your data for maximum effect. With Cognito, you can quickly import and export data.
➢   Integrations
You may remove procedures and boost your digitalization by integrating Cognito Forms into your current systems.
➢   Online Payments
You can take online payments and reach your clients wherever they are using Cognito Forms. Your processing partner manages private and personal data to guarantee that your consumers are protected to the greatest extent feasible.

Pros and Cons of Cognito Forms
Pros:
Simple to use with an excellent knowledge base and excellent support.
Straightforward UI.
Fantastic customer service and superb price options.
Cons:
Fewer email alerts are sent.
Better Access to Mobiles.
Pricing of Cognito Forms
Individual Plan: FREE
Pro Plan: $15/month
Team Plan: $35/month
Enterprise Plan: $99/month
JotForm: Features, Pros & Cons, and Pricing
Jotform is an advanced web program that allows anybody to build unique online forms rapidly. Its easy drag-and-drop user interface makes form creation a breeze, and it doesn't need any coding knowledge.

Features of JotForms
➢   Collect Data of New Visitors
In case you're making an application for your site, you can utilize the JotForm Feature to gather contact data from new clients.
➢   Include Quizzes
You may incorporate quizzes in your app using JotForm, which is a terrific method to stimulate regular engagement with your clients.
➢   Set Up Surveys
You may incorporate quizzes in your applications using JotForm, which is a terrific method to stimulate regular engagement with your clients.

Pros and Cons of JotForms
Pros:
The setup of forms is simple.
Fields can be easily mapped.
Excellent user interface.
Simple to sign.
Cons:
Poor Customer Support.
The screen fit on a range of devices is not always optimal.
Possibility of archiving form submissions.
Pricing of JotForms
STARTER: Free
BRONZE: $24/month
SILVER:$29/month
GOLD: $79/month
How to Create a PDF using Cognito Forms Data
Here's a tutorial showing how to create a PDF using Cognito Forms data with PDF.co and Zapier.
Here's the entry submitted from Cognito Forms:

The very first thing to do is to go to your Zapier dashboard and Make a Zap!
1. Select Cognito Forms as the Trigger App
Look for and choose Cognito Forms from the list of trigger apps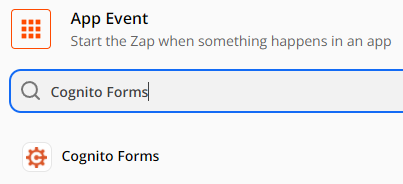 2. Select the New Entry as the Trigger Event
New Entry will be our Trigger Event
That is how the zap will be triggered every time someone submits an entry through the form

3. Choose a Form you will be using
This is the Form with the data submitted by your customer

4. Run a Test for the Trigger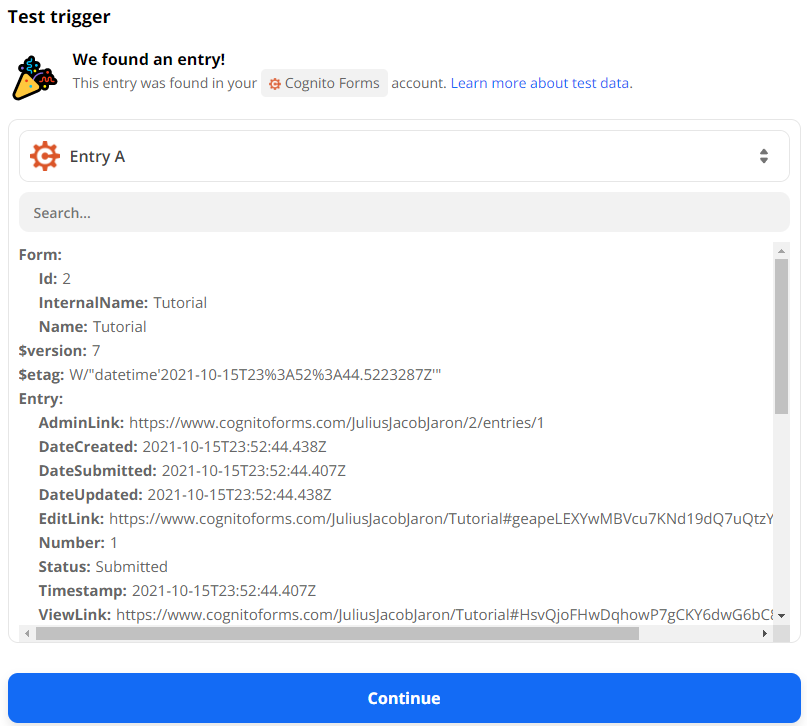 5. PDF.co will be the Action App
Find PDF.co from the list of available apps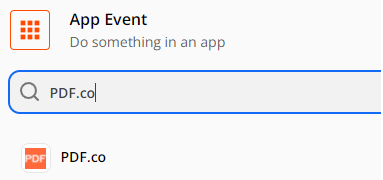 6. Anything to PDF Converter will be the Action Event
Choose Anything to PDF Converter from the list of available APIs

7. Customize PDF.co Action
For Input Type, choose Raw HTML Code
For Input, type in your HTML Code together with the data from your Cognito Forms
Then, Name your Output PDF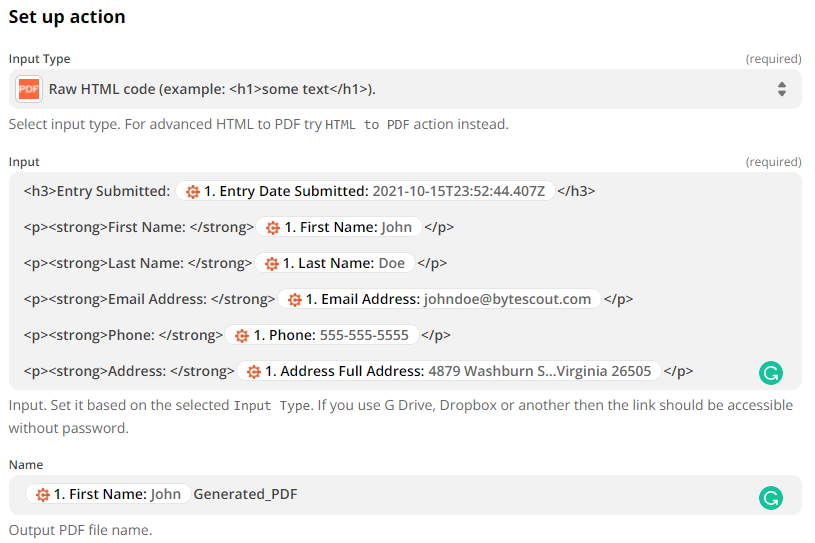 8. Time to Test the Action!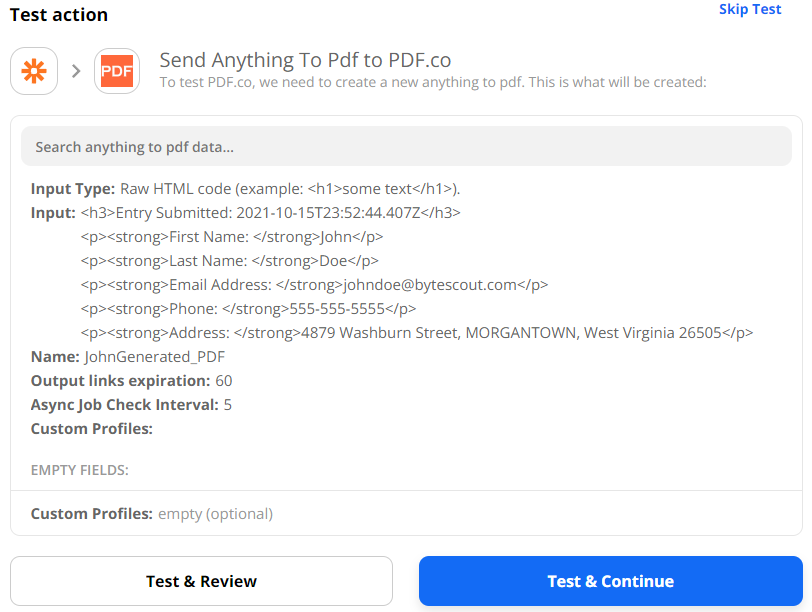 Find the generated PDF through the URL. The document is below.

That's the end of the tutorial. Check the video below.
You also might want to check how to generate a PDF with JotForm data.
Generate PDFs using Cognito Forms – Video