Cognito forms and Google forms are two well-known form creative solutions. Even though they both serve the same goal, there are significant differences.
While Google Forms is a free online form builder application that allows users to generate surveys and quizzes to gather and organize data, clients may use Cognito Forms to create responsive online forms that collect money, collect data, and automate activities.
This article will assist you in determining which one is most suited for your organization.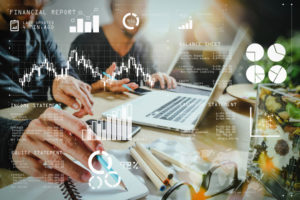 Cognito Forms: Features, Pros & Cons and Pricing
Features of Cognito Forms
➢   Electronic Signature
Electronic signatures are quick and simple to utilize on any platform, such as a PC, tablet, or mobile phone. You can sign and present a design in minutes without the hassle of keeping a paper duplicate.
➢   Uploading Files
Your clients may use file transfer features to link resumes, cover letters, photographs, account pages, and various reports to their structure entries.
➢   Previews of Uploaded Image
Users have the option to see sneak peeks of their images as they upload them and click on the document titles to view them in another tab.
➢   Forms with Many Pages and Page Breaks are Available
By dividing the forms into numerous pages and parts, you can better coordinate the material and keep your clients interested throughout the cycle.

Pros and Cons of Cognito Forms
Pros:
Customer service is excellent, and their pricing options are outstanding.
An easy, elegant, and efficient approach to developing exceptional contact forms.
Its concept and method are delightfully straightforward.
Cons:
Fewer email alerts are repeated.
Mobile devices will have more & easy access.
Pricing of Cognito Forms
Individual Plan: FREE
Pro Plan: $15/month
Team Plan: $35/month
Enterprise Plan: $99/month
Google Forms: Features, Pros & Cons and Pricing
Features of Google Forms
➢   Various Field Options
Google Forms has 12 field varieties, including 9 question types, text, picture, and video fields. Each field has a copy feature that allows you to replicate the field and add similar questions to your form in a single step.
➢   Upload Image
You can upload an image to Google Forms, paste one from a link or Google Drive, or take a picture with the webcam.
➢   Keep Form Responses in a Spreadsheet
You don't need to do anything further once you've built the form to save the responses in Google Forms. Each answer is saved in the Responses tab By default, displaying summary graphs and answer lists.

Pros and Cons of Google Forms
Pros:
It is a free web application that allows you to effortlessly and quickly gather data.
The UI is simple to use.
It provides you with countless questions and answers for free, whereas other survey programs charge a fee based on the number of questions and participants.
Cons:
The design modification options are quite restricted.
Several security issues have been found in google forms. The customer must set a strong password and secure it to boost security.
There are several restrictions to the capacity of this application.
Pricing of Google Form
Google Forms is available for free as part of G Package, Google's online tool suite.
How to Generate a PDF from Google Forms Responses
In this guide, you will figure out how to create a PDF document based on Google Forms Responses. So, before starting, you should click on "View responses in Sheets" in your Form and access a linked Sheet.
1. Create a Zap!
The first step is to click Make a Zap! which is located in the right corner of your Zapier dashboard.
2. Choose Google Sheet from Available Apps
Under "When this happens …" Select App & Event search and choose select Google Sheets from the available apps.
3. Choose New Spreadsheet Row as Trigger Event
The Google Form responses will be added as new rows into Google Sheets. The New Spreadsheet Row will be the Trigger. Under Choose Trigger Event select New Spreadsheet Row in Google Sheets.
Check out this screenshot for more details: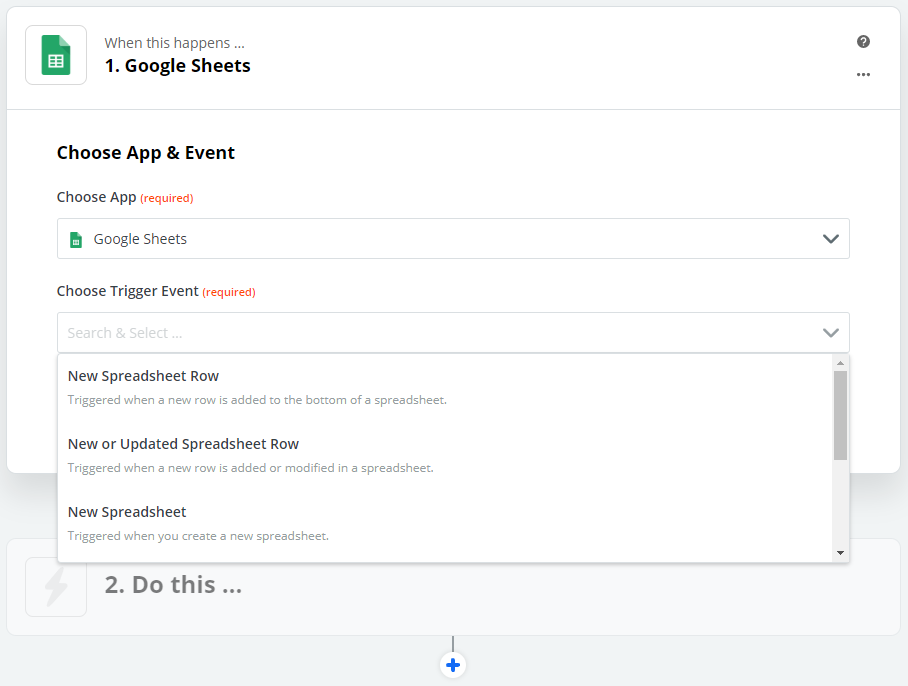 4. Connect Google Account to Zapier
Select or connect your Google account to Zapier
5. Set up the New Spreadsheet Rows Trigger
The Spreadsheet field will include the Spreadsheet name where the responses are stored.
The Worksheet field will indicate the Worksheet name.
Please, take a look at this screenshot.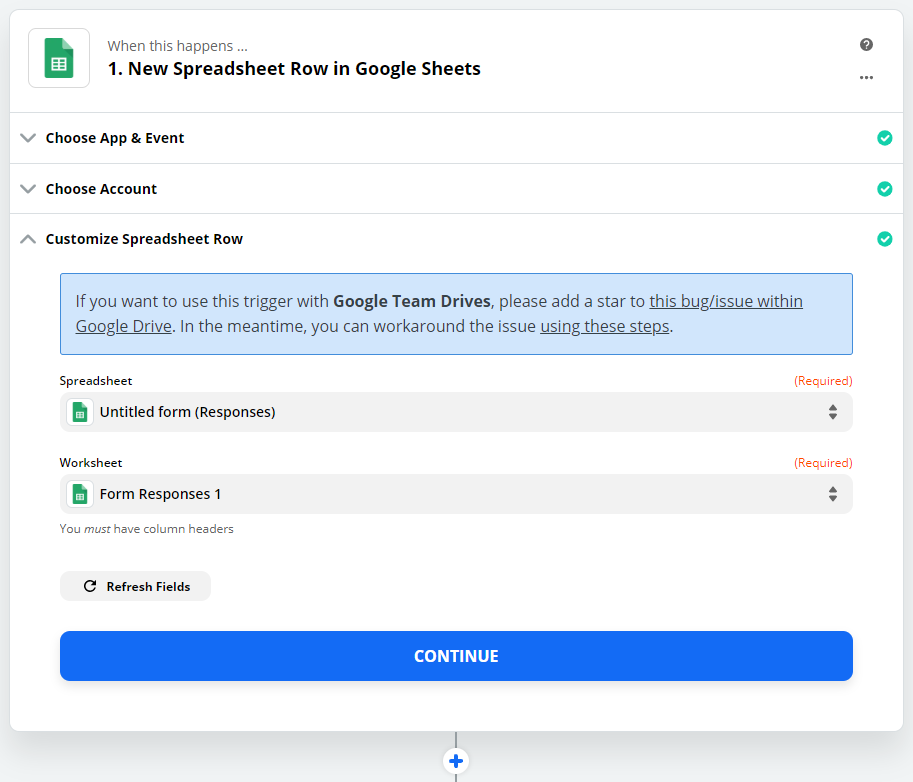 6. Choose the Detected Spreadsheet
Now, it's time to choose t the detected Spreadsheet and after that, you may just click TEST & CONTINUE
7. Customize PDF.co and Select "Anything to PDF Converter"
Under "Do this …" you will need to select App & Event. Search for PDF.co from the available apps. In order to make the PDF file using HTML and the Google Form Responses, please choose Anything to PDF converter under the Action Event.
9. Set up the Anything to PDF Converter
The Source Type field should include the Raw HTML code as a string.
The Input field includes the HTML code and fetches its corresponding Google Form Response.
At this point, optional parameters such as the output file name can be defined.

10. Test & Review and View the Result
And finally, at this step, we will TEST & REVIEW the Zap. If it runs successfully, you will see the returned URL which is a clear path to the generated file. Just copy-paste the URL into your browser to view the result.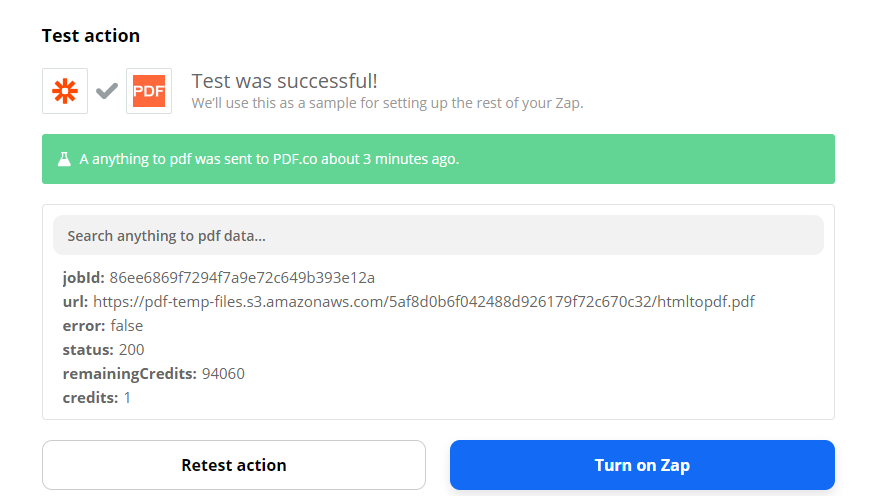 On the screenshot below, you may take a look at the PDF created from Google Form responses.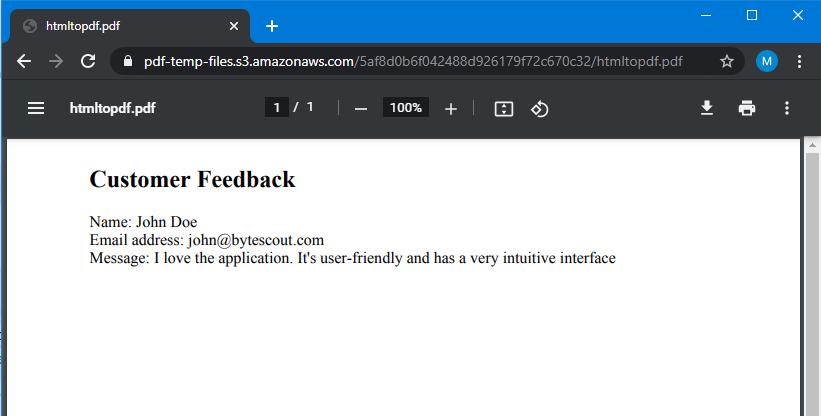 Screenshot of Generated PDF from Google Form
This tutorial has a clear demonstration of how you can generate a new PDF document based uniquely on Google Form responses. It might be useful for different purposes.
If you're looking for information on how to work with Cognito Forms -> go here!
Wrapping Up
I hope this post helped you decide between the two. Google forms and Cognito forms are both outstanding form creation tools.
Choose what will help you achieve your goals.