The process and rage of Artificial Intelligence are flying by the day. Artificial intelligence is the power of a machine or a program to guess and understand knowledge. AI applications have greatly developed over the past few years and have discovered their applications in nearly every business domain. This article is about the top 5 artificial intelligence use cases. Let's take a look at it in more detail.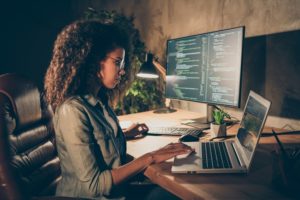 AI in E-Commerce
In e-commerce, Artificial Intelligence is utilized to build suggestion engines via which users can reach out better to the clients. These suggestions are made in harmony with their browsing history, preference, and appeals. It assists in enhancing the connection with the clients and their commitment to the brand. The AI-based chatbots support and enhance the user experience while shopping online. Natural Language Processing is employed to make the process smooth and simple. Moreover, these chatbots can have real-time meetings with potential clients.
AI can interpret enormous data and realize the information to deliver a more pleasing result, which is the primary advantage of AI for E-commerce companies. By utilizing AI solutions, companies comprehend their clients satisfactorily, deliver more appropriate products, pick for their company offers the most suitable time and costs, and receive correct and trustworthy analytic data. For example, dynamic pricing that backs AI is a strategy to transform your product price established on collection and order. Today's instruments can dynamically compute the lowest discount required to trade when and how to discount with a key to the correct data.
AI in Banking
Insurance firms depend highly on data. They scan for the applicants' backdrops before processing the insurance policies. Insurance firms sort via vast groups of data to pinpoint high-risk patients and decrease the risk. Utilizing Natural language processing, insurance firms can examine large volumes of data and specify essential concerns impacting typical claims and activities.
Banking and economic organizations are extremely inclined to deceitful transactions. Unfortunately, human workers can't trace all the transactions and manage malicious data or dubious expenses. But machine learning algorithms can examine huge data topics in real-time and mark doubtful or plain-right deceitful transactions, blocking numerous dishonest claims in the method.
As technology develops, banking and economic organizations are utilizing artificial intelligence and other technologies in their functioning method to do predictive assignments. One such predictive assignment is specifying the most profitable investment program or business. Machine learning-based technologies give cutting-edge market understandings letting the fund administrators determine precise market differences much before as approximated to the standard investment measures.
AI in Automobile
Artificial intelligence is laboriously utilized in changing the standard design approach of the product. The cutting-edge AI allows the creation of an evolved ecosystem that revs new strategy workflows and enhances team partnerships. It is said that the fortune of developing cars lies in AI that can yield numerous possible configurations by specifying product visions and the issue.
Businesses utilize AI-based robotics integrated with a human force to manage manufacturing and store chain duties. AI-based robotics in manufacturing has yielded established outcomes in the correct handling of machine parts, test interpretations, and loading of finished products. The benefit of artificial intelligence in the manufacturing of automobiles pushes the manufacturing procedure swiftly as robots are assigned the duty to employ their deep learning policies to choose which parts to select and how to select.
AI is utilized for quality management which contains reviewing painted car bodies. Such sharp detections usually get inclined to mistakes if accomplished by humans. AI-based machines can notice flaws more acutely and precisely than humans. It is expected that quality assessment utilizing machine learning (ML) will be a replacement for existing optical damage detection.
AI in Education
AI can tailor classes and education methods according to typical learners. It helps students with various capacities, believes the learning holes, and delivers personalized education suggestions, improving the efficiency of each learner. The conventional practice is a one-size-fits-all strategy and it can push serious familiarity and knowledge gaps. AI-based personalized teaching can cater to distinctive requirements and pinpoint the most effective learning practices to which various students react.
AI can streamline and automate redundant and ordinary executive assignments otherwise accomplished manually. Grading, constant inspection, inspecting assignments, and replying to questions are some duties that AI can take up to smooth the process. This allows educators to gain a complete sentiment of the students and their performance and also concentrate on other duties that demand high aptitudes.
Remote learning forms a lot of advantages approximated to actual classroom activity. With AI, learners can use the learning platform and assignments round the clock according to their requirements. AI reduces geographical limitations in schooling and allows learners to apply it from anywhere. AI also gives ways of exchange and accessibility for learners with understanding disabilities and those needing particular requirements.
AI in Healthcare
Predictive analytics is a donation to healthcare. Artificial intelligence is transforming the future of healthcare demanding hazards and avoidable surgeries. By utilizing artificial intelligence and predictive analytics, healthcare experts can determine if the patient requires surgery or not. The technology helps physicians to assess whether the operation is essential or if there is an option with far more undersized risk applied.
Artificial intelligence is assisting patients in their day-to-day supervision, be it at residence or office. The huge amount of healthcare apps blossoming on the App Store could maintain track of the patient's health necessities. Backed by the voice assistant, the healthcare apps demonstrate patients to take medicines and review their health routine. They also transmit alerts and instruction materials to support the patients when it comes to taking supervision of their health.
Owing to the rising global inhabitants and requirements for doctors, robot surgeons are a necessity. Besides serving human surgeons, robot surgeons can really accomplish more satisfactorily in most cases. Surgery techniques need maximum patience and accuracy, and the talent of medical surgeons does not sputter even when they operate without delay for hours and hours. Thus, robotic helpers in surgeries can additionally assist the surgeon to accomplish a new level of accuracy even for the most minute activity.