Docparser is a software tool designed to automate the extraction of data from documents. It simplifies the process of extracting structured data from documents such as PDFs, invoices, receipts, and various other file formats.
Below are the TOP-10 best Docparser alternatives in 2023.
1. PDF.co
PDF.co is an API platform that offers document parsing capabilities, including extracting data from PDF and other document formats. It provides features such as text extraction, data extraction, and document analysis.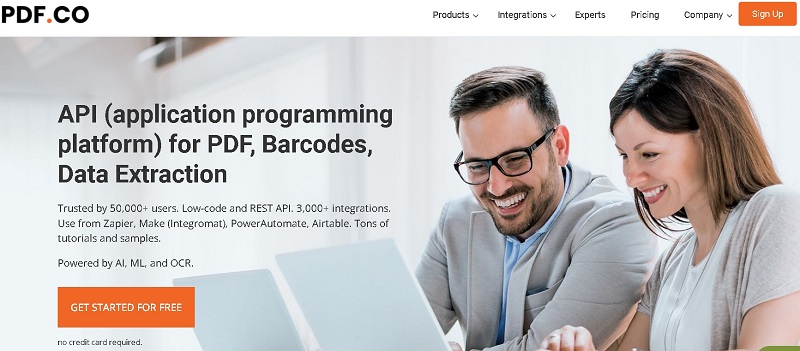 Key Features
PDF generation
PDF split and merge
PDF editing
Document Parser
PDF form filling
PDF security
OCR
File storage
Document automation
PDF.co Integrations
Salesforce, Dynamics 365, Zoho, and other CRM systems;
SharePoint, Office 365, Box, Egnyte, Dropbox, SignNow plus ready-to-use 3000+ integrations;
RPA UiPath, BluePrism, Automation Anywhere;
RapidAPI.
2. Tabula
Tabula is an open-source tool that extracts tabular data from PDF documents. It provides a user-friendly interface for selecting and exporting tables from PDFs.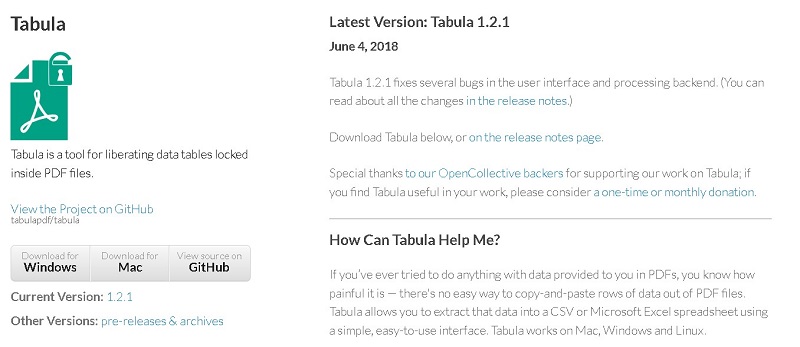 Key Features
Extracts data from PDF tables into structured formats.
Supports multiple file formats, including PDF and scanned images.
Provides a user-friendly interface for selecting and extracting table data.
Allows customization of extraction rules and templates.
Supports command-line interface automation.
Tabula Integrations
Supports integration with Python scripts for data extraction.
Can be used as a library in Java applications.
3. Rossum
Rossum is an AI-powered document extraction platform that specializes in invoice data extraction. It uses advanced machine learning algorithms to extract structured data from invoices and other document types.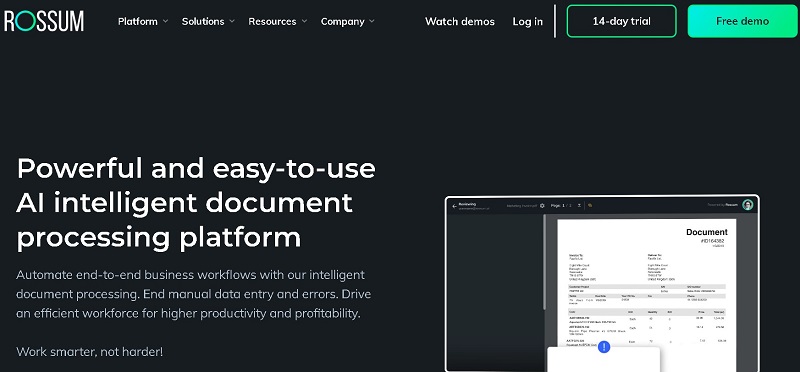 Key Features
AI Image Processing
AP Automation Software
OCR (Optical Character Recognition) Technology
Image Extraction
PDF Data Extractor
Invoice Processing Automation
Intelligent Processing Automation
Rossum Integrations
API for integration with external system;
Box and Dropbox;
Zapier and Microsoft Power Automate.
4. Parseur
Parseur is a cloud-based document parsing software that enables you to extract text and structured data from emails, attachments, and other documents. It offers integration with various platforms, including email services and cloud storage providers.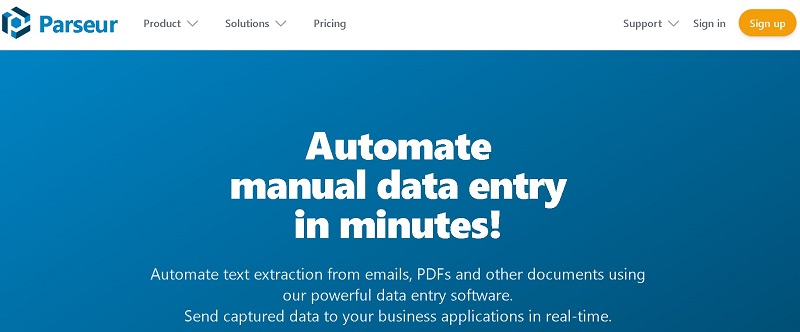 Key Features
Import: All-in-one document processing software.
Extract: State-of-the-art parsing tool.
Export: Your data where you need it, instantly.
Control: Full control of your data.
Parseur Integrations
Gmail and Outlook;
Google Drive and Dropbox;
Zapier and Make.
Google Sheets;
Microsoft Power Automate;
Webhooks;
Getswift.
5. ABBYY FlexiCapture
ABBYY FlexiCapture is an enterprise-grade document capture and data extraction solution. It supports processing various document types and offers advanced OCR (Optical Character Recognition) technology for accurate data extraction.

Key Features
Cloud Availability.
Technology Leadership.
Enterprise Readiness.
Ready-to-use solutions for SMBs and enterprises.
Timeline integration for FlexiCapture solution.
ABBYY Flexicapture Integrations
UI Path;
Blue Prism;
Automation Anywhere;
Laserfiche;
M-files;
Pegasystems.
6. Amazon Textract
Amazon Textract is a cloud-based service that Amazon Web Services (AWS) automatically extracts text and data from documents. It supports various formats, including PDF, and offers features like recognition and table extraction.

Key Features
Optical Character Recognition
Analyze Lending
Form Extraction
Table Extraction
Signature Detection
Query Based Extraction
Handwriting Recognition
Invoices and Receipts
Identity Documents
Bounding Boxes
Adjustable Confidence Thresholds
Built-in Human Review Workflow
Amazon Textract Pricing
Amazon Textract Integrations
Amazon S3, Amazon DB, and AWS Lambda;
SDK's for programming languages and platforms.
7. Ephesoft Transact
Ephesoft Transact is an intelligent document capture and data extraction platform. It utilizes machine learning and AI algorithms to automate document processing tasks, such as classification, extraction, and validation.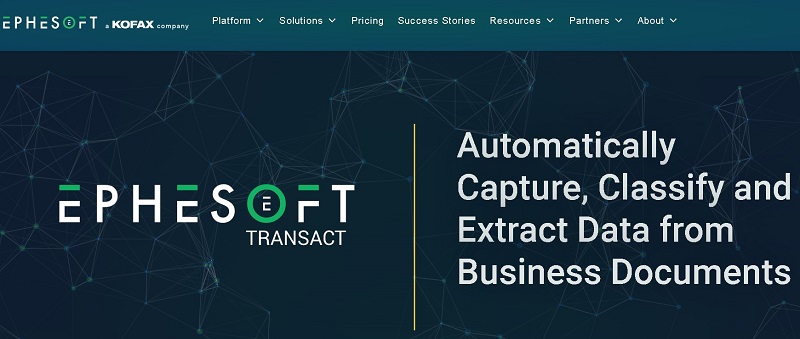 Key Features
Universal Document Automation supports unknown document types out of the box.
Document Design Accelerator for even faster, easier setup.
OCR, ICR, OMR, and HWR all in one easy-to-use platform.
Advanced handwriting (cursive and handprint) extraction with up to 88% character recognition.
AI Table Rule Builder for quick line item extraction.
AI-powered classification with operator calibration control.
Multi-language support including English, French, German, Spanish, Dutch, Swedish, Italian, Polish, Chinese, and Thai.
Cloud, hybrid, and on-premises deployment options.
Integration with workflow, RPA, iPaaS, ERP, BPM, LOS, EHR, CRM, and ECM systems.
Web Services, APIs, and connector documentation for easy customization.
Linux and Windows server support: flexible, scalable, and fast deployment.
Patented machine learning classification and extraction technology.
Rapid ID capture capabilities with over 1,000 pre-trained forms of ID and passports.
Advanced reporting to optimize system performance.
Ephesoft Transact Integrations
Workflow;
RPA;
iPaaS;
ERP;
BPM;
LOS;
EHR;
CRM;
ECM;
8. Nanonets
Nanonets is an AI-powered document extraction platform that offers per-built models for extracting data from invoices, receipts, and other document types. It provides an API for integrating document processing capabilities into your applications.
Key Features
OCR (Optical Character Recognition)
Converters
PDF Scraper
Website Scraper
Barcode Scanner
Nanonets Integrations
SAP;
Xero;
Salesforce;
Google Chrome;
Quickbooks;
Yardi;
Sag;
Google Sheets;
Google Drive and Dropbox;
Sharepoint and Zapier;
Gmail.
9. Parascript
Parascript is an automated data extraction and recognition software specializing in handwritten and cursive text recognition. It offers solutions for various document processing tasks, including recognition and signature verification.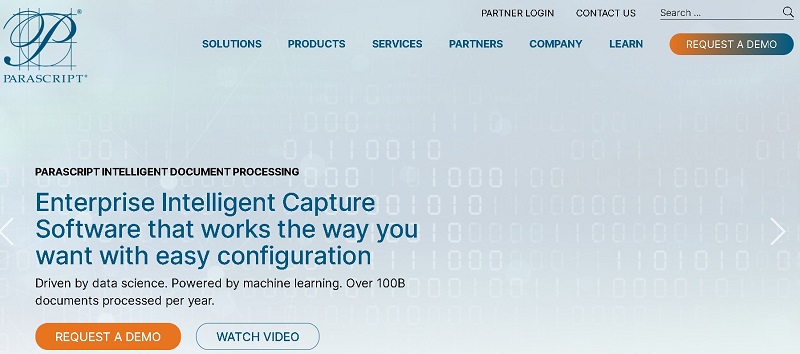 Key Features
Intelligent Document Recognition (IDM)
Data Extraction
Hand Writing Recognition
Document Classification
Data Validation and Verification
Flexibility and Customization
Advanced Analytics and Reporting
Parascript Integrations
API and SDKs;
RPA;
ECM;
ERP;
Microsoft Power Automate;
Google Drive, Dropbox, and Box.
10. Klippa
Klippa is a document processing platform that provides OCR and data extraction capabilities. It supports various document types and offers features like invoice, receipt extraction, and data validation.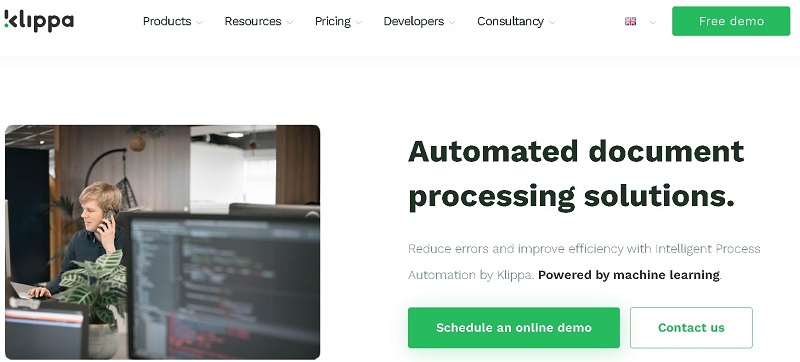 Key Features
Document Scanning
Classifying documents and data
Document format and quality conversions
Document to text with OCR
(Cross)Validating data and documents
Data extraction on documents
Document management
Workflow optimization
Klippa Integrations
Xero, Oracle NetSuite, SAP, Microsoft Dynamics 365, Odoo;
Sage, Exact Online, Exact Globe, Software Gemak, Twinfield;
Asperion, Minox, Informer, VismaNet, AFAS Software, Quickbooks;
UIpath, Mendix, Automation Anywhere, and Betty Blocks.
Conclusion
Docparser and its alternatives are powerful tools designed to extract data from various documents such as invoices, receipts, PDFs, and scanned images. Using advanced technologies like OCR, machine learning, and natural language processing, these solutions automate the process of extracting structured data from unstructured documents. Whether extracting specific fields from invoices or capturing relevant information from emails, these alternatives offer accurate and efficient data extraction capabilities.