If you get a document to sign in your email, don't print and scan it. That could be a hassle and a time-waster! Also, if you don't have a printer or scanner nearby, you would be straddled.
There are two great ways to electronically sign email documents that are much simpler.
How can I sign an email document?
Install a browser plugin that links your email to a signature signing company. When you are in your email, you should see a button or pull-down menu that gives signature options. In some plugins, the button or pull-down menu only is visible when there are documents attached to an email.
Click the email attachment to open it. Select the «Add Signature» or «Sign» option within the plugin choices. Then click on the document to add your signature. Sign by drawing, typing, or uploading an image. Confirm the signature. The plugin might automatically send your signed document back to the sender.
Alternatively, the program might attach the signed document to a reply email. Many electronic signature email plugins let you set a default signature. It's easy to do this as you're signing a document. But if the email plugin is visible even when you're not in a document, you can set the default any time you like. Either way, once you've set the default, you can apply it to any future documents that need a free email signature.

How can I sign an email document without a plugin?
Not all signature signing companies that let you complete an electronic signature via email work with every email provider. In this case, you'll need to electronically sign email documents more directly. Download the document from your email. Sign in to the signature signing service and upload the document. Specify the name and email address of all signees.
Add signature fields if needed. Click in the field where you need to sign. Type, draw or upload an image for your signature. Confirm your signature and you're done! You just created an electronic signature!

What are electronic signatures?
Electronic signatures are virtual representations of a conventional signature or a wet signature which you would create with a pen and paper. As shown in the methods above there are a number of ways to generate this representation and have it available to email. Just like the wet-signature, electronic signatures can be used to identify signers and determine that they agreed to the terms outlined above the signature line.
This novel way of signing documents is very dynamic and versatile. Therefore it has opened doors to several implications. Now, people even have the option of using a touchscreen or touchpad on a device to create a signature image and add it to a document and this can pass as their signature.

Is it legal to sign documents electronically?
Many people might not even know that signing documents electronically is completely lawful. In fact, in most parts of the world, especially the first world countries, e-signatures are legal. Electronic signatures have the same legal right as paper-based signatures but the specific details depend on each individual country's structures and legislation used to govern and regulate electronic signatures where federal law applies.
For instance, in the United States, the ESIGN Act stipulates that all types of signatures, including the e-signature, enjoy the same legal status. In addition to the ESIGN Act, there is another act, the Uniform Electronic Transactions Act makes e-signatures legal and binding.
In the European Union, electronic signatures are proven valid by Regulation No. 910/2014 recognized as eIDAS, a replacement of the previous European Standard for Electronic signatures, directly applicable in all member states.

What are the benefits of signing documents electronically?
There are several benefits of creating electronic signatures. First of all, it saves time and prevents wastage compared to the alternative of printing, signing, and scanning. It also provides convenience and thus, has smoothed the work process and business tractions.
Considering that electronic signatures are good for the long term, it prevents repetitive signing, it can be easily authenticated and easily accessed by all parties in real-time with enhanced security. Automation is a huge benefit in addition and can help mitigate risks and ensure the orderliness of each process.

What are the differences between an electronic signature and a digital signature?
An electronic signature is any method used to represent traditional signatures used on hardcopy documents, on soft copy documents. In that regard, an electronic signature will look similar to a conventional signature, when viewed on a digital display.
On the other hand, a digital signature is a technical implementation used to secure data online. This can be done using algorithms and passcodes, to verify that a document has not been altered during transmission. The passcodes used to digitally sign documents are known as private and public keys.
Is an electronic signature an original signature?
An electronic signature is considered an original signature, as long as the signed document originates from the sender's address, as indicated on the document. This is easy to verify since email servers do create a time-stamped trail.

What qualifies as an electronic signature?
Any symbol, sound, or process that you attach or logically associate with a contract or record, with an intention to sign the record or contract, qualifies as a signature.
You may also use a scanned image of your ink signature, create a signature on a tablet using a stylus or finger, or use a biometric hand signature.
If those options are not available, you can type in your name, and declare it in the text that your typed name is your signature.

Are electronic signatures safe?
Electronic signatures are much harder to forge because they have several layers of security and authentication built into them. They also have proof of transaction that you can present in court, as well as the signer's identity.
That makes them much safer than wet signatures, which are easier to forge, or tamper with, and often require expert analysis to detect forgery.
Some of the features that a third party can use to identify and verify a signer include:
Email Address
The signer's email address must match that used in the invitation.
Access Code
The signer can receive a one-time passcode from the sender, which they must enter.
Phone Call
Signers receive a call, which they must answer and enter a passcode.
SMS
Signers request a one-time passcode that they send via SMS to receive via SMS text.
Knowledge-based Verification
Signers answer questions about the personal information that personally identifies them.
ID verification
Signers verify their signatures using their government-issued IDs, which have their photos and personal information.
How to sign an email document using PDF.co and Zapier?
1. In this tutorial we will show you how to sign a PDF document in your Gmail email. First, kindly choose Gmail as the App and the New Labeled Email as the Trigger Event.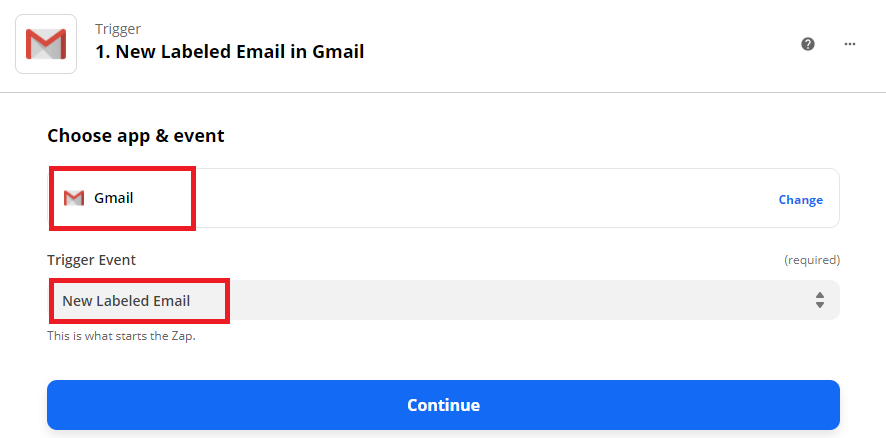 You can choose any Trigger Event that suits your requirement. We specifically chose the New Labeled Email because we organized our PDF templates to sign by Label.
2. Next, please select your Label/Mailbox.
3. When the account is set up correctly, the Trigger will return a success message.
4. Then, let's set up PDF.co to add our signature in the email document. Kindly choose PDF.co as the App and the PDF Filler as the Action Event.
5. Let's configure the PDF Filler with our signature and email data. Please check out this tutorial on how to draw your signature. It also covers the topic of how to easily find the PDF coordinates to place your name and signature in the document.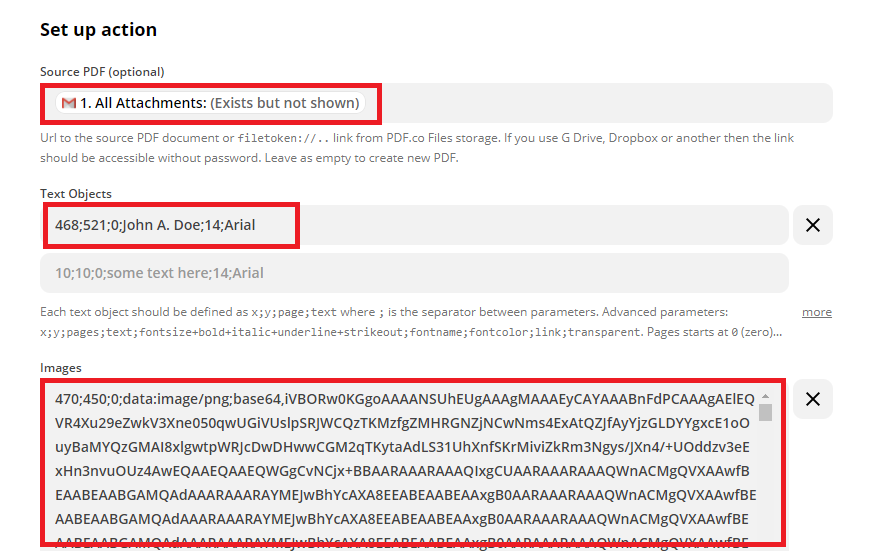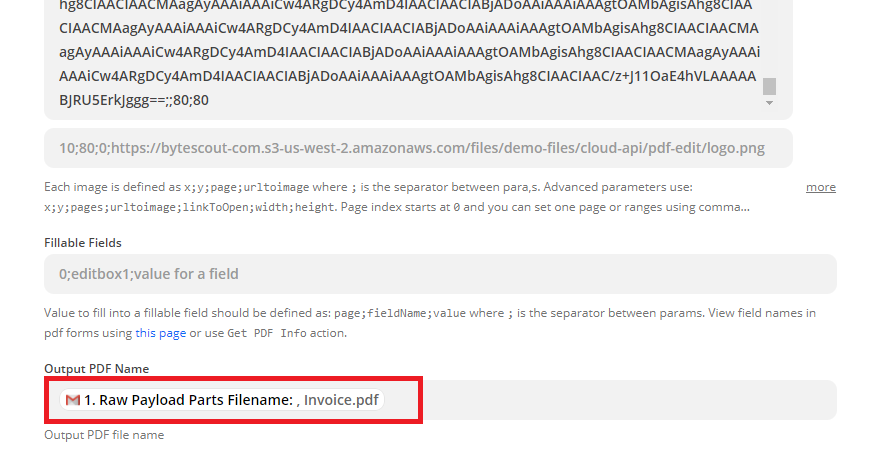 In the Source PDF field, kindly select 1. All Attachments: (Exists but not shown)
This step is optional. You can type your name in the Text Objects field in this format X;y;pages;text;fontsize;fontname
We will add our signature in the Images field in this format x;y;pages;urltoimage;linktoopen;width;height
In the Output PDF Name field, kindly enter your desired filename for the signed PDF.
6. We are now ready to send the PDF Filler data to PDF.co for Test & Review.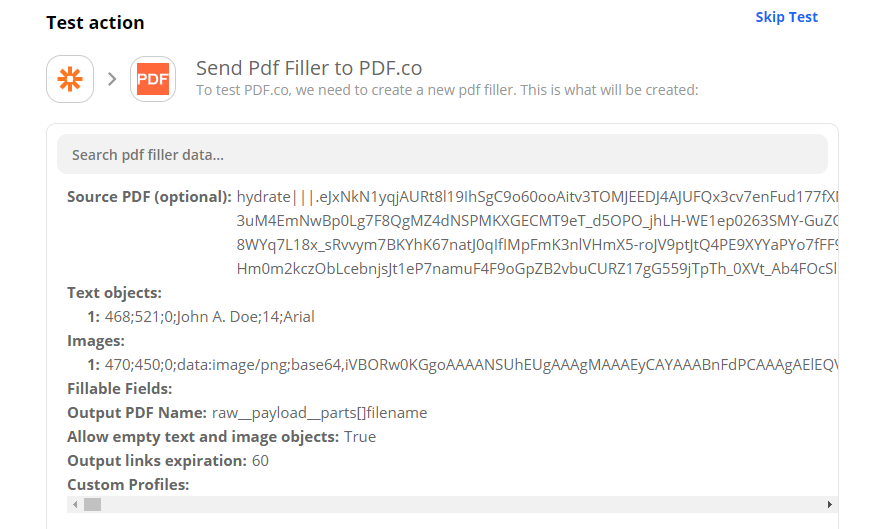 7. Our test was a success! PDF.co returned a temporary URL where we can access the signed email document. Kindly copy and paste the URL in your browser to see the output.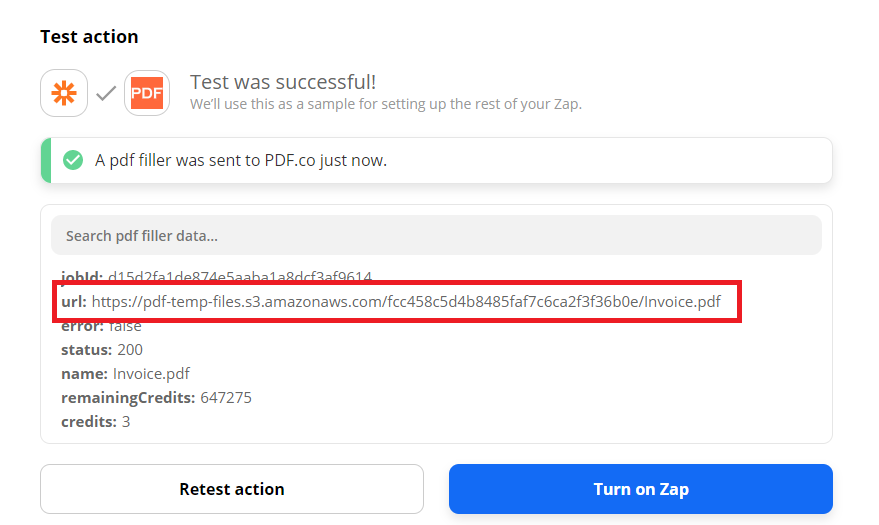 8. Great! We have successfully signed our email document.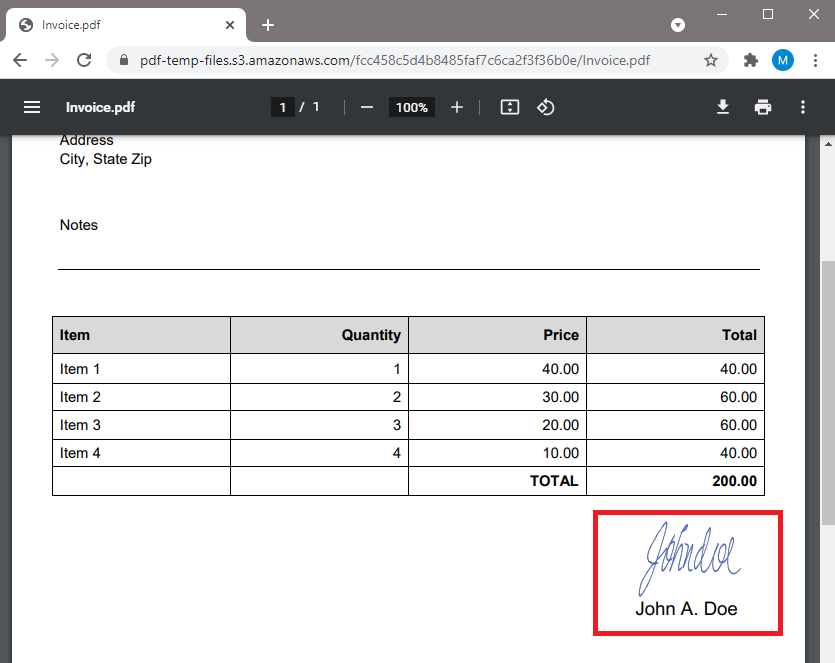 You can add an additional step in your Zap to either save the signed email document in cloud storage such as Google Drive or send the signed email document back to the recipient.
Filling of PDF forms (pdf/edit/add endpoint)
Splitting of PDF files (pdf/split that can use to extract page or range of pages from input PDF)
Generation of rich formatted PDFs from HTML or URL (pdf/convert/from/html and pdf/convert/from/url endpoints)
Adding text, images, scanned signatures to a PDF document (pdf/edit/add endpoint)
Conversion of XLSX/DOCX to PDF (pdf/convert/from/doc endpoint)
Merging of PDF documents (pdf/merge endpoint for example, cover + contract + additional)
Merging of PDF, emails, images, ZIP files into a PDF file (pdf/merge2 endpoint)
Sign an email document using Zapier – Video
Summary
Create an electronic signature rather than the lengthy process of printing, signing, and scanning. You can do this by installing a browser plugin that allows you to sign documents online directly or download the document first then upload it to a signature signing service and follow the seamless instruction. Electronic signatures are completely legal in several parts of the world and the more often you use electronic signatures in regular business dealing you will come to see more advantages.